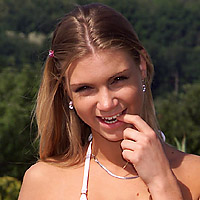 Ally
Age: 19
Height: 5'5"
Weight: 110 lbs
Measurements: 33C-24-35
Occupation: Student
Hobbies: Swimming, Subdiving, Music, Tennis
Favorite Music: Moby, Madonna, Bloodhound Gang
Favorite Fantasy: Sex with Brue Willis
We met Ally on our trip to the Czech Republic in 2006 and fell in love with her. Ally is a very sweet girl with a wonderful, outgoing personality. We were able to do 4 photosets with Ally, including a great fistin' scene with Amy Lee, and we also shot 6 videos including 2 incredibly hot masturbations. Ally loves the camera and all of her pics and video turned out great. Ally is a 19 year old student who enjoys modeling on the side for extra money, but likes spending her free time swimming, subdiving, playing tennis and listening to music. Her favorite musicians are Moby, Madonna, and the Bloodhound Gang. She has been shaving her pussy since she was 16, but started having sex a year earlier and gave her first blowjob at just 13. She likes guys more than girls, and prefers to have sex no less than 5 times a week. When we asked her what her sexual fantasy is, she said it was to have sex with Bruce Willis. Ally is a small girl with a great body, standing 5'5'' tall (165cm) and weighs just 110 lbs (50kg). Her measurements are 33C-24-35 (83C-60-88cm). She likes nice, friendly people and loves the holidays. She does not like cats or school. We had a lot of fun with Ally, and she was not shy about letting us explore her pussy with the spreaders and the speculum. She has a very sexual energy that really shines on camera, so we know you will love her as much as we did. Enjoy!
Available Photosets
Snapshot

Scene Description

Total Pictures

Scene Preview

Ally - Scene #1 - Remastered

Outdoor, bikini, sarong, sandals, stripping, posing, vedgie, finger spreading, banana, veggie, wetting, gaping pullout, cucumber, insertions

242 Pics
Scene Samples

Ally - Scene #2 - Remastered

Bar, crop top, mini skirt, panties, high heels, stripping, posing, finger spreading, panty stuffing, female assistants: Amy Lee & Faith, fingering, finger gaping, fisting, gaping pullout

241 Pics
Scene Samples

Ally - Scene #3 - Remastered

Sundress, high heels, steps, stripping, posing, spreaders, gaping, female assistant: Amy Lee

240 Pics
Scene Samples

Ally - Scene #4 - Remastered

Outdoor, sundress, sunglasses, no panties, flip flops, stripping, posing, finger spreading, baby oil, female assistant: Faith, speculum, gaping, cervix, crew, non-model

235 Pics
Scene Samples
Downloadable Videos
Screen Capture

Video Description

Download Options

New Video Release

Video Type: Masturbation

Length: 19:07

AVI #06

Date: April 14, 2009

Ally is at the bar and she finishes her drink before stripping down and rubbing her hot tits and pussy. She pulls off her panties and stuffs them deep inside her hot hole, then she calls over Faith to pull them out with her teeth. After that, Ally takes a green vibrator and fucks her wet pussy with it in various positions until she cums.

640x480 Flash

640x480 DivX

720x540 WMV

New Video Release

Video Type: Masturbation

Length: 19:34

AVI #01-05

Date: December 18, 2007

Ally is so sweet and she starts by rubbing her pussy and her body all over. Then she adds in the baby oil and gets her entire body nice and shiney, rubbing her clit as well. She takes out a red vibrator and uses it to fuck her pussy until she cums as her juices flow!

640x480 Flash

640x480 DivX

720x540 WMV