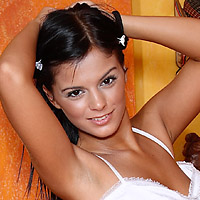 Angelika Black
Age: 20
Height: 5'4"
Weight: 103 lbs
Measurements: 35C-23-35
Occupation: Make-Up Artist
Hobbies: Dancing, Reading Books
Favorite Music: All
Favorite Fantasy: 6-Guy Gang Bang
We hooked up with Angelika Black at our Budapest 2007 Casting. Angelika is from Romania, and had come to the casting with her friend Jennifer. Well, Jennifer was not selected, and Angelika almost didn't make the cut either, but fotunately I was outvoted 3 to 1 to move her into our "Maybe Yes" potentials. Angelika eventually made it to the "Definately Yes" pile and we did an ALS style shoot with her that turned out great. She looked amazing in all of her pictures and video, and he had an incredibly hot girl-girl set with Yasmine using a strap-on dildo. Angelika is 20 years old, 5'4" tall (162 cm), and weighs a mere 103 lbs (47kg). Her measurements are 35C-23-35 (90C-60-90). She has been shaving her pussy since she was 13 years old, but didn't loose her virginity until she was 16. She gave her first blowjob at the age of 18. When we asked her how many times per day she likes to have sex, she answered "7", what a horny girl! Angelika prefers guys to girls, and she told us her sexual fantasy was to be in a gang bang with 6 guys. When she is not modeling, she works as a make-up artist or spends her free time dancing and reading books. She loves all types of music, as well as cookies and driving; according to her, the only thing she doesn't like are bananas. :) We were extremely glad we shot Angelika because all her pictures and videos turned out terrific, and we know you guys will love her too!
Available Photosets
Snapshot

Scene Description

Total Pictures

Scene Preview

Angelika Black - Scene #1

White lingerie two piece with red trim, stripping, posing, fingering, panty stuffing, Yasmine pounds Angelika's pussy with her strap-on!

157 Pics
Scene Samples

Angelika Black - Scene #2

White button up shirt, red plaid skirt and tie, studying, stripping, posing, lolli-pop insertions, upshots, Yasmine full fists Angelika in various positions!!

217 Pics
Scene Samples

Angelika Black - Scene #3

Pink shorts and top, stripping, posing, banana and cucumber insertions, Angelika opens up with the purple pussy spreaders for a better look inside her love canal!!

262 Pics
Scene Samples

Angelika Black - Scene #4

micro bikini, stripping, posing, baby oil rub down, Angelika cranks wide open with the speculum from the front and back for hot cervix shots!!

236 Pics
Scene Samples
Downloadable Videos
Screen Capture

Video Description

Download Options

New High-Definition Video Release

Video Type: Masturbation

Length: 17:39

HD #005

Date: May 26, 2009

Angelika wakes up to find us watching her and it makes her so horny she starts to rub her pussy even before she gets her lingerie off. Watch her use two vibrators on her pussy at the same time, rammed deep into her hot pussy stretching it wide. She cums hard and then it's back to bed for some much needed rest.

853x480 Flash

1280x720 DivX

1280x720 MP4

1920x1080 WMV

New High-Definition Video Release

Video Type: Masturbation

Length: 17:10

HD #004

Date: January 13, 2008

Sexy Angelika Black is by the bar pouring herself a drink when she decides to get off! It is such a hot day so Angelika takes her clothes off revealing her perfect body. She begins to finger and rub on her pussy getting herself ready for some intense vibrator fucking until she orgasms!

853x480 Flash

1280x720 DivX

1280x720 MP4

1920x1080 WMV

New High-Definition Video Release

Video Type: Masturbation

Length: 16:10

HD #003

Date: July 29, 2008

Angelika suns herself by the pool in a very sexy fishnet bikini. She cools off in the pool for a moment then oils down her entire body to get it nice and glistening. Next, she calls over her friend Yasmine to fist fuck her pussy. Yasmine rams her good and hard in a variety of positions before Angelika cums while rubbing Yasmine's pussy with her fingers.
853x480 Flash

1280x720 DivX

1280x720 MP4

1920x1080 WMV

New High-Definition Video Release

Video Type: Photoshoot

Length: 17:02

HD #002

Date: March 4, 2008

Sexy ALS Angels model Angelika Black is in her bedroom posing in sexy red and white lingere showing off her beautiful body in this hot photoset. After Angelika takes off her lingere, she inserts her panties deep inside of her pussy with a great, slow pullout. Then female assistant Yasmine steps in to ram a strap-on dildo deep inside of Angelika's pussy from multiple angles!!

853x480 Flash

1280x720 DivX

1280x720 MP4

1920x1080 WMV

New High-Definition Video Release

Video Type: Masturbation

Length: 12:02

HD #001

Date: October 30, 2007

Angelika is standing in a shower with an micro bikini on. She starts by getting her body all wet. Then Angelika takes baby oil and covers her whole body with it. Angelika sits down next to the shower and starts to rub her clit and finger her pussy. Then Angelika gets a big glass dildo to fuck her pussy with until she cums!

853x480 Flash

1280x720 DivX

1280x720 MP4

1920x1080 WMV