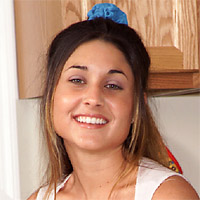 Aubrey Taylor
Age: 19
Height: 5'0"
Weight: 93 lbs
Measurements: 34C-23-33
Occupation: Student
Hobbies: Kickboxing, aerobics, swimming, and bellydancing
Favorite Music: Everything
Favorite Fantasy: To have a big strong man tie me up and have his way with me...
Aubrey is a perfect representation of what an ALS Angels model should be. Cute, tight body, big tits, and a nice round firm ass. What more could you as for? Aubrey is new to nude modeling so we broke her in gently - ALS Style. She had a great time as you will see from her video that we will be releasing in the Members section. She did all the usual ALS toys and stuff like peeing, speculum, fisting, bottles, etc. so we got some great sets for you to enjoy. This girl is SMALL!! Aubrey is 19 years old and stands only 5'0" tall. She weighs 93 lbs and her measurements are 34C-23-33, but I can tell you that Aubrey is unbelievably firm and tight! She is an exercise (fitness) nut! Aubrey can be found working out at the gym sometimes up to 4 hours a day. She loves kickboxing, aerobics, swimming, and bellydancing. Aubrey is a very well rounded girl who also likes to read and simply hang out with friends and party. She is a student at a local college and we asked her what would happen if any of her classmates saw her ALS pictures. Aubrey said "they all know I am pretty wild so I do not think it would be that big of a deal - and if anybody doesn't like it - Fuck them anyway." Aubrey likes a strong man who can toss her around and hold her down so she can be fucked hard. She says "I'm in top shape so I expect my man to be very fit as well, I can't deal with people who do not take care of themselves." We LIKE this girl and bet you will too. Aubrey first had sex only 2 years ago at the age of 17 and that was the beginning of her wild streak. From that point on she has had sex almost non-stop. Enjoy this cutie - you can bet we did!!
Available Photosets
Snapshot

Scene Description

Total Pictures

Scene Preview

Aubrey Taylor - Scene #1 - Remastered

White tank top and floral short shorts, posing, spreading, ALS assistant Katie opens Aubrey's pussy super wide!!

225 Pics
Scene Samples

Aubrey Taylor - Scene #2 - Remastered

Pink dress, posing, spreading ass and pussy, fingering, glass dildo insertions, peeing scene!!

207 Pics
Scene Samples

Aubrey Taylor - Scene #3 - Remastered

Pink top and silver hot pants, posing, spreading, glass bottle insertions, pull outs, peeing scene!!

198 Pics
Scene Samples

Aubrey Taylor - Scene #4 - Remastered

Purple blouse and white shorts, posing, spreading, glass bottle insertions and pull outs, gaping pussy!!

249 Pics
Scene Samples

Aubrey Taylor - Scene #5 - Remastered

Red top and grey skort, posing, plump pussy, spreading, Aubrey gets fisted by ALS assistant Katie!!

174 Pics
Scene Samples

Aubrey Taylor - Scene #6 - Remastered

Floral lingerie, posing, camel toe, spreading, ALS assistant Katie helps stuff Aubrey with a banana, gaping pull outs!!

205 Pics
Scene Samples

Aubrey Taylor - Scene #7 - Remastered

White lingerie, posing, plump pussy, spreading, speculum scene, cervix shots!!

171 Pics
Scene Samples
Downloadable Videos
Screen Capture

Video Description

Download Options

Video Type: Masturbation

Length: 11:56

AVI #26-31

Date: June 10, 2010

Sexy Aubrey Taylor just loves to play with her pussy! She was a bit shy for us at first, but really opened up once we got the camera on her. You can just tell that this hottie loves to get off! Watch as Aubrey rubs on her pussy getting herself nice and wet. She then fingers her tight hole deep with multiple fingers. Just when you think this girl is about finished, she fucks herself hard with a vibrator until she cums!

640x480 Flash

640x480 DivX

720x540 WMV

Video Type: Masturbation & BTS

Length: 21:26

AVI #01-12

Date: December 03, 2009

Aubrey Taylor is out back in the cold spraying her golden streams all over the patio to start off this hot masturbation scene. She then takes it inside where she gets things nice and hot! Watch Aubrey lube up her pussy and fuck herself hard with multiple vibrators until she cums hard!!

640x480 Flash

640x480 DivX

720x540 WMV

Video Type: Photoshoot & P'ing

Length: 11:19

AVI #32-37 (a-c)

Date: February 21, 2008

Aubrey is in her kitchen posing in a pair of flower shorts. She starts by pulling them up in to her pussy for a great camel toe. Then Aubrey bends over the counter and stretches her pussy. Aubrey then sits on a chair and starts to let her golden stream flow on the floor.

640x480 Flash

640x480 DivX

720x540 WMV

Video Type: Masturbation

Length: 14:37

AVI #13-19 (a-d)

Date: August 9, 2007

Aubrey is sitting on a bed we talk to her about the day and what she liked. Aubrey then starts to play with her pussy until its nice and wet. Aubrey gets a white vibrator to fuck her pussy with until she cums.

640x480 Flash

640x480 DivX

720x540 WMV