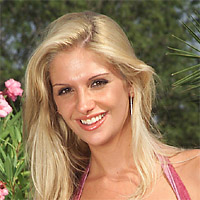 Bambi
Age: 19
Height: 5'7"
Weight: 110 lbs
Measurements: 35C-24-36
Occupation: Model
Hobbies: Dancing, playing with animals
Favorite Music: Funky dance music
Favorite Fantasy: Get this, she says she's already fulfilled them all!!
Talk about a model with the perfect body. This girl's body is flawless!! BUT Bambi was a little difficult to work with for several reasons none of which were totally her fault. The first was that she spoke and understood almost no English, not even the basics like smile, look sexy, suck my cock, etc. That made directing the shoot a little harder than normal - but we think it still turned out incredibly HOT. The second and main reason that it was difficult is because her boyfriend was lurking about. We did the shoot on a hillside mansion that had a gated entrance. It was a beautiful sunny, warm day so we wanted to do her shoot completely outside to take full advantage of the great weather. Well this guy must have been incredibly jealous and did not trusted Bambi at all, because he parked his car at the bottom of the hill and kept pacing back and forth and looking up at us the entire shoot. He even kept calling her so much on her cell phone that we made her turn it off. Talk about a fucking loser. Just to fuck with him we had her give this dildo a blowjob in a position where all he could see was her head bouncing up and down. We could just see him freaking out - it was so fun : ). Anyway enough about that. Bambi was a good sport and did a great job for us. We are sure you will love her sets. She is 19 years old, 5'7" (170cm) tall, and weighs 110 lbs (50KG). Bambi's measurements are 35C-24-36 (88C-61-91 cm). She does modeling full time - I have no idea how she deals with her crazy boyfriend. Bambi loves animals and funky dance music as her favorite pastime is dancing. She first had sex at the age of 14 and started totally shaving her pussy around that time as well. Bambi prefers guys over girls sexually.
Available Photosets
Snapshot

Scene Description

Total Pictures

Scene Preview

Bambi - Scene #1 - Remastered

Maroon dress, posing outside, spreading, ALS model Liv fists Bambi!!

175 Pics
Scene Samples

Bambi - Scene #2 - Remastered

White top and denim skirt, posing, spreading, vibrator insertions and pull outs!!

153 Pics
Scene Samples

Bambi - Scene #3 - Remastered

Red tube top, white short shorts, stripping, posing, camel toe, spreading, ALS Rocket, gaping, cervix shots

181 Pics
Scene Samples

Bambi - Scene #4 - Remastered

Leopard bikini, outdoor, pool, high heels, stripping, posing, fingering, kegel master, insertions, spreading

239 Pics
Scene Samples

Bambi - Body Painting - Scene #1

Bambi enters the studio for a fresh coat of body paint to show off her lovely nude body!!

245 Pics
Scene Samples
Downloadable Videos
Screen Capture

Video Description

Download Options

New High-Definition Video Release

Video Type: Masturbation

Length: 13:33

HD #002

Date: December 23, 2008

We catch Bambi napping and she quickly wakes up to give us a show. Watch her finger her tight pussy, getting it all wet before she rams it with two vibrators at the same time, filling and stretching her hot hole to the max! She cums hard and goes back to sleep relaxed.

853x480 Flash

1280x720 DivX

1280x720 MP4

1920x1080 WMV

Video Type: Masturbation

Length: 11:26

AVI #08-13 (a-c)

Date: September 25, 2008

Bambi masturbates outside on a chair rubbing, stretching, and fingering her pussy. She stuffs a huge green vibrator into her gaping pussy and fucks herself hard until she cums!

640x480 Flash

640x480 DivX

720x540 WMV

New High-Definition Video Release

Video Type: Body Painting

Length: 29:39

HD BP #001

Date: August 26, 2008

Bambi comes out to get her body painted up and then to hit the streets. Watch our very talented artist paint Bambi's full body until she looks like she is wearing a white, pink, and blue skin-tight outfit! After Bambi is all painted up, she hits the streets. But within seconds, Bambi is approached by her jealous boyfriend who makes us call the shoot early!

853x480 Flash

1280x720 DivX

1280x720 MP4

1920x1080 WMV

Video Type: Masturbation

Length: 15:43

AVI #01-07 (a-d)

Date: June 12, 2008

Bambi is sitting outside on a green lawn bench. She starts to play with her pussy immediately then she starts to finger her pussy and rub her clit. Then Bambi gets a purple ribbed dildo and fucks her pussy until she cums.

640x480 Flash

640x480 DivX

720x540 WMV

New High-Definition Video Release

Video Type: Masturbation

Length: 19:16

HD #001

Date: December 4, 2007

Sexy ALS Angels model Bambi goes all out for her audience in this hot masturbation scene! She starts off by ripping her clothes off and toying with her clit and pussy. Then she shines her body up with baby oil, and fucks herself hard in different positions with a vibrator until she cums! This naughty girl gets herself nice and wet with her tea to end this exciting scene!

853x480 Flash

1280x720 DivX

1280x720 MP4

1920x1080 WMV