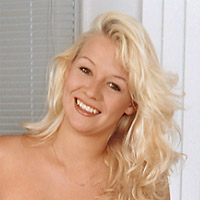 Barb
Age: 20
Height: 5'11"
Weight: 141 lbs
Measurements: 37D-26-37
Occupation: Model
Hobbies: Sports, dancing, and tennis
Favorite Music: House and Pop
Favorite Fantasy: To have sex on the beach
Barb is 20 years old, 5'11" tall and weighs 141 lbs. She loves to visit New York City. She said it is crazy there - nobody ever sleeps and there is always something going on. This shoot was OK, nothing great. We all had a good time but there was nothing really exciting to write about. She did some hot fisting and inserted lots of large toys and objects. During one scene our female assistant even stepped in and helped by spreading Barb's pussy wide open - that was cool. Barb likes to watch sports on TV, Dance, and play tennis. She listens to house and pop music and likes the band U2. (I don't like putting U2 in the same sentence with "house" and "pop" - but that is what she said). She loves Chinese food and popcorn. Her measurements are 37D-26-37.
Available Photosets
Snapshot

Scene Description

Total Pictures

Scene Preview

Barb - Scene #1

Red Dress/Slouch Socks, posing, spreading, fingering, squash insertions, banana insertions and pull outs, fisting!!

60 Pics
Scene Samples

Barb - Scene #2

Blue dress, posing, fingering, dildo insertions, spreading, gaping hole shots!!

68 Pics
Scene Samples