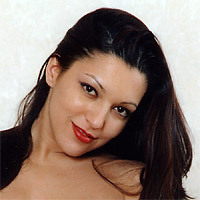 Blake
Age: 23
Height: 5'6"
Weight: 125 lbs
Measurements: 36D-28-36
Occupation: Exotic Dancer
Hobbies: Reading and horseback riding
Favorite Music: Slow and seductive
Favorite Fantasy: Being a call girl for a gorgeous billionaire
Blake is 23 years old, 5'6" tall and weighs 125lbs. At the photo shoot, Blake was always a step ahead of us... she was a complete natural!! She kept getting into poses before we even asked her. Best of all, Blake loved inserting things into her pussy. We would get out an object for her to insert and she would just slide the whole thing in at once!! More than once we had to tell her to slow down just so that we could get some photos of it. Blake was so enthusiastic that even our female assistant, Beth, wanted to get in on the action. We got some great pussy spreading and fingering shots from the two of them. After Beth joined in, everyone wanted to be a part of the action!! Blake did plenty of other stuff for us too including a great peeing scene... watch for more Blake images, they are HOT!! Her interests are horseback riding, reading, and nude sunbathing. Blake said that she needed sex like food, three square meals a day!! She enjoys listening to slow and seductive music and her current ocupation is exotic dancing and her favorite fantasy is to be a call girl for a gorgeous billionaire. Blake's measurements are 36D-28-36.
Available Photosets
Snapshot

Scene Description

Total Pictures

Scene Preview

Blake - Scene #1

Leather bra and jeans, posing, glass insertions and pull-outs, gaping hole shots!!

83 Pics
Scene Samples

Blake - Scene #2

White tshirt and short shorts, posing in kitchen, spreading, dildo insertions and pull-outs!!

75 Pics
Scene Samples

Blake - Scene #3

Red lingerie, posing, spreading pussy, fingering, bottle insertions, pull-outs, gaping pussy!!

65 Pics
Scene Samples

Blake - Scene #4

White floral dress, posing, banana insertions, gaping hole, Beth spreads Blake's pussy wide!!

67 Pics
Scene Samples

Blake - Scene #5

White sun dress, posing, spreading, fingering, ALS assistant Beth spreads Blake with a pair of tongs!!

65 Pics
Scene Samples

Blake - Scene #6

Leopard print dress, posing, spreading, Blake stuffs her juicy pussy with a vibrator!!

74 Pics
Scene Samples

Blake - Scene #7

Black lingerie and thigh highs, posing, cucumber insertions, peeing scene!!

78 Pics
Scene Samples

Blake - Scene #8

Blue bra and panties, posing in bedroom, camel toe, glass dildo insertions and pull outs!!

80 Pics
Scene Samples