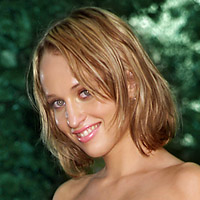 Bonnie
Age: 19
Height: 5'4"
Weight: 110 lbs
Measurements: 35C-24-34
Occupation: Independent Contractor
Hobbies: Masturbation 3-4x /day, picking my nose & scratching my ass
Favorite Music: Alternative Rock, I hate Rap music
Favorite Fantasy: I have none because when one springs up I fulfill it
Bonnie is 19 years old, 5'4" tall and weighs 110 lbs. She is without a doubt the funniest model we have ever shot! She kept squeezing her tits and pulling her nipples and insisted that we all touch them and pull them as well (which of course we did - including our female assistant). Plus she is beautiful and has the perfect body and pussy. To top it off she loved Anal! At one point we had just finished eating and she inserted a salt and pepper shaker up her ass and pussy. Bonnie would just out of the blue start sliding fingers in her ass (even if the scene was just starting). Some of you probably think we make these bios up but we do not - they are really true! Models do not come along like Bonnie too often. She was amazing and her personality was even better. She did some super full fisting scenes and she was able to insert objects upside down and with her legs completely behind her head. All you see from some angles is her head and pussy as she slides in the objects. We shot her 3 weeks ago and we are all still amazed by this shoot! Bonnie masturbates at least 3 times every day. She cannot get enough sex. You will notice how smooth her pussy is (no sign of hair at all). Well this is because she told us that she hates hair, "it's dirty". She shaves and waxes her entire body. Bonnie told us that she has always done this - it was how she was raised. I am going to write her exact responses as she wrote down on her questionnaire. Occupation: "Independent contractor"; Hobbies: "Masturbation 3-4 x/day, picking my nose & scratching my ass"; Favorite Music: "Alternative Rock, I hate Rap Music"; Likes: "My abusive cat. Sex w/ older men (because they know what the fuck they are doing), objects up my ass and going to titty bars"; Favorite Fantasy: "I have none, because when one springs up I fulfill it". As you see her photosets you will see why we are so knocked out by Bonnie!! Her measurements are 35C-24-34.
UPDATE: We did another amazing Bonnie shoot. This time she showed herself up with all of the incredible things she did!!
Available Photosets
Snapshot

Scene Description

Total Pictures

Scene Preview

Bonnie - Scene #1

Pink velvet top and hot pants, posing, spreading, fingering ass and pussy, fisting!!

73 Pics
Scene Samples

Bonnie - Scene #2

White ALS tshirt and panties, posing, spreading, corn on the cob insertions, Bonnie actually stuffs her big toe into her pussy!!

75 Pics
Scene Samples

Bonnie - Scene #3

Red and blue dress, posing, glass bottle insertions and pull-outs, gaping hole shots, peeing scene!!

68 Pics
Scene Samples

Bonnie - Scene #4

White tank top and daisy dukes, posing, spreading, fingering, anal butt plug insertions!!

70 Pics
Scene Samples

Bonnie - Scene #5

Red top and blue skirt, posing, spreading, anal and pussy insertions, peeing scene!!

82 Pics
Scene Samples

Bonnie - Scene #6

Yellow spring dress, posing, spreading, fingering, insertions, super hot fisting action!!

93 Pics
Scene Samples

Bonnie - Scene #7

Posing in bedroom, fisting, anal and pussy vibrator & dildo insertions, pull-outs, gaping hole shots!!

79 Pics
Scene Samples

Bonnie - Scene #8

School girl, posing, multiple finger insertions, spreading, Bonnie stuffs her pussy with a glass dildo!!

81 Pics
Scene Samples

Bonnie - Scene #9

Black night gown, posing, spreading, anal. Bonnie spreads her pussy wide with some candles!!

75 Pics
Scene Samples

Bonnie - Scene #10

Posing in shower, peeing, fingering, Bonnie fists her wet pussy!!

63 Pics
Scene Samples

Bonnie - Shoot #2 - Scene #1 - Remastered

White top and plaid skirt, posing, spreading, fingering, dildo insertions!!

221 Pics
Scene Samples

Bonnie - Shoot #2 - Scene #2 - Remastered

Tshirt and short shorts, posing, peeing, Bonnie is spread to the max with out pussy spreaders!!

192 Pics
Scene Samples

Bonnie - Shoot #2 - Scene #3 - Remastered

Pink top & short shorts, thigh highs, posing outside, juicy pussy, anal finger insertions, cucumber insertions!!

209 Pics
Scene Samples

Bonnie - Shoot #2 - Scene #4 - Remastered

Flower bikini, posing outside, spreading pussy, multiple finger insertions, speculum scene!!

192 Pics
Scene Samples

Bonnie - Shoot #2 - Scene #5 - Remastered

Blue & white dress, posing, anal finger insertions, peeing, glass dildo insertions! ALS Assistant Beth stretches Bonnie's pussy to the max!!

244 Pics
Scene Samples

Bonnie - Shoot #2 - Scene #6 - Remastered

Black jeans, lacie top, high heels, stripping, posing, fingering, finger spreading, self fisting attempt, inverted glass bottle insertions

178 Pics
Scene Samples

Bonnie - Shoot #2 - Scene #7 - Remastered

Outdoor, bikini, high heels, stripping, posing, finger spreading, fingering, self fisting, swell guy, insertions

286 Pics
Scene Samples

Bonnie - Shoot #2 - Scene #8 - Remastered

Outdoor, tube top, short shorts, flexible, stripping, posing, clit exposure, kegelmaster, insertions, smoking

226 Pics
Scene Samples

Bonnie - Shoot #2 - Scene #9

Outdoor, pool, baby oil, bare feet, sunglasses, dildo, insertions, anal fingering

75 Pics
Scene Samples
Downloadable Videos
Screen Capture

Video Description

Download Options

New Video Release

Video Type: Photoshoot

Length: 28:50

Shoot #2 AVI #002

Date: April 21, 2010

Bonnie poses on the patio, wasting little time before unveiling her big, natural tits. She continues to strip down until she is only wearing her sexy, fishnet stockings and heels. She teases the camera as she gradually works a thick cucumber into her shaved pussy, turning over to slip a finger in her ass at the same time.

640x480 MP4

Video Type: Masturbation

Length: 29:42

AVI #56-111

Date: January 21, 2010

Bonnie is at the end of her shoot and she is dying to get herself off. She takes her time and works her pussy with multiple toys rammed deep, using them to stretch her pussy open so that she can fuck herself with her entire hand.

640x480 Flash

640x480 DivX

720x540 WMV

Video Type: Masturbation

Length: 22:33

AVI #23-49

Date: September 17, 2009

Sexy Bonnie loves nothing more than to get herself off! Watch this hottie begin to finger her pussy and get herself nice and ready for some serious pussy fucking action. Bonnie sticks a finger inside of her asshole as she rubs on her clit with a vibrator. She then grabs for a huge dildo to fuck her tight pussy with as she stuffs her ass with the vibrator! Watch as Bonnie has a screaming orgasm, then shows us that she can fist her pussy, too!

640x480 Flash

640x480 DivX

720x540 WMV