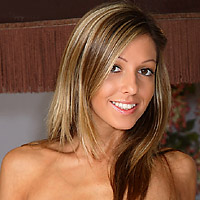 Britney Austin
Age: 21
Height: 5'6"
Weight: 103 lbs
Measurements: 33B-26-35
Occupation: Full Time Model
Hobbies: Surfing the Net/mySpace, Fitness
Favorite Music: Club/Techno
Favorite Fantasy: Threesome with two guys
Britney Austin is a full-time nude model from Budapest, Hungary. She is a rising star that we had to shoot. Our agent told us that she is super easy to work with and that she could easily handle our big ALS toys so that was the clincher. Looking back at the pictures and videos that we shot of her, it was a really hot shoot. Britney is 21 years old, 5'6" (167cm) tall, and weighs 103lbs (47Kg). She started shaving her pussy when she was 14 and first had sex at 15. Her measurements are 33B-26-35 (83B-65-90cm). She likes both guys and girls but if she had to pick one she would definitely pick a man. Britney was a waitress before she started nude modeling but now she is making so much money that she does not wait tables anymore. Someone she was waiting on said, "Hey, you are really cute. Have you ever thought of modeling?". And now here she is - for all to enjoy. Britney told us that her fantasy is to have sex with two guys at the same time; however, we believe that she must have already satisfied this fantasy at one point. Maybe the meaning got lost in translation and she thought it meant what is the most fun that she has ever had. Britney likes to keep in shape by working out at the fitness center and she is a self-admitted MySpace junkie. She spends almost all of her free time surfing the Internet. Britney listens to club-techno music (DJ mixes). The thing Britney enjoys the most though is going to the beach in a skimpy bikini and flirting with the guys. She NEVER leaves alone!!
Available Photosets
Snapshot

Scene Description

Total Pictures

Scene Preview

Britney Austin - Scene #1 - Remastered

Billiards, dress, high heels, thong, stripping, posing, vedgie, bare feet, distortion, panty stuffing, fingering, self fisting, pool cue, insertions

232 Pics
Scene Samples

Britney Austin - Scene #2 - Remastered

Pink nightgown, high heels, stripping, posing, bare feet, finger spreading, finger gaping, speculum, gaping, cervix, crew, gaping pullout

222 Pics
Scene Samples

Britney Austin - Scene #3 - Remastered

Outdoor, pigtails, denim romper, sneakers, badminton, stripping, posing, camel toe, finger spreading, female assistant: Sandy, racket, insertions, fisting

225 Pics
Scene Samples

Britney Austin - Scene #4 - Remastered

Jacuzzi, bikini, thong, bare feet, wetting, stripping, posing, baby oil, finger spreading, fingering, spreaders, gaping

314 Pics
Scene Samples
Downloadable Videos
Screen Capture

Video Description

Download Options

New Video Release

Video Type: Photoshoot

Length: 20:34

AVI #010

Date: November 08, 2011

Britney poses in a short dress playing billiards. As she bends over the table, we get a peek of her panties. She hops up onto the table and stuffs them deep into her pink pussy, then pulls them out again so that she can ram her entire fist in deep from behind. After her pussy gets stretched to the max, she inserts the pool cue deep and licks off her sweet juices.

640x480 Flash

640x480 DivX

720x540 WMV

New Video Release

Video Type: Masturbation

Length: 15:11

AVI #09

Date: June 23, 2009

Britney comes into the scene playing around with her badmition toy. She sits down and begins to play with her pussy, rubbing her clit and fucking herself with the racket. Then she calls Sandy over to fist fuck her until she cums hard!

640x480 Flash

640x480 DivX

720x540 WMV

New Video Release

Video Type: Photoshoot

Length: 10:02

AVI #06-08

Date: July 10, 2007

Britney poses with a beautiful smile in some pink lingerie. She spreads her bald ass and pussy from behind and her pussy opens up, waiting to be filled. We use the speculum and crank her pussy way open to reveal her juicy cervix. We get 2 great gaping pull-out shots from this lovely lady!

640x480 Flash

640x480 DivX

720x540 WMV

New Video Release

Video Type: Masturbation

Length: 16:40

AVI #01-05

Date: February 20, 2007

Britney is sitting on a lounge chair. She starts to rub her clit and finger her pussy until it is nice and wet. Then Britney gets a pink vibrator to fuck her pussy with. Britney then switches to a blue vibrator to fuck her pussy with until she cums.

640x480 Flash

640x480 DivX

720x540 WMV