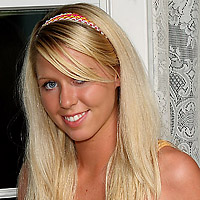 Brynn Tyler
Production Date: 2007-12-05
Age: 20
Height: 5'7"
Weight: 118 lbs
Measurements: 33B-26-34
Occupation: Model
Hobbies: Socializing, Concerts
Favorite Music: Dave Metthews Band
Favorite Fantasy: Sex in high school classroom
Our shoot with Brynn Tyler was in the middle of winter so when a snow storm was right around the corner, we had some worries that her flight would get canceled; fortunately, we were able to fly her in without problem and everybody made it to the shoot location before the snow started coming down heavily. So we were in the middle of our shoot when Brynn said, "Hey I have never done a scene in the snow before and I would love to do one; today is the perfect day, let's do it!" We loved her optimism and you can bet we took her up on the offer, so we did a scene outside and at one point Brynn was in the snow wearing nothing but her hat and shoes. This can-do attitude made Brynn stand out to us, we love models that aren't too prima donna. Brynn had a great time at the shoot and it really shows in her pictures; we take pride in this because it is not something that can be faked, and if the model isn't having a good time it shows. Brynn is 20 years old, stands 5'7" tall (170cm) and weighs 118lbs (53kg); her measurements are 33B-26-34 (84B-66-86cm). She is a total nympho and is ready for sex 24/7 with guys or gals. She started shaving her pussy at 13, gave her first BJ at 16 and has been otherwise sexually active since the age of 17. When we asked her what her sexual fantasy was, she told us to have sex in a highschool classroom. In her freetime, she likes hanging out with friends and traveling to concerts, especially to see her favorite group, the Dave Matthews Band. The only thing Brynn said she didn't like was flying on airplanes with babies (that will grind anyone's nerves...). Overall, we are very pleased with how Brynn's shoot turned out and think you will be, too. We shot a total of 9 photosets and 4 masturbation videos, be sure to let us know what you think!
Available Photosets
Snapshot

Scene Description

Total Pictures

Scene Preview

Brynn Tyler - Scene #1

White top and red skirt, stripping, posing, ALS assistant Austin licks Brynn's clit and works her entire hand wrist-deep into Brynn's pussy!!

Released: 2009-04-17

280 Pics
Scene Samples

Brynn Tyler - Scene #2 - Remastered

Pink hoodie, mini skirt, cowgirl hat, boots, no panties, see through, stripping, posing, finger spreading, female assistant: Austin Reines, hanging weights, lip pulling, labia stretching, model only

Released: 2009-06-12 / Remastered: 2023-09-07

299 Pics
Scene Samples

Brynn Tyler - Scene #3

Red top, jean skirt, stripping, posing, spreading, panty stuffing, large glass dildo insertions!!

Released: 2009-10-02

274 Pics
Scene Samples

Brynn Tyler - Scene #4

Green bathrobe, stripping, posing, baby oil rub down, spreading, gaping, squash and cucumber insertions!!

Released: 2010-01-22

245 Pics
Scene Samples

Brynn Tyler - Scene #5

Green night-gown, stripping, posing, spreading, sucking & fucking Austin's huge strap-on dildo in the doggy-style, reverse-cowgirl, and missionary positions!!

Released: 2010-06-04

287 Pics
Scene Samples

Brynn Tyler - Scene #6

Purple micro bikini, showering, stripping, posing, streaming-water stimulation, bottle insertions, lolli-pop insertions!!

Released: 2010-10-01

234 Pics
Scene Samples

Brynn Tyler - Scene #7

Orange shorts and tank top, stripping, posing, finger spreading, fingering, speculum insertions for crystal-clear cervix shots!!

Released: 2011-04-01

233 Pics
Scene Samples

Brynn Tyler - Scene #8

Long coat, beanie, boots, scarf, outside, snow, smoking, flashing, string-of-beads insertion, stripping, posing!!

Released: 2011-07-29

211 Pics
Scene Samples

Brynn Tyler - Scene #9

Sweat pants, tank top, exercising, wet t-shirt, stripping, posing, dual vibrator insertions!!

Released: 2012-04-20

187 Pics
Scene Samples
Downloadable Videos
Screen Capture

Video Description

Download Options

New High-Definition Video Release

Video Type: Masturbation

Length: 14:25

HD #005

Date: October 15, 2013

Sexy Brynn Tyler hops into the shower to wash up. After lathering up, she turns the shower head on her pussy, letting the water pound on her clit to get her worked up. Then she sucks on a lolli-pop, taking it downstairs to slip into her tight snatch, getting it sticky and sweet. Brynn then gets a large vibrator and penetrates herself hard, working her pussy until she has a satisfying orgasm. Afterwards, she rinses off to cool back down.

853x480 Flash

1280x720 DivX

1280x720 MP4

1920x1080 WMV

New High-Definition Video Release

Video Type: Masturbation

Length: 21:26

HD #004

Date: July 19, 2011

We caught sexy Brynn Tyler reading a book and relaxing to start off this hot masturbation video! Watch as this hottie moves her dress to the side and begins to rub on her sweet pussy and play with her perky tits! Brynn then begins to finger her wet hole, which gets her nice and horny! Watch this babe take her dress off and get to work! Brynn plays with her pussy and stuffs her pink hole with a vibrator until she cums hard! This girl loves to get herself off!

853x480 Flash

1280x720 DivX

1280x720 MP4

1920x1080 WMV

New High-Definition Video Release

Video Type: Photoshoot

Length: 28:15

HD #003

Date: March 31, 2011

Sexy Brynn Tyler is posing on her bed wearing a beautiful piece of green lingerie. She takes off the outfit to reveal her nice tits and sweet pussy! Watch as Brynn poses showing off her hot body in different positions. Then Austin steps in with a huge strap on dildo! Brynn sucks the dildo, and then takes it like a champ deep inside of her tight pussy from multiple angles! This girl is the shit!

853x480 Flash

1280x720 DivX

1280x720 MP4

1920x1080 WMV

New High-Definition Video Release

Video Type: Masturbation

Length: 18:33

HD #002

Date: July 21, 2009

Brynn is in the kitchen cooped up inside from the cold snow. She decides to moisturize her skin with some oil and covers her sexy body in it. She plays with her clit and fingers her pussy, then she pulls put a silver vibrator and works it against her clit until she cums.

853x480 Flash

1280x720 DivX

1280x720 MP4

1920x1080 WMV

New High-Definition Video Release

Video Type: Masturbation

Length: 14:16

HD #001

Date: May 05, 2009

Brynn calls up her girlfiend and wants to get off with her on the phone. She starts by rubbing her pussy with her fingers, then gets so hot she has to hang up so she can give her pussy what it deserves. She takes out a clear vibrator and uses it against her clit and in her wet pussy until she cums while standing.

853x480 Flash

1280x720 DivX

1280x720 MP4

1920x1080 WMV