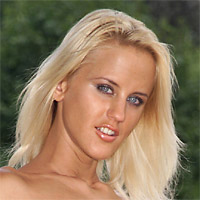 Cynthia
Age: 21
Height: 5'5"
Weight: 112 lbs
Measurements: 34C-24-34
Occupation: Model
Hobbies: Shopping and dancing
Favorite Music: Rock & Roll
Favorite Fantasy: To have sex in a store display window
Cynthia's story is quite interesting. Sandy was doing a talk show about her modeling agency on a television show. They were talking about how much models and make and how much fun they have working. Well Cynthia happened to be watching and actually called into the television show while they were on the air. Cynthia was practically begging to become a model. She said that she had never done any new modeling before but it all sounded like it would be great fun. Sandy took down her information, thinking what are the chances that this girl was pretty. Well Sandy called her back the next day and Cynthia came down to her office for an interview. Sandy could not believe how beautiful Cynthia was. She had her next 3 weeks booked solid with work. We were very happy to be able to work with Cynthia and we got lots of great pictures and video. Cynthia is 21 years old, 5'5" (166cm) tall, and weighs 112 lbs (51 Kg). She is open to anything and did peeing, cucumber insertions, and bottle insertions for us (both normal and inverted). She also did 2 masturbation scenes and really enjoyed it when she was fisted by Sandy. Cynthia likes to shop and dance. But what really turns her on is wearing skimpy clothes and seeing the guys stare at her. She love the thought of turning guys on and giving them hard-ons. Cynthia first had sex when she was 16 and now usually has it at least twice a day. Her measurements are 34C-24-34 in. (88C-60-88cm).
UPDATE: Now adding another incredible Cynthia shoot... Public Nudity!! This beauty walked around downtown Pest showing her tight body to anyone who came by!!
Available Photosets
Snapshot

Scene Description

Total Pictures

Scene Preview

Cynthia - Scene #1 - Remastered

Yellow sun dress, posing outside, spreading pussy, fingering, cucumber insertions, Sandy jumps in to spread Cynthia's pussy wide!!

187 Pics
Scene Samples

Cynthia - Scene #2 - Remastered

Fishnet mesh bikini, high heels, outdoor, stripping, posing, finger spreading, female assistant: Sandy, pussy eating, fisting

255 Pics
Scene Samples

Cynthia - Scene #3 - Remastered

Outdoor, smoking, short shorts, camel toe, high heels, wet t-shirt, finger spreading, bottle, insertions, peeing

163 Pics
Scene Samples

Cynthia - Scene #4 - Remastered

Pool, bikini, high heels, wetting, camel toe, stripping, posing, fingering, inverted glass bottle, insertions, female assistant: Sandy, cum dripping pussy

218 Pics
Scene Samples

Cynthia Public Nudity - Scene #1 - Remastered

Yellow sun dress, sandals, outdoor, Budapest, public, exhibition, posing

258 Pics
Scene Samples
-->
Downloadable Videos
Screen Capture

Video Description

Download Options

Video Type: Public Nudity

Length: 20:56

AVI #17-34

Date: October 01, 2009

Sexy Cynthia hits the streets of Budapest in her pretty yellow dress only to reveal her sexy body to the entire city! Watch as ALS takes a sneaky journey through the streets and Cynthia bares it all in front of hundreds of people! You do not want to miss this exciting video!

640x480 Flash

640x480 DivX

720x540 WMV

Video Type: Masturbation & BTS

Length: 32:48

AVI #48-63

Date: May 07, 2009

Cynthia has to take a break and let her crystal stream flow. Then Cynthia is ready to masturbate so she plays with a glass bottle and a double-sided dildo. Cynthia then has her friend Sandy come and fists her juicy pussy until she cums!

640x480 Flash

640x480 DivX

720x540 WMV

Video Type: Masturbation

Length: 15:05

AVI #66-72

Date: October 25, 2007

Cynthia is sitting on a green couch. She starts to play with her pussy until it's nice and wet. Cynthia then gets a pink vibrator that she uses on her clit. Then Cynthia gets a flesh colored vibrator to fuck her pussy with until she cums.

640x480 Flash

640x480 DivX

720x540 WMV