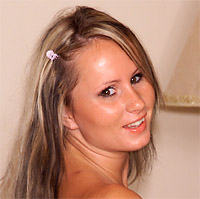 Daisy
Age: 24
Height: 5'6"
Weight: 110 lbs
Measurements: 32C-25-34
Occupation: Student
Hobbies: Dancing and tennis
Favorite Music: Bee Gees
Favorite Fantasy: To give a guy a blowjob during a sports game
OK guys not every shoot can go exactly as planned. This was one of those days. First Daisy showed up without her ID's, so we waited around for over an hour until her mom came by and dropped them off. Then we were shooting the pool scene and it started to rain. So we went inside and did another set and completed the pool set at the end of the day but by that time it had gotten about 15F (8C) colder. And lots of other little things went wrong like at lunch the food was bad. But even with all of these problems the pictures and video somehow turned out great and Daisy was a real sport. Guys when you see that pool scene just know she was freezing her ass off - it was COLD!!. Daisy is 24 years old, 5'6" (168cm) tall, and weighs 110 lbs (50Kg). She is a student attending a Budapest university. Daisy started having sexual activity around the age of 16 but never really slept with a lot of guys. She has had several boyfriends but during those times she would remain faithful to him. Daisy has never had sex with a girl but often fantasizes about it. Her big fantasy is to give a guy a blowjob at a sports game. She thinks she could easily get away with it without getting caught. She likes disco music like the Bee Gees.
Available Photosets
Snapshot

Scene Description

Total Pictures

Scene Preview

Daisy - Scene #1 - Remastered

Crop top, short shorts, high heels, stripping, posing, finger spreading, female assistant: Amy Lee, spreaders, gaping, cum dripping

209 Pics
Scene Samples

Daisy - Scene #2 - Remastered

Pigtails, french braid, college girl, uniform, mini skirt, tube top, white cotton panties, high heels, reading, camel toe, stripping, posing, wetting, wet panties, vedgie, finger spreading, upshots, female assistant: Amy Lee, fisting, gaping pullout

241 Pics
Scene Samples

Daisy - Scene #3 - Remastered

Outdoor, bikini, thong, g string, high heels, camel toe, pool, wetting, vedgie, stripping, posing, bare feet, finger spreading, upshots, candlesticks, insertions, female assistant: Amy Lee, gaping pullout

198 Pics
Scene Samples

Daisy - Scene #4

Black top, white skirt, white panties, stripping, posing, cameltoe, spreading, cranked wide open with the speculum for crystal clear cervix shots!

191 Pics
Scene Samples
Downloadable Videos
Screen Capture

Video Description

Download Options

New Video Release

Video Type: Masturbation

Length: 15:19

AVI #04

Date: April 30, 2009

Daisy is sitting on a chair. She starts to rub her clit and finger her pussy until it's nice and juicy. Daisy then gets a blue vibrator to fuck her pussy with, but she needs more so she gets another vibrator just for her clit while she continues to fuck herself with the first one until she cums!

640x480 Flash

640x480 DivX

720x540 WMV

Video Type: Masturbation

Length: 11:08

AVI #01-03

Date: May 08, 2008

Daisy fingers her wet pussy and clit to get it ready. She then works a clear dildo in and out of her pussy to open it up. She then finishes herself off with a zebra striped vibrator so she can cum hard. Hot!

640x480 Flash

640x480 DivX

720x540 WMV