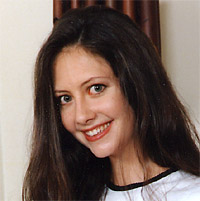 Deanna
Age: 23
Height: 5'9"
Weight: 115 lbs
Measurements: 34C-24-34
Occupation: Health care provider
Hobbies: Camping and horseback riding
Favorite Music: All types
Favorite Fantasy: Being taught a naughty lesson by a cop
Deanna is 23 years old, 5'9" tall and weighs 115 lbs. She likes people who are compassionate and can carry on an interesting conversation. The shoot with Deanna was cool... just look at her body!! Anyway, Deanna did some fisting, lots of fingering, and tons of insertions. We even get out the pussy spreaders to stretch her wide open!! Deanna enjoys going camping and horseback riding. She listens to all types of music and needs sex at least once a day (but the more the better :-) ). Her all time favorite fantasy is to be pulled over by an officer of the law, searched, and then being penetrated, feeling his manhood deep inside of her!! Deanna's measurements are 34C-24-34.
Available Photosets
Snapshot

Scene Description

Total Pictures

Scene Preview

Deanna - Scene #1

White shirt and tie, posing, spreading, fingering, full frontal fisting action!! Female assistant Beth spreads Deanna wide with our pussy spreaders!!

80 Pics
Scene Samples

Deanna - Scene #2

White dress, posing, fingering, spreading, gaping hole shots!! Deanna stuffs her pussy with a glass dildo!!

82 Pics
Scene Samples

Deanna - Scene #3

White top and daisy dukes, posing, fingering, dildo insertions!!

74 Pics
Scene Samples

Deanna - Scene #4

Pink dress, posing, Deanna stuffs a glass bottle into her juicy pussy from multiple positions!!

73 Pics
Scene Samples

Deanna - Scene #5

Blue halter top and dress, posing, spreading, fingering, cucumber insertions, gaping pussy!!

98 Pics
Scene Samples

Deanna - Scene #6

Plaid skirt and white top, posing, fingering, spreading, huge dildo insetions!!

78 Pics
Scene Samples
Downloadable Videos
Screen Capture

Video Description

Download Options

Video Type: Masturbation

Length: 5:20

AVI #23-49

Date: September 24, 2009

After a long photoshoot, every model needs some time to unwind. Deanna takes full advantage of this special time in this hot masturbation scene! Watch this freaky girl begin to rub on her pussy with a huge glass dildo getting herself nice and horny. She then uses the dildo to fuck her pussy until she cums!

640x480 Flash

640x480 DivX

720x540 WMV

Video Type: Masturbation

Length: 10:47

AVI #31-34 (a-d)

Date: July 12, 2007

Deanna is on a bed she starts to rub her clit and finger her pussy until it's all juicy. Deanna then gets a red dildo to fuck her pussy with until she cums.

640x480 Flash

640x480 DivX

720x540 WMV