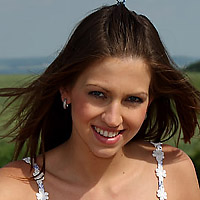 Eufrat
Age: 22
Height: 5'8"
Weight: 121 lbs
Measurements: 35B-24-36
Occupation: Secretary
Hobbies: Dancing, dogs, sex, reading
Favorite Music: Classic & Techno!
Favorite Fantasy: Sex in Public
We have been receiving a lot of requests to shoot this Czech honey, so after making a few calls we tracked her down and booked her for a shoot while we were on our Czech 2008 trip. Eufrat totally blew us away! We were able to shoot 7 photosets and 5 intense masturbation videos (this girl knows how to get herself off!). She has been modeling for a little over 2 years and growing in popularity, she has an amazing sexy look and beautiful smile. When she is not modeling, she works as a secretary, and her hobbies include dancing, dogs, sex and reading. Eufrat is 22 years old, 5'8" tall (174cm) and weighs 121 lbs (55kg). She has been having sex since she was 16, but started shaving her pussy and gave her first BJ at 15. She prefers guys over girls, and her favorite sexual fantasy is to have sex with a bunch of guys in a public place. Her likes include chocolate, the ocean, and buff men. She dislikes spiders, liars, and spinach. Her measurements are 35B-24-36 (90B-63-93). Enjoy!
Available Photosets
Snapshot

Scene Description

Total Pictures

Scene Preview

Eufrat - Scene #1

Blue top and jean skirt, stripping, posing, spreading, baby oil rub down, green lolli-pop insertions!!

229 Pics
Scene Samples

Eufrat - Scene #2

White dress and high heels, stripping, posing, Suzie assists Eufrat in conquering the ALS Rocket for spectacular cervix shots!!

235 Pics
Scene Samples

Eufrat - Scene #3

Blue top, gray shorts, backyard play with Suzie, stripping, posing, paddle-handle insertions, Eufrat rides Suzie's fist, big glass dildo penetration!!

277 Pics
Scene Samples

Eufrat - Scene #4

White dress, in bed w/ Suzie, stripping, posing, kissing, spreading, huge strap-on insertions in various positions!!

232 Pics
Scene Samples

Eufrat - Scene #5

micro bikini, stripping, posing, baby oil rub down, jump rope exercise and insertions!!

280 Pics
Scene Samples

Eufrat - Scene #6

Jean shorts, teal top, grilling outback, stripping, posing, deep pussy cucumber and banana insertions!!

270 Pics
Scene Samples

Eufrat - Scene #7

White sun dress, stripping, posing, spreading, finger gaping, two vibrators in one hole in various positions!!

258 Pics
Scene Samples

Eufrat - Shoot #2 - Scene #1

Towel, outside, stripping, posing, dip in hot tub, playing with ball, finger spreading, fingering, dildo insertions, gaping with spreaders for bigger dildo insertions!!

277 Pics
Scene Samples

Eufrat - Shoot #2 - Scene #2

Outdoor, blue shirt and short shorts, riding ATV, stripping, posing, fingering, bottle insertions, pussy pumping until swollen and plump, distortion against handle bars!!

326 Pics
Scene Samples

Eufrat - Shoot #2 - Scene #3

Pink micro bikini, heels, outside, camel toe, nude sunbathing, baby oil, fingering, glass bottle and puff daddy insertions!!

283 Pics
Scene Samples

Eufrat - Shoot #2 - Scene #4

Outdoor, skirt, thong, high heels, distortion, finger spreading, fingering, panty stuffing, close up, Dreamcatcher, spreading!

267 Pics
Scene Samples
Downloadable Videos
Screen Capture

Video Description

Download Options

New High-Definition Video Release

Video Type: Masturbation

Length: 15:15

HD #008

Date: October 24, 2013

Eufrat jams out to some of her favorite tunes, enjoying the good vibes in a nice, blue dress as her sweet, shaved pussy peaks out from underneath. She begins to rub and tease her pussy, then fingers herself more vigorously until she has an intense orgasm.

853x480 Flash

1280x720 DivX

1280x720 MP4

1920x1080 WMV

New High-Definition Video Release

Video Type: Masturbation

Length: 16:18

HD #007

Date: July 30, 2013

Eufrat struts in to the good vibes of her favorite music and begins to put on a sexy dance, rocking her hips as she strips down to reveal her beautiful bust and slender physique. She gets herself wet rubbing and fingering her shaved pussy until she can no longer resist letting the good vibes of her favorite toy sweep her into ecstacy.

853x480 Flash

1280x720 DivX

1280x720 MP4

1920x1080 WMV

New High-Definition Video Release

Video Type: Photoshoot

Length: 23:01

HD #006

Date: July 18, 2013

Lovely Eufrat poses outside enjoying a healthy snack. She strips down and stuffs her panties deep into her juicy pussy and then spreads herself wide with the Dreamcatcher to pull her panties back out.

853x480 Flash

1280x720 DivX

1280x720 MP4

1920x1080 WMV

New High-Definition Video Release

Video Type: Masturbation

Length: 16:05

HD #005

Date: July 10, 2012

Eufrat lays out in the sun on a towel and we get to admire her sexy body. She slicks down with some oil and starts to rub on her clit, finger fucking her juicy pussy. Eufrat then grabs her vibrator and rams her hot hole in a variety of positions until she cums hard!

853x480 Flash

1280x720 DivX

1280x720 MP4

1920x1080 WMV

New High-Definition Video Release

Video Type: Masturbation

Length: 13:23

HD #004

Date: June 05, 2012

Sexy Eufrat hops in the shower to clean off after a long day... but she also wants to cum! Watch this hottie clean her body off, then rub herself down with baby oil! Eufrat then plays with her sweet pussy getting herself nice and horny! Then watch as Eufrat finger fucks her tight hole super hard until she cums!

853x480 Flash

1280x720 DivX

1280x720 MP4

1920x1080 WMV

New High-Definition Video Release

Video Type: Photoshoot

Length: 25:20

HD #003

Date: March 20, 2012

Beautiful Eufrat is posing outside next to her hot tub to start of this hot photoshoot video. Watch this hottie take her towel off and unleash her huge, beautiful tits and sweet pink pussy! Eufrat gets into the hot tub and begins to spread her wet pussy for us. She then gets out her favorite dildo that she inserts deep inside of her pussy with a great pullout! Eufrat then opens her pussy to the max when she breaks out the spreaders! We get a view deep inside of Eufrat's pussy and then she inserts a dildo inside of her wide-open hole while the spreaders are still in! Hot ass photoshoot video with a sexy ass bitch!

853x480 Flash

1280x720 DivX

1280x720 MP4

1920x1080 WMV

New High-Definition Video Release

Video Type: Masturbation

Length: 15:48

HD #002

Date: February 21, 2012

We catch Eufrat waking from her dreams, starting to rub on her pussy. She wants to get herself off and finger fucks her pussy to get it warmed up. Then she cranks it open wide with the spreaders and uses a vibrator to stimulate her clit until she cums with her pussy stretched open to the max! Eufrat falls back asleep totally satisfied.

853x480 Flash

1280x720 DivX

1280x720 MP4

1920x1080 WMV

New High-Definition Video Release

Video Type: Masturbation

Length: 17:16

HD #001

Date: January 10, 2012

Eufrat waters the plants outside and lays down to take a break. She wants to relax even more and strips down to rub her entire body with oil. She works her pussy over with her fingers for a while and then grabs the water hose to fuck her pussy until she cums hard. Eufrat shows us just how much fun doing yard work can be!

853x480 Flash

1280x720 DivX

1280x720 MP4

1920x1080 WMV

New High-Definition Video Release

Video Type: Masturbation

Length: 22:38

HD #008

Date: July 07, 2011

Eufrat is in her room reading some sexy magazines. She is comparing herself to the models, and must get super turned on by some of the ladies because she puts down the reading material and goes to town on her pussy! Watch Eufrat take off her sexy outfit and begin to gape and play with her sweet pussy. She then gets out her favorite vibrator that she uses to fuck herself hard with! This girl is a sex maniac!

853x480 Flash

1280x720 DivX

1280x720 MP4

1920x1080 WMV

New High-Definition Video Release

Video Type: Photoshoot

Length: 21:07

HD #007

Date: March 23, 2010

Eufrat has Suzie over to her house and the girls lounge in bed with each other making out. Suzie peels off Eufrat's clothes and sucks on her luscious tits before running to grab something... leaving Eufrat alone on the bed. Eufrat spreads her shaved pussy and rams her fingers in deep. Then Suzie pops back into the scene to serve Eufrat a huge strap-on cock deep into her pussy while she sucks her toes. Suzie pounds it in hard while squatting over Eufrat and stretches her pussy wide!

853x480 Flash

1280x720 DivX

1280x720 MP4

1920x1080 WMV

New High-Definition Video Release

Video Type: Masturbation

Length: 21:52

HD #006

Date: December 15, 2009

Eufrat works her body while exercising outside on a bike. She gets all sweaty so she takes off her clothes and begins to play with her tits and pussy. She grabs a pink vibrator and uses it to work her pussy in a variety of positions until she cums!

853x480 Flash

1280x720 DivX

1280x720 MP4

1920x1080 WMV

New High-Definition Video Release

Video Type: Photoshoot

Length: 23:52

HD #005

Date: September 08, 2009

Eufrat poses by the pond outside in a sexy micro bikini. Watch her cover her luscious tits and pussy in oil. She gets playful and jumps rope, only to find a better use for her toy. She distorts her pussy with the rope then uses the handles rammed deep inside her hot snatch to spread it open wide.

853x480 Flash

1280x720 DivX

1280x720 MP4

1920x1080 WMV

New High-Definition Video Release

Video Type: Photoshoot

Length: 15:34

HD #004

Date: January 20, 2009

Eufrat comes down the stairs and poses in a cute dress with no panties on. She bends over and gives us a shot of her luscious pussy. Our assistant Suzie serves Eufrat the ALS Rocket, working it deep so we can get great shots of her cervix. Eufrat even rolls over so we can take a look from behind!

853x480 Flash

1280x720 DivX

1280x720 MP4

1920x1080 WMV

New High-Definition Video Release

Video Type: Masturbation

Length: 18:42

HD #003

Date: December 02, 2008

Eufrat lies in the sun in a hot micro bikini. She covers her body in oil and then uses her butterfly net to stimulate her clit. Next, she takes a glass dildo and works her wet gaping pussy with it hard and fast in a variety of positions until she cums!

853x480 Flash

1280x720 DivX

1280x720 MP4

1920x1080 WMV

New High-Definition Video Release

Video Type: Masturbation

Length: 18:36

HD #002

Date: September 09, 2008

Our hot Czech lady sits outside on the sunny balcony and strips down from her clothes to cover herself in oil until her tits and pussy glisten. She rubs her clit and pussy then takes out a striped dildo to ram her pussy hard until she cums.

853x480 Flash

1280x720 DivX

1280x720 MP4

1920x1080 WMV

New High-Definition Video Release

Video Type: Masturbation

Length: 19:28

HD #001

Date: July 08, 2008

Eufrat jumps into the tub and uses the shower to soak her pink lingerie. She strips down and washes her body, getting her tits and pussy nice and soapy. Then she pounds her pussy with a purple striped vibrator in a variety of positions until she cums! Watch her clean herself up afterwards.

853x480 Flash

1280x720 DivX

1280x720 MP4

1920x1080 WMV