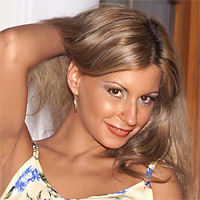 Gabriella
Age: 25
Height: 5'2"
Weight: 110 lbs
Measurements: 38C-24-35
Occupation: Model
Hobbies: Dancing and shopping
Favorite Music: Rock
Favorite Fantasy: To have sex in every country around the world
Gabriella is a very popular model in Hungary. In fact she is a big time Hungarian Playmate!! When she came to the casting and told us that the Playmate stuff was way too tame for her, I told her that we would gladly help her out. Gabriella was eager to try our wild toys and objects and told us that this kind of posing was much more exciting for her. Her usual shoots bore her because she has to hold uncomfortable poses for 20-30 minutes at a time all for just 1 or 2 shots. ALS on the other hand shoots about 200 pics in that same amount of time. Much higher action levels and she really enjoyed it! Gabriella is 25 years old and stands 5'2" (158 cm) tall. She weighs 110 lbs (50 Kg). One thing that she really enjoyed doing was the speculum scene. She thought that was crazy and really liked seeing her own cervix. Gabby also did the usual inverted bottle insertions, peeing, veggies, etc. Sandy our female assistant even jumped in and gave her a good fisting as well. Gabriella loves cats and likes to listen to good old fashion rock music. "A heavy drum beat and pounding bass line is great to fuck to," she told us. She first had sex at the age of 17 and usually cums twice a day. If a guy is not around to satisfy her she uses her trusty vibrator. Gabby's measurements are 38C-24-35 in. (98C-62-90cm). So the next time you look at one of those playmates, think to yourself "does she look bored?? - maybe what she really wants is some ALS kinda fun!!"
Available Photosets
Snapshot

Scene Description

Total Pictures

Scene Preview

Gabriella - Scene #1 - Remastered

Yellow floral dress, high heels, stripping, posing, finger spreading, fingering, banana, insertions, peeing

203 Pics
Scene Samples

Gabriella - Scene #2 - Remastered

White dress, high heels, stripping, posing, finger spreading, glass bottle, inverted, insertions

138 Pics
Scene Samples

Gabriella - Scene #3 - Remastered

Mesh top, skirt, high heels, stripping, posing, finger spreading, female assistant: Sandy, fisting, cunnilingus

190 Pics
Scene Samples

Gabriella - Scene #4 - Remastered

Bikini, high heels, bed, stripping, posing, finger spreading, speculum, gaping, cervix

188 Pics
Scene Samples
Downloadable Videos
Screen Capture

Video Description

Download Options

Video Type: Masturbation

Length: 16:14

AVI #01-11 (a-e)

Date: June 19, 2008

Sexy Gabriella does herself right by rubbing her wet pussy and spreading lube all over her fabulous body. She pulls out a dildo to work her tight pussy, and if that wasn't enough, she rams her ass with a vibrator, too!

640x480 Flash

640x480 DivX

720x540 WMV