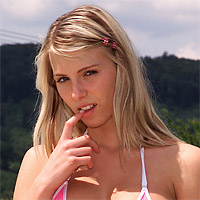 Gina Lee
Age: 20
Height: 5'7"
Weight: 115 lbs
Measurements: 34C-26-34
Occupation: Hostess
Hobbies: Dancing, listening to music, partying
Favorite Music: Metallica and Madonna
Favorite Fantasy: To have a BGG threesome
This girl is incredible! As you can tell from her pictures, Gina Lee is definately one of the hottest Angels models we've shot! She was up for everything we wanted to do and she had a great attitude the whole time. When we first tried to book Gina Lee, her schedule was very hectic, so we actually spread her shoot out over two days to accomodate her needs... that's how hot we thought she was! When we saw her, we knew we had to get her for you guys. Gina Lee is 20 years old, 5'7" tall and weighs 115 pounds. When not modeling, she loves to spend time with her friends and family. Her favorite music is Metallica and Madonna (strange, but true!) and she enjoys going out to clubs and parties all night long. She gave her first blow job when she was 16, and also had sex for the first time that year as well. She says she prefers guys over girls, but her fantasy is to be in a boy / girl / girl threesome, so she's definately willing to experiment. ;) Gina Lee's measurements are 34C-26-34.
Available Photosets
Snapshot

Scene Description

Total Pictures

Scene Preview

Gina Lee - Scene #1 - Remastered

Outdoor, bikini, high heels, ball and cup, playing, wetting, stripping, posing, finger spreading, sunglasses, baby oil, dual insertions, gaping pullout, finger gaping

310 Pics
Scene Samples

Gina Lee - Scene #2 - Remastered

Floral robe, pink thong, bare feet, kitchen, coffee, stripping, posing, finger spreading, panty stuffing, female assistant: Amy Lee, spoons, insertions, spreading

250 Pics
Scene Samples

Gina Lee - Scene #3 - Remastered

Stationary bike, exercise, tank top, short shorts, sneakers, stripping, posing, finger spreading, dildo, insertions, gaping pullout, fingering

228 Pics
Scene Samples

Gina Lee - Scene #4 - Remastered

Outdoor, pigtails, french braid, tank top, short shorts, sneakers, tennis, exercise, stripping, posing, tennis racket, insertions, finger spreading, finger gaping, female assistants: Amy Lee & Faith, fingering, spreaders, gaping, gaping pullout

226 Pics
Scene Samples

Gina Lee - Scene #5 - Remastered

Nightgown, thong, bare feet, bed, stripping, posing, finger spreading, finger gaping, female assistant: Amy Lee, speculum, gaping, cervix, crew, mirror, reflection, gaping pullout

215 Pics
Scene Samples
Downloadable Videos
Screen Capture

Video Description

Download Options

Video Type: Masturbation

Length: 16:44

AVI #01-05

Date: October 29, 2009

Sexy Gina Lee is in the shower wearing her nice micro bikini. She takes the bikini off and begins to lather up her beautiful body with some soap. After she is nice and clean, Gina dries off and rubs her body down with baby oil. Gina gets horny after she is done rubbing on her body so she grabs her dildo and uses it to fuck her pussy with until she cums!

640x480 Flash

640x480 DivX

720x540 WMV

New Video Release

Video Type: Photoshoot

Length: 11:52

AVI #32-34

Date: June 10, 2008

Gina Lee was a plasure to work with, mostly because she is smokin' hot but also because she is a lot of fun. Watch her photoshoot video from her kitchen scene where she stuffs her entire panties into her tight pussy and Amy Lee pulls them out with her teeth. Then she inserts two spoons into her hole and spreads them apart to open up her pussy!

640x480 Flash

640x480 DivX

720x540 WMV

New Video Release

Video Type: Masturbation

Length: 16:54

AVI #28-31

Date: May 13, 2008

Gina lies on the bed in a sexy lingerie set. She pulls it from her body and rubs her luscious tits getting excited. She shows off her gaping pussy and then uses a speculum to crank it open. She takes a pink vibrator and inserts it into the gaping hole, then presses it against her clit until she cums!

640x480 Flash

640x480 DivX

720x540 WMV

New Video Release

Video Type: Masturbation

Length: 16:01

AVI #24-27

Date: March 11, 2008

Gina Lee is so cute playing around on the tennis court and singing. She takes a break to sit down on the bench and starts to play with her pussy. She rubs it around with her fingers, then takes a purple, spiral-ribbed vibrator and rams it deep until she cums!

640x480 Flash

640x480 DivX

720x540 WMV

New Video Release

Video Type: Masturbation

Length: 16:25

AVI #20-23

Date: March 20, 2007

Watch hot ALS Angels model Gina Lee do a little workout, then decide to masturbate in this hot video. She plays with her pussy getting it ready for a hot pink vibe. Watch her ram the vibrator into her pussy to get herself off!

640x480 Flash

640x480 DivX

720x540 WMV