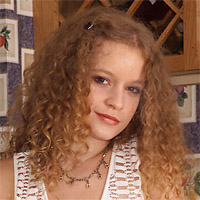 Gwenevieve
Age: 19
Height: 5'4"
Weight: 113 lbs
Measurements: 36C-24-36
Occupation: Undecided
Hobbies: Dance, mountain biking, and swimming
Favorite Music: Underground Hip-Hop
Favorite Fantasy: To be kidnapped, tied up, blindfolded, and teased sexually
Gwenevieve is exactly the kind of girl that you liked hanging around with. She is fun, easy going, a partier, and she is very open sexually. She never likes to get tied down to any single boyfriend because that tends to cramp her style. As soon as the guy starts to get serious she has to dump him and move on. Needless to say Gwen has sex quite a lot!! She was the most popular girl. Girls hated her because she was a threat to them. If a girl was mean to her, Gwen would make it her mission to take that girl's boyfriend away. And virtually every time she did. Gwen is 19 years old, 5'4" tall and weighs 113 lbs. She just finished school so she is still trying to decide what she wants to do. She does have a strong desire to start her own business. Gwen likes to dance, go mountain biking, and swimming. She listens to underground hip-hop and the blues. Her biggest pleasures in life are sex and smoking weed. Her fantasy is to be kidnapped, tied up, blindfolded, and teased sexually (not hurt of course, but scared). Gwen first started shaving her pussy at the age of 10, gave her first blowjob at 12, and had full sex at 13. Her measurements are 36C-24-36.
Available Photosets
Snapshot

Scene Description

Total Pictures

Scene Preview

Gwenevieve - Scene #1 - Remastered

Red top, skorts, high heels, underboob, camel toe, stripping, posing, white cotton panties, puffy nipples, vedgie, finger spreading, fingering, inverted glass bottle, insertions, gaping pullout

217 Pics
Scene Samples

Gwenevieve - Scene #2 - Remastered

White mesh tank top, mini skirt, no panties, high heels, stripping, posing, finger spreading, cucumber, insertions, female assistant: Katie, finger gaping

232 Pics
Scene Samples

Gwenevieve - Scene #3 - Remastered

White dress, thong, high heels, billiards, stripping, posing, bare feet, wet panties, camel toe, finger spreading, female assistant: Katie, tongs, gaping

253 Pics
Scene Samples

Gwenevieve - Scene #4 - Remastered

White bra, boy shorts, high heels, stripping, posing, puffy nipples, finger spreading, camel toe, dildo, insertion, glass dildo, two toys / dual insertion

183 Pics
Scene Samples

Gwenevieve - Scene #5 - Remastered

Sundress, sandals, no panties, upskirt, stripping, posing, finger spreading, bare feet, piledriver, female assistant: Katie, finger gaping, fisting

195 Pics
Scene Samples

Gwenevieve - Scene #6 - Remastered

Red wig, tank top, panties, bare feet, bed, stripping, posing, puffy nipples, finger spreading, speculum, gaping, cervix

201 Pics
Scene Samples
Downloadable Videos
Screen Capture

Video Description

Download Options

Video Type: Photoshoot

Length: 15:29

AVI #27-28

Date: November 12, 2009

Gwen was such a good time to work with. In this photoset, she insisted that she wore her favorite wig! We thought it looked hot on her so we said go right ahead. Watch sexy Gwen pose for the camera showing off her perfect tits and pink pussy! We get her on the bed and she gapes her hole wide, then inserts a speculum so we get to see a great shot of her cervix!

640x480 Flash

640x480 DivX

720x540 WMV

Video Type: Masturbation

Length: 10:25

AVI #29-33 (a-c)

Date: October 02, 2008

Gwen is sitting on a bed. She starts to rub her clit and finger her pussy untill it's nice and juicy. Then Gwen gets a white vibrator to fuck her pussy with until she cums!

640x480 Flash

640x480 DivX

720x540 WMV

Video Type: Masturbation

Length: 14:04

AVI #15-20

Date: May 15, 2008

Gwen is sitting on a black futon. She fingers her wet pussy and rubs her clit to get it ready. She then works a blue vibrator in and out of her pussy until she cums!

640x480 Flash

640x480 DivX

720x540 WMV

Video Type: Masturbation

Length: 18:20

AVI #01-09 (a-d)

Date: Sept. 27, 2007

Gwenevieve lubes up her pussy to masturbate using an orange vibrator until she cums. Hot stuff from this bad girl!

640x480 Flash

640x480 DivX

720x540 WMV