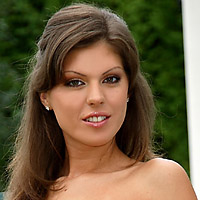 Hannah Hunter
Production Date: 2006-08-04
Age: 20
Height: 5'9"
Weight: 136 lbs
Measurements: 35C-26-37
Occupation: Full Time Model
Hobbies: Dancing, Tennis
Favorite Music: Beyonce, Pussycat Dolls, Disco, R&B
Favorite Fantasy: Threesome with guy and girl
Hannah Hunter is absolutely beautiful. The thing is that when we were shooting her we did not realize the true depth of her beauty until later when we looked at her pictures and video. It is strange - sometimes you can have a totally beautiful girl in person and then shoot her and the pictures and video are just average or you can have an average looking girl when you see her and then on film she looks amazing. Well Hannah Hunter is the latter. We are super pleased with her results and are certain that you will love her as well. Just look at her eyes and she will captivate you. Hannah Hunter is 20 years old, stands 5'9" (176 cm) tall, and weighs 136 lbs (62 Kg). Her measurements are 35C-26-37 (89C-67-93 cm). She enjoys both guys and girls sexually and was a really fun girl to work with. When Hannah is not modeling she goes to college and is studying political science. She also likes to dance and play tennis - this keeps her body tight and fit. Her musical tastes include Beyonce, Pussycat Dolls, Disco, and R&B. She loves to have sex as much as possible, Hungarian food, and nice clothes. She hates wars, stupid people, and sugary soft drinks. Hannah started shaving her pussy and having all forms of sex at the age of 15.
Available Photosets
Snapshot

Scene Description

Total Pictures

Scene Preview

Hannah Hunter - Scene #1 - Remastered

Bikini, thong, camel toe, high heels, outdoor, stripping, posing, vedgie, baby oil, finger spreading, glass dildo, insertions, tasting

Released: 2007-01-19 / Remastered: 2020-02-13

231 Pics
Scene Samples

Hannah Hunter - Scene #2 - Remastered

Pigtails, tank top, short shorts, high heels, outdoor, smoking, stripping, posing, finger spreading, toe sucking, upshots, finger gaping, female assistant: Nadia Taylor, fisting, gaping pullout

Released: 2007-05-11 / Remastered: 2020-05-21

226 Pics
Scene Samples

Hannah Hunter - Scene #3 - Remastered

Striped mini dress, high heels, pantyhose, stripping, posing, pantyhose ripping, finger spreading, bare feet, fireplace tools, distortion, spreaders, gaping, model only

Released: 2007-08-31 / Remastered: 2021-03-11

218 Pics
Scene Samples

Hannah Hunter - Scene #4 - Remastered

Red lingerie, see-through, nightgown, thong, high heels, stripping, posing, finger spreading, bare feet, speculum, gaping, cervix, crew, non-model, gaping pullout

Released: 2008-02-15 / Remastered: 2022-03-24

274 Pics
Scene Samples
Downloadable Videos
Screen Capture

Video Description

Download Options

New Video Release

Video Type: Masturbation

Length: 21:43

AVI #16

Date: May 11, 2010

Hannah Hunter came to visit us in our hotel room and after she had a drink, she decided to show off with an extended clit play session until her pussy was nice and juicy. She then pulled out a blue vibrator and stimulated her nipples and clit before stuffing it into her pussy to work her G-spot. Her pussy lips flared open as she pumped the toy and built up speed to an intense climax!

640x480 Flash

640x480 DivX

720x540 WMV

New Video Release

Video Type: Photoshoot

Length: 15:38

AVI #15

Date: June 09, 2009

Sexy Hannah Hunter is laying on her bed wearing a sexy red piece of lingere in this photoset. She takes her clothes off to reveal her beautiful body, then Hannah gapes her pussy good getting it ready for the speculum! We insert the speculum deep inside of Hanna's pussy and get a great view of her cervix!

640x480 Flash

640x480 DivX

720x540 WMV

Video Type: Masturbation

Length: 15:26

AVI #01-05 (a-d)

Date: September 11, 2008

Watch Hannah Hunter get herself off inside of a burning hot sauna. She rubs her entire body down with baby oil, then she fucks herself with a green vibrator until she cums!

640x480 Flash

640x480 DivX

720x540 WMV

Video Type: Masturbation

Length: 13:52

AVI #15-21 (a-c)

Date: June 26, 2008

Hannah is sitting outside on a bench. She starts to rub her clit and finger her pussy until it is nice and wet. Then she gets a white dildo to fuck her pussy with. Hannah then gets a purple vibrator to fuck her pussy with until she cums!

640x480 Flash

640x480 DivX

720x540 WMV

New Video Release

Video Type: Masturbation

Length: 19:03

AVI #11-14

Date: April 29, 2008

Hannah Hunter seductively strips from her sexy lingerie and caresses her body. She fingers her tight hole for a while then pulls out a pink dildo to stuff her pussy with. She adds in a silver vibrator against her clit to make her moan with pleasure.

640x480 Flash

640x480 DivX

720x540 WMV

New Video Release

Video Type: Masturbation

Length: 20:23

AVI #06-10

Date: May 15, 2007

We catch beautiful Hannah Hunter at home reading in this hot mast scene. She sets down her magazine, and decides to give us a special show. Watch her tear her clothes off and play with her stockings. She then gets right down to business and gets herself off with a large green dildo and a white vibrator!

640x480 Flash

640x480 DivX

720x540 WMV