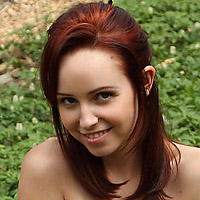 Hayden Winters
Age: 21
Height: 5'2" (157cm)
Weight: 105 lbs (47kg)
Measurements: 32D-24-30 (81D-61-76cm)
Occupation: Model, Webcam Model
Hobbies: Reading, Art
Favorite Music: Everything but "screamo"
Favorite Fantasy: First time with boyfriend
Busty cutie Hayden Winters is one of the funniest girls we have shot in a long time. Hayden was constantly goofing around at the shoot, so we got lots of bloopers we will release from time to time in the member's blog to showcase her bubbly, energetic personality. We could never have guessed it from her demeanor, but Hayden told us she was a very shy and quiet girl in high school. Hayden came out of her shell around 17 when she started having sex, moving on to become a full time model and webcam performer. Hayden swings both ways with the guys and gals, and loves to show of her "boobies", making porn a great fit for her. Hayden had some of the best, large, natural tits we have ever seen and on such a tiny girl, standing just 5'2" (157cm) tall and weighing a mere 105 lbs (47kg); her full measurements are 32D-24-30 (81D-61-76cm). Hayden's tight body is likely from her playing soccer for 6 years. She admitted that her bad habits include not exercising and eating too much food, so if it's not the soccer, it must be good genetics :). Originally from California, Hayden recently turned 21. She loves to laugh, read, and express herself through art. She is very proud of her art skills and multi-talented, is also skilled at playing the flute. We have no doubt you guys will love this all American girl as much as we did!
Available Photosets
Snapshot

Scene Description

Total Pictures

Scene Preview

Hayden Winters - Scene #1

Outside, pink top, short shorts, boots, drinking, stripping, posing, cucumber insertions, wine bottle insertions, cum dripping pussy shots!!

275 Pics
Scene Samples

Hayden Winters - Scene #2

Massage from Trisha, stripping, posing, finger spreading, fisting, Trisha pleasures Hayden with the Jackhammer dildo!

287 Pics
Scene Samples

Hayden Winters - Scene #3

Green short shorts and tank top, exercising, stripping, posing, baby oil, contortion, cranking wide open with the speculum for crystal clear cervix shots!

318 Pics
Scene Samples

Hayden Winters - Scene #4

Red dress, heels, stripping, posing, spoon, scoop, and baster insertions!

285 Pics
Scene Samples

Hayden Winters - Scene #5

Blue lingerie, in bed with Trish Uptown, shaving, kissing, stripping, posing, pussy eating, tribbing, toe sucking, sleeping, sharing a huge, double-sided dildo in piledriver position and laying down!

303 Pics
Scene Samples

Hayden Winters - Scene #6

Pink sheer bikini, bathroom, camel toe, stripping, posing, toe sucking, bottle insertion, gaping wide with the spreaders for insertions and close ups!!

274 Pics
Scene Samples

Hayden Winters - Scene #7

Glasses, pigtails, college girl, mini skirt, tall socks, white cotton panties, stripping, posing, camel toe, panty stuffing, female assistant: Trish Uptown, Dreamcatcher, spreading, Trish pulls the panties out with her teeth

314 Pics
Scene Samples
Downloadable Videos
Screen Capture

Video Description

Download Options

New High-Definition Video Release

Video Type: Photoshoot

Length: 24:50

HD #013

Date: January 14, 2016

Hayden Winters looks good enough to eat as she poses in the kitchen, showing off her beautiful, natural tits and smooth pussy. She gives us tantalizing pictures of her toying her pussy with different utencils, then hopping up on the counter and plunging a baster inside her juicy hole.

853x480 Flash

1280x720 DivX

1280x720 MP4

1920x1080 WMV

New High-Definition Video Release

Video Type: Photoshoot

Length: 22:25

HD #012

Date: January 29, 2015

Sultry redhead Hayden Winters poses in the bathroom, her cute little nipples peaking through her sheer swimsuit. She wets herself down and pulls up her thong to form a nice camel toe, her bubbly personality shines as she banters with the crew. She strips down and poses on the tub, sucking her toes before stuffing her pussy with a bottle. Then ALS assistant Trish comes in to help her gape her pussy wide with the spreaders, giving a peak deep inside before she penetrates herself with another phallic device.

853x480 Flash

1280x720 DivX

1280x720 MP4

1920x1080 WMV

New High-Definition Video Release

Video Type: Photoshoot

Length: 24:09

HD #011

Date: May 08, 2014

Naughty college girl Hayden Winters charms the camera in her adorable get up; pigtails, glasses, tube top, mini skirt, and cotton panties. She teases lucky voyeurs as she strips down, first yanking up her panties into a camel toe before adjusting her top to expose some alluring underboob, her fun and bubbly personality on full display. She finally lets it all hang out as she gets down to business, stuffing her panties deep into her tight snatch. Trish steps in to help her spread her pussy wide with the Dreamcatcher, tugging the panties out with her teeth and making for heart stopping pics.

853x480 Flash

1280x720 DivX

1280x720 MP4

1920x1080 WMV

New High-Definition Video Release

Video Type: Masturbation

Length: 16:16

HD #010

Date: June 11, 2013

Charming redhead Hayden Winters hops into the shower for a little bit of privacy. She washes up, lathering her curvaceous physique with suds as the warm water rushing over her body puts her in a state of relaxation. Afterwards, Hayden breaks out the baby oil and covers herself generously, her milky white complexion glistening in the light. She massages her ample, firm breasts and glides her hand over her beautifully shaved peach. She twirls her fingers round and round, stimulating her sensitive clit, and slips one finger into her tight snatch. She builds herself up slowly as her cum juices begin to seep from her pussy. She rocks her hips, thrusting her clit into her hand as it works feverishly to build up to climax, her body pulsating and muscles twitching as she finally cums, and she is overwhelmed by a state of bliss. Hayden lingers in the euphoric moment before rinsing herself off again and ending her break.

853x480 Flash

1280x720 DivX

1280x720 MP4

1920x1080 WMV

New High-Definition Video Release

Video Type: Photoshoot

Length: 30:59

HD #009

Date: February 28, 2013

Hayden Winters and Trish are in bed wearing cute bra and panty sets while they give their pussies a fresh shave. They pose in a variety of positions, taking turns eating out each other's snatches and then grinding their clits together scissor-sisters style. Then Trish fetches a large double-sided dildo that she rams into Hayden's box in the piledriver position before they each share an end at the same time.

853x480 Flash

1280x720 DivX

1280x720 MP4

1920x1080 WMV

New High-Definition Video Release

Video Type: Masturbation

Length: 17:36

HD #008

Date: September 25, 2012

Hayden sits texting her friend and can't wait to see her. In the meantime, she figures she will just get herself off and plugs in her Hitachi after rubbing her pussy with her fingers. Hayden uses the powerful vibrator to make herself cum twice, which should keep her satisfied for a little while!

853x480 Flash

1280x720 DivX

1280x720 MP4

1920x1080 WMV

New High-Definition Video Release

Video Type: Photoshoot

Length: 19:35

HD #007

Date: August 30, 2012

Hayden works her amazing body in the gym. She oils up and stretches, then Trish comes into the picture and cranks her pussy open wide with a speculum. We get some great shots of her cervix and really enjoy her bubbly personality.

853x480 Flash

1280x720 DivX

1280x720 MP4

1920x1080 WMV

New High-Definition Video Release

Video Type: Photoshoot

Length: 18:50

HD #006

Date: July 03, 2012

Hayden is in for a treat during this photoshoot, getting a full body massage from the lovely Trish. She covers Hayden in oil and then works her tits and pussy for the cameras. Trish wants to try fisting Hayden, and slides her hand into her pussy. Then Trish uses the Jackhammer and servers Hayden from behind as she pulls up her leg. These ladies had real chemistry on the set!

853x480 Flash

1280x720 DivX

1280x720 MP4

1920x1080 WMV

New High-Definition Video Release

Video Type: Girl-Girl Action

Length: 27:53

HD #005

Date: June 12, 2012

Hayden and Trish are playing a game of strip war but soon get tired of cards once they're both are naked. Hayden starts by sucking on Trish's pussy and then Trish returns the favor before pulling out a mini Hitachi and using it to stimulate Hayden's clit until she cums. Then it's Trish's turn to get off and Hayden toys her pussy with a clit wand until she has a lovely orgasm. These two ladies really had a good time together!

853x480 Flash

1280x720 DivX

1280x720 MP4

1920x1080 WMV

New High-Definition Video Release

Video Type: Behind the Scenes

Length: 10:37

HD #004

Date: May 29, 2012

We get to learn a little bit more about this cutie in a behind the scenes video of Hayden hanging out after her shoot. She answers some personal questions and talks about her favorite ALS scene. Her bubbly personality really comes through and it really shows how much she enjoyed working with us!

853x480 Flash

1280x720 DivX

1280x720 MP4

1920x1080 WMV

New High-Definition Video Release

Video Type: Photoshoot

Length: 27:08

HD #003

Date: May 15, 2012

Beautiful Hayden Winters is posing outside, enjoying some wine in some sexy jean shorts and a hot top to start off this photoshoot video! Watch as this hottie takes off her shirt and unleashes her perfect, huge tits! Hayden then takes down her jean shorts and shows off her sweet, cum dripping pussy! Watch as she inserts a cucumber deep inside of her wet pussy, then rams her wine bottle deep inside of herself!! This girl is super hot, and a pleasure to watch in action!

853x480 Flash

1280x720 DivX

1280x720 MP4

1920x1080 WMV

New High-Definition Video Release

Video Type: Masturbation

Length: 21:46

HD #002

Date: May 01, 2012

We caught Hayden Winters as she entered her bathroom and began to brush her teeth. She takes off her outfit and shows off her perfect body! Watch as this hottie uses her vibrating toothbrush to stimulate her clit, getting herself nice and horny! Hayden then inserts the brush deep inside of her pussy for some extra stimulation. Watch as this sex maniac plays with her toothbrush on the counter until she has a screaming orgasm!

853x480 Flash

1280x720 DivX

1280x720 MP4

1920x1080 WMV

New High-Definition Video Release

Video Type: Masturbation

Length: 18:38

HD #001

Date: April 17, 2012

Hayden lays out in a hot net bikini. She relaxes brushing her hair and realizes she can use it to get off. She rams it deep into her tight pussy then grabs a wand vibrator to stimulate her clit until she cums. It's back to laying out her beautiful body now that she is satisfied.

853x480 Flash

1280x720 DivX

1280x720 MP4

1920x1080 WMV