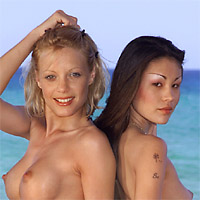 Jamaica
Models: Holly Sampson (aka Zoe) and Jade
Location: The most exotic paradise around, jamaica
Their Mission: To invade the tropical paradise and do it all ALS style!!
Mission Status: Successful and de-classified for the public!!
ALS just took a trip to Jamaica, and we brought our most beautiful models with us... Holly Sampson (aka Zoe) and Jade. It is probably the best shoot we have ever done!! Jade was just as hot as she always is. Her perky tits and tight pussy are almost too much for us to handle!! New to ALS Angels (but previously on ALS Scan) is Zoe, who has always been a personal favorite of ours. Zoe just had her breasts augmented and we are one of the first to present her with her new firm and perky breasts!! Zoe and Jade did tons of great insertions, pull-outs, spreading, and all of the usual ALS stuff. There must have been something going on between the two of them, because when they posed together, it certainly wasn't acting!! They are definately really hot together!! We shot the majority of these pictures outside with people all around watching us. Everyone just kept stopping and staring... they couldn't believe what we were doing... and neither could we!! This is some really great material and definately a must have for your collection!!
Available Photosets
Snapshot

Scene Description

Total Pictures

Scene Preview

Jamaica - Scene #1 - Jade - Remastered

White string bikini, posing, fingering, dildo insertions, spreading, peeing!!


Update:

Remaster Includes Both Originally Released Scenes #1 & #5, Overall 160 New, Never-Before-Seen Pics Now in High-Res!
300 Pics
Scene Samples

Jamaica - Scene #2 - Zoe - Remastered

White thong bikini, posing on the beach, stripping, posing, spreading, fingering, pee'ing, dildo insertions!!


Update:

Remaster Includes Both Originally Released Scenes #2 & #4, Overall 151 New, Never-Before-Seen Pics Now in High-Res!
315 Pics
Scene Samples

Jamaica - Scene #3 - Zoe & Jade - Remastered

Dressed in beach clothes, posing, eating pussy, dildo insertions, girl on girl action!


Update:

Remaster Includes Both Originally Released Scenes #3 & #6, Overall 167 New, Never-Before-Seen Pics Now in High-Res!
318 Pics
Scene Samples

Jamaica - Scene #4 - Jade - Remastered

Yellow & white bikini, posing outside, camel toe!! Posing inside, spreading, glass dildo insertions and pull-outs!!


Update:

Remaster Includes Originally Released Scene #7, Overall 162 New, Never-Before-Seen Pics Now in High-Res!
242 Pics
Scene Samples

Jamaica - Scene #5 - Zoe - Remastered

Blue bikini, posing, spreading, multiple finger insertions, dildo insertions, peeing scene!!


Update:

Remaster Includes Originally Released Scene #8, Overall 142 New, Never-Before-Seen Pics Now in High-Res!
229 Pics
Scene Samples

Jamaica - Scene #6 - Jade - Remastered

Pink beach wrap, posing outside, spreading, fingering, Beth fists Jade's juicy pussy!!


Update:

Remaster Includes Originally Released Scene #9, Overall 130 New, Never-Before-Seen Pics Now in High-Res!
202 Pics
Scene Samples

Jamaica - Scene #7 - Zoe - Remastered

Orange bikini, posing outside, fingering pussy, spreading, Zoe works her pussy hard with glass dildo!!


Update:

Remaster Includes Originally Released Scene #10, Overall 128 New, Never-Before-Seen Pics Now in High-Res!
195 Pics
Scene Samples

Jamaica - Scene #8 - Jade - Remastered

Orange bikini, posing, camel toe, spreading pussy, dildo insertions and pull outs, nude on public beach!


Update:

Remaster Includes Originally Released Scenes #11 and #14, Overall 121 New, Never-Before-Seen Pics Now in High-Res!
241 Pics
Scene Samples

Jamaica - Scene #9 - Zoe - Remastered

Red bikini, posing outside, spreading pussy, dildo insertions!!


Update:

Remaster Includes Originally Released Scene #12, Overall 141 New, Never-Before-Seen Pics Now in High-Res!
218 Pics
Scene Samples

Jamaica - Scene #10 - Zoe - Remastered

Blue bikini, high heels, cage, stripping, posing, spreading pussy, purple dildo insertions, peeing


Update:

Remaster Includes Originally Released Scene #13, Overall 72 New, Never-Before-Seen Pics Now in High-Res!
146 Pics
Scene Samples

Jamaica - Scene #11 - Zoe - Remastered

Blue lingerie, public, beach, stripping, posing, finger spreading, sunglasses, dildo, female assistant: Beth, fisting, finger gaping


Update:

Remaster Includes Originally Released Scene #15, Overall 95 New, Never-Before-Seen Pics Now in High-Res!
183 Pics
Scene Samples

Jamaica - Scene #12 - Zoe - Remastered

Public, beach, bikini, bare feet, stripping, posing, bed, Zoe, lesbian, double-sided dildo, insertions, back-to-back


Update:

Remaster Includes Originally Released Scene #16, Overall 78 New, Never-Before-Seen Pics Now in High-Res!
152 Pics
Scene Samples

Jamaica - Scene #17 - Zoe

Zoe outtakes, posing, spreading pussy, insertions, fisting, and peeing!!

111 Pics
Scene Samples

Jamaica - Scene #18 - Jade

Multiple outfits, posing outside, lubed pussy, glass dildo insertions!!

58 Pics
Scene Samples
Downloadable Videos
Screen Capture

Video Description

Download Options

Model: Jade

Video Type: Photoshoot

Length: 8:04

AVI #01-08

Date: July 22, 2010

Jade loved being in Jamaica where she could expose herself right in public! Jade poses near in a pool near an awesome waterfall wearing a sexy bikini, but doesn't wait long to strip nude. Jade then hops up on a table where she flaunts her rockin' body for the crowd!

640x480 Flash

640x480 DivX

720x540 WMV

Model: Zoe

Video Type: Masturbation

Length: 15:12

AVI #01-03

Date: July 08, 2010

Sexy Zoe loves to get wild, and that is exactly what she did on our trip with her to Jamaica! Zoe rubs and fingers her pink pussy, getting herself nice and wet. She then fucks herself hard with a huge glass dildo. Still not satisfied, Zoe then uses a large, purple vibrator to pound her pussy hard until she cums!

640x480 Flash

640x480 DivX

720x540 WMV

Model: Zoe

Video Type: Masturbation

Length: 9:29

AVI #49-66

Date: June 24, 2010

We walked in on a conversation between Beth and Zoe in Jamaica as they were discussing different couples that they saw having sex on the beaches! All the sex talk made the girls horny, so Beth works her fist deep into Zoe's pussy in multiple positions until she cums hard! Then Zoe attempts to fist herself!

640x480 Flash

640x480 DivX

720x540 WMV

Model: Zoe

Video Type: Behind the Scenes

Length: 6:55

AVI #01-04

Date: September 03, 2009

Zoe had a blast in Jamaica! Watch this special video where we get a glimpse of beautiful Zoe spraying her golden showers in four different locations! From her bathroom, to the beaches of Jamaica, this hottie is fun to work with!

640x480 Flash

640x480 DivX

720x540 WMV