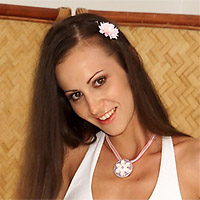 Jennifer
Age: 26
Height: 5'4"
Weight: 94 lbs
Measurements: 33C-23-35
Occupation: Dancer
Hobbies: Dancing and exercising
Favorite Music: House (dance)
Favorite Fantasy: Hot steamy sex on the back of a Harley!!
When we first saw Jennifer we immediately knew that she would be perfect for our ALS Angels web site. But the odd thing is after we looked at the pictures she looks much bigger than she really is. This girl is tiny but for whatever reason she looks bigger on film. Jennifer is 26 years old and is 5'4" (164cm) tall and weighs just 94 lbs (43Kg). That is tiny!! It must be her big natural tits that make her look larger. None-the-less Jennifer is really cute and she had a great personality. She is a dancer and likes to exercise and ride her bike. In the evenings Jennifer likes to go out dancing and her favorite type of music is progressive house (dance). She keeps a very active lifestyle so she can eat anything she wants and never puts on any weight. Jennifer did get a late start in life sexually. She remained a virgin until she was 20 years old. In fact she had no sex of any sort until she was 20. Sure she let a guy finger her when she was 18 but nothing more. No blowjobs, no pussy eating, no cock until 20. Seeing how cute she is that is pretty amazing. Jennifer did say that she started shaving her pussy when she was 16 but that was because her mother told her that she should do it. Now she enjoys both guys and girls sexually and is having lots of sex to make up for lost time. Her measurements are: 33C-23-35 (85C-58-90 cm). We are sure you will enjoy this hot honey!
Available Photosets
Snapshot

Scene Description

Total Pictures

Scene Preview

Jennifer - Scene #1 - Remastered

Pink skirt & white shirt, posing, spreading, assistant Amy Lee stretches Jennifer's pussy wide!!

200 Pics
Scene Samples

Jennifer - Scene #2 - Remastered

Red dress, thong, g string, high heels, bed, stripping, posing, bare feet, vedgie, finger spreading, speculum, gaping, cervix, crew, gaping pullout

195 Pics
Scene Samples

Jennifer - Scene #3 - Remastered

Outdoor, ponytail, bikini, thong, bare feet, hot tub, wetting, stripping, posing, vedgie, distortion, finger spreading, female assistant: Amy Lee, fisting, cunnilingus, pussy eating, gaping pullout, model only

180 Pics
Scene Samples
Downloadable Videos
Screen Capture

Video Description

Download Options

New Video Release

Video Type: Masturbation

Length: 15:47

AVI #21

Date: March 28, 2013

Video Editor: Jen

Jennifer works her pussy while her friends all sit around and watch. She toys it with a red vibrator and then adds in a huge dildo to fill her pussy. She cums hard with both toys and her friends applaude her!

640x480 Flash

640x480 DivX

720x540 WMV

Video Type: Photoshoot

Length: 15:47

AVI #12-16

Date: January 29, 2009

Jennifer is in a bedroom wearing a red dress. We have Jennifer pose in the dress as she takes it off and we get some great poses from her. Then we have Jennifer pose with a speculum in her pussy and we get a great pullout shot.

640x480 Flash

640x480 DivX

720x540 WMV

Video Type: Masturbation

Length: 18:51

AVI #07-11

Date: July 24, 2008

Jennifer is on a red couch. She fingers her wet pussy and clit to get it ready, she then uses a zebra striped vibrator on her pussy to open it up. Then she uses a blue vibrator on her clit while fucking herself with the zebra vibrator until she cums!

640x480 Flash

640x480 DivX

720x540 WMV

New Video Release

Video Type: Masturbation

Length: 17:35

AVI #17-20

Date: November 6, 2007

Sexy Jennifer is by her hot tub wearing a sexy micro bikini in this masturbation video. She takes her bikini off and begins to rub on her pussy and insert her fingers. Jennifer then grabs for a huge green dildo, and fucks her pussy hard with it. The dildo just isn't enough so Jennifer grabs for a pink vibrator to get herself off even harder.

640x480 Flash

640x480 DivX

720x540 WMV

Video Type: Masturbation

Length: 16:24

AVI #01-06

Date: October 5, 2007

Jennifer is sitting on a red couch. She has Amy Lee with her so she can play with her pussy. Amy starts to rub Jennifer's clit and finger her pussy until it is nice and wet. Then Amy gets a blue vibrator to use on Jennifer's clit while she stretches her pussy. Amy then gets a magenta ribbed vibrator to fuck Jennifer's pussy with until she cums.

640x480 Flash

640x480 DivX

720x540 WMV