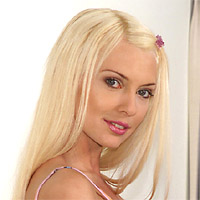 Kelle Marie
Age: 22
Height: 5'7"
Weight: 110 lbs
Measurements: 34C-24-34
Occupation: Model
Hobbies: Yoga, walking her dog
Favorite Music: R&B
Favorite Fantasy: Exhibitionism; sex in a public place
Every once in a while our agents will come across an A++ model, and Kelle Marie is one of them. We were actually in the middle of shooting Liv when one of our agents called. He said, "I have got this incredible model that you are going to love. She's an A++ model with the perfect hard body, nice smile, great attitude, and she loves sex and showing off her pussy." Sounds like and ALS girl to me, so we booked her sight unseen and Kelle Marie did not disappoint!! Kelle is 22 years old, 5'7" tall, and weighs 110 lbs. She is a sweet English girl with a hungry sexual appetite. You will LOVE her energy when you see her video clips. Kelle is a fashion model who wanted to shed her clothes because "the fashion world is just too boring" she said. "There is something about being totally nude and showing off your body in front of the camera that is simply electrifying." Kelle did it all ALS style of course so you want to be sure that collect all of her scenes. Her hobbies are Yoga and she enjoys walking her dog. Kelle's favorite music is R&B. She is a big partier who likes to get high, eat out, and have sex (that is what she wrote). Kelle was 14 when she first had sex and she started shaving off all of her hair as soon as it started growing. "Mom never had any hair down there so it was unnatural to me," she said. Since Kelle is so sexual, she has no preferences, stating, "both guys and girls are fun to play with." Her measurements are 34C-24-34.
Available Photosets
Snapshot

Scene Description

Total Pictures

Scene Preview

Kelle Marie - Scene #1 - Remastered

Jean skirt and tank top, posing, spreading, finger insertions, Kelle stretches her pussy open with the pussy spreaders!!

228 Pics
Scene Samples

Kelle Marie - Scene #2 - Remastered

Pink blouse and black skirt, posing, spreading pussy, fingering, Kelle stretches her pussy with the Kegelmaster!!

178 Pics
Scene Samples

Kelle Marie - Scene #3 - Remastered

Floral dress and thong, posing, camel toe, spreading pussy, lip pulling, ALS assistant Katie fists Kelle Marie!!

208 Pics
Scene Samples

Kelle Marie - Scene #4 - Remastered

Floral nightgown, bare feet, stripping, posing, camel toe, distortion, finger spreading, inverted bottle, insertions, gaping pullouts, peeing

278 Pics
Scene Samples

Kelle Marie - Scene #5 - Remastered

Lingerie, bare feet, stripping, posing, bed, speculum, gaping, cervix

195 Pics
Scene Samples

Kelle Marie - Scene #6 - Remastered

High heels, skirt, thong, stripping, posing, finger spreading, fingering, gaping pullouts, bottle, glass bottle, insertions

198 Pics
Scene Samples
Downloadable Videos
Screen Capture

Video Description

Download Options

Video Type: Masturbation

Length: 19:13

AVI #01-12

Date: April 16, 2009

Kelle is sitting on a bed. She starts to rub her pussy so it's nice and juicy. Kelle then gets a banana to fuck her juicy pussy with. Watch her eat some of it before she switches to a vibrator to make herself cum.

640x480 Flash

640x480 DivX

720x540 WMV

Video Type: Masturbation

Length: 12:58

AVI #25-30

Date: May 27, 2010

After a long day of work, Kelle Marie just wants to get herself off one more time! She lubes up her pink pussy and goes to town, fingering herself and making her pussy nice and wet. Kelle then fucks her pussy and stimulates with her clit with a silver vibrator. Two is always better than one, so Kelle adds a glass bottle to the mix that she uses to cum hard!

640x480 Flash

640x480 DivX

720x540 WMV

Video Type: Masturbation

Length: 18:20

AVI #13-24

Date: November 27, 2008

Watch Kelle open her juicy pussy with her fingers. She starts to fuck her hot hole with a fat pink vibrator. Then she switches to a zebra striped vibrator so she can stuff her mouth with the pink one.

640x480 Flash

640x480 DivX

720x540 WMV