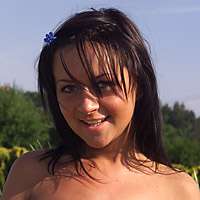 Lucia
Age: 20
Height: 5'7"
Weight: 116 lbs
Measurements: 34B-24-36
Occupation: Secretary, Au-pair
Hobbies: Sports, Dancing, Music, Driving & Car Competitions
Favorite Music: Sarah Connor
Favorite Fantasy: Sex in Cinema
We shot this Czech beauty during our 2006 trip to Brno. She is a super sweet person and we had a great time shooting with her. Lucia turned out 5 fantastic photosets, some indoor and some outdoor, as well as 7 masturbation videos where she gave an outstanding performance. When Lucia is not modeling, she works as a secretary or as an au-pair. This was very interesting because we weren't exactly sure what an au-pair was, so Lucia explained to us that au-pairs are like nannies who travel into a foreign country to live and work with a host family. She likes the job because it allows her to see different parts of the world and make relationships with different families all over. For fun, Lucia likes to play sports, go out dancing, listen to music (her favorite artist is Sarah Connor), and she is a big car enthusiast and loves car competitions. We also asked her what her favorite sexual fantasy was, which she said was to have sex in a cinema. She definitely prefers guys over girls, and likes to have sex at least 3 to 4 times per day. She has been having sex since she was 18, the same age she gave her first BJ, and started shaving her pussy around 15. She is 20 years old, stands 5'7" tall (170cm), and weighs 116lbs (53kg). Her measurements are: 34B-24-36 (87B-63-93cm). For her likes, Lucia listed food, fun, sun, and warm weather; for dislikes, she listed boredom and winter. Lucia has a great personality and is smokin' hot, definitely a keeper. We think you'll love her just as much as we did!
Available Photosets
Snapshot

Scene Description

Total Pictures

Scene Preview

Lucia - Scene #1

Purple micro bikini, stripping, posing, baby oil rub down, kaleidoscope and big dildo insertions!!

243 Pics
Scene Samples

Lucia - Scene #2

Floral dress, stripping, posing, spreading, Faith helps Lucia crank her pussy wide open with the speculum to give us some hot cervix shots!!

221 Pics
Scene Samples

Lucia - Scene #3

Pink top, yellow skirt, stripping, posing, spreading, recorder insertions, two cup-and-ball toy-handle insertions!!

252 Pics
Scene Samples

Lucia - Scene #4

Pink top and blue shorts, stripping, posing, spreading, lolli-pop insertions, Amy Lee rams her entire hand wrist-deep into Lucia's flower!!

202 Pics
Scene Samples

Lucia - Scene #5

Red top, white skirt, pink panties, stripping, posing, fingering, panty stuffing, Lucia's pussy opened wide with spreaders for deep look inside!

259 Pics
Scene Samples
Downloadable Videos
Screen Capture

Video Description

Download Options

New Video Release

Video Type: Masturbation

Length: 23:26

AVI #014

Date: November 24, 2011

We catch sexy Lucia getting ready in her room when she gets the urge to get herself off good! Watch this hottie lay down on her couch and enjoy a cigarette right before she gets down to business! Lucia stretches her sweet pussy open for us to see, then breaks out her favorite dildo! She fucks herself hard with the dildo until she?s about to cum, and then rubs on her clit with a vibrator to finish herself off with an explosive orgasm!

640x480 Flash

640x480 DivX

720x540 WMV

New Video Release

Video Type: Masturbation

Length: 19:28

AVI #013

Date: August 18, 2011

Lucia wraps her sexy body around the pole and teases our camera. She flops down onto the bed and begins to finger her smooth shaved pussy. She then grabs a pink cock and rams her hot hole in and out before adding a ribbed vibrator to the mix and using her toys to climax!

640x480 Flash

640x480 DivX

720x540 WMV

New Video Release

Video Type: Masturbation

Length: 19:34

AVI #012

Date: March 03, 2011

Sexy Lucia is hanging outside catching some sun and playing around with her toys in this hot masturbation video. Watch as she takes off her clothes and then plays us a little tune with her flute. Lucia then uses the flute to insert deep inside of her pussy! She then plays around with some other toys and rubs them all over her pussy! Lucia loves her toys, but none can give her the pleasure she's really looking for like her trusty vibrator! Watch Lucia grab her favorite toy of all and fuck her tight pussy with it until she cums!

640x480 Flash

640x480 DivX

720x540 WMV

New Video Release

Video Type: Masturbation

Length: 19:21

AVI #11

Date: March 03, 2009

Lucia starts off the scene by dancing around. She strips and shoves her panties deep into her pussy until they disappear. Then Faith steps in to pull the panties out with her teeth. Next, Lucia uses a purple vibrator to get herself off!

640x480 Flash

640x480 DivX

720x540 WMV

New Video Release

Video Type: Masturbation

Length: 17:15

AVI #10

Date: November 04, 2008

Lucia is sitting outside on a chair. She starts to rub her clit and finger her pussy until it's nice and wet. Lucia then gets a green kaleidoscope to fuck her pussy with. Then Lucia switches to a pink dildo to make herself cum!

640x480 Flash

640x480 DivX

720x540 WMV

New Video Release

Video Type: Masturbation

Length: 17:36

AVI #06-09

Date: September 23, 2008

Hottie Lucia gets dirty in the bathroom in this video. She gets her micro bikini wet and rubs her body all over with oil until she is nice and wet. Then she takes out a vibrator and teases her clit and rams her tight hole until she cums hard!

640x480 Flash

640x480 DivX

720x540 WMV

New Video Release

Video Type: Masturbation

Length: 19:38

AVI #01-05

Date: August 05, 2008

New Angels model Lucia has got something to show us. We catch her rocking out and dancing with her headphones on. She takes two lollipops and uses them to toy with her pussy and clit. She gets so horny that she takes a green vibrator and fucks herself until she cums hard!

640x480 Flash

640x480 DivX

720x540 WMV