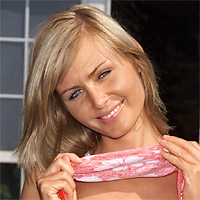 Magdi
Age: 22
Height: 5'7"
Weight: 105 lbs
Measurements: 34C-23-35
Occupation: Model
Hobbies: Dancing, swimming, tennis
Favorite Music: House and Pop
Favorite Fantasy: To pee in her boyfriends mouth while having an orgasm
Magdi has got the perfect body. She is so firm and well proportioned that we had a hard time ;-) doing our job. Magdi is not at all shy and has been modeling for several years now. She is very proud of her tight body and loves getting guys off. Magdi is 22 years old, 5'7" (172 cm) tall, and weighs 105 lbs (48kg). She had fun on our shoot because she really loved our wild toys and peeing for the camera. It was a very hot day so we were all frequently jumping into the pool to cool off. Our assistant Sandy fisted her, which was fun for everybody as well as doing a speculum scene and other ALS standard toys. Magdi likes to dance and listens to funky music. Her hobbies are sun-tanning, swimming, and listening to music. She likes sex and eating strawberries (It amazes me what some of these girls write on their questionnaire). OK this is what she wrote for her favorite fantasy "to pee in my boyfriends mouth while I'm having orgasm." This is 100% true and should give you an idea of what this girl is like. Wild!!! Magdi first had sex at the age of 16 and has been shaving her pussy since puberty. She is not picky and enjoys both men and women as long as she gets off. Her measurements are 34C-23-35 (88-60-90 cm).
Available Photosets
Snapshot

Scene Description

Total Pictures

Scene Preview

Magdi - Scene #1 - Remastered

White shorts and tank top, posing, spreading, glass tube insertions, Sandy steps in to help out, pull outs and gaping pussy!!

182 Pics
Scene Samples

Magdi - Scene #2 - Remastered

Orange dress, posing outside, spreading pussy, fingering, inverted bottle insertions, peeing scene!!

193 Pics
Scene Samples

Magdi - Scene #3 - Remastered

Yellow swimsuit, posing, camel toe, ALS model Sandy spreads Magdi wide, banana insertions, peeing scene!!

195 Pics
Scene Samples

Magdi - Scene #4 - Remastered

Red shirt and white panties, posing, spreading, speculum scene!!

158 Pics
Scene Samples

Magdi - Scene #5 - Remastered

Blue dress, posing outside, spreading, fingering, model Sandy fists Magdi's pussy!!

241 Pics
Scene Samples
Downloadable Videos
Screen Capture

Video Description

Download Options

Video Type: Photoshoot & BTS

Length: 19:41

AVI #01-10 (a-e)

Date: April 03, 2008

This video is an awesome combination of footage from several of Magdi's scenes. First we have her posing outside and taking an inverted bottle deep. Then she takes a break to spray her golden stream into the grass while spreading her pussy lips. We get more posing footage of her opening her juicy pussy with a speculum, then she toys her wet pussy with two vibrators giving us a little masturbation action to get us excited!

640x480 Flash

640x480 DivX

720x540 WMV