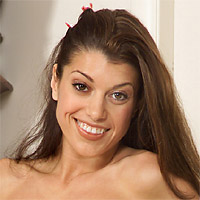 Monica
Age: 22
Height: 5'3"
Weight: 105 lbs
Measurements: 34D-24-34
Occupation: Student
Hobbies: Fitness and working out
Favorite Music: The Beatles
Favorite Fantasy: To become a member of the "Mile High Club" (sex in an airplane)
Monica is 22 years old, 5'3" tall and weighs 105 lbs. This is our third shoot with Monica, and we think you can see why... she is amazing!!! Monica is always ready to try whatever we ask of her. Her other shoots can be seen on our other site www.alsscan.com. Monica was admiring herself on our site when she saw pictures of Nicole. She immediately called us and asked if we could set up a girl girl shoot with herself and Nicole. Obviously we said YES!! At the shoot, Monica was all over Nicole and we had to keep slowing them down just so that we could get some pictures in!! There are some great insertion scenes and lots of eating too. Monica is currently a student and she enjoys staying in great shape by working out (you can just imagine what kind of exercises she likes!!). Her favorite band is The Beatles and she greatly admires honestly in others. Monica's measurements are 34D-24-34.
Available Photosets
Snapshot

Scene Description

Total Pictures

Scene Preview

Nicole & Monica - Scene #1

Thong bikini and top, posing, fingering, eatting, girl/girl action, double headed dildo!!

83 Pics
Scene Samples

Nicole & Monica - Scene #2 Part #1

Red and purple lingerie, posing, kissing, eatting pussy, Monica stuffs Nicole's ass with a vibrator!!

71 Pics
Scene Samples

Nicole & Monica - Scene #2 Part #2

Posing on bed, fingering, pussy licking, carrot insertions, peeing scene!!

69 Pics
Scene Samples

Nicole & Monica - Scene #3

Casually clothed, posing, shaving, spreading, fingering, dildo insertions, gaping pussy!!

87 Pics
Scene Samples

Nicole & Monica - Scene #4

Blue and orange dresses, posing, spreading, fisting, Monica straps on a dildo and stuffs Nicole's pussy!!

61 Pics
Scene Samples

Nicole & Monica - Scene #5

Blue and white robes, posing, eating pussy, dildo insertions, girl on girl action!!

77 Pics
Scene Samples

Nicole & Monica - Scene #6

Evening gowns, posing outside, eating pussy, dildo and cucumber insertions!!

80 Pics
Scene Samples

Nicole & Monica - Scene #7

Black and white dresses, posing, spreading, eating pussy, dildo insertions, peeing scene!!

92 Pics
Scene Samples

Nicole & Monica - Scene #8

Black & white bra and panties, posing, fingering, eating pussy, Monica inserts a glass bottle while Nicole inserts a glass tube!!

77 Pics
Scene Samples

Nicole & Monica - Scene #9

Blue and orange spring dress, posing, Nicole spreads Monica wide with pussy spreaders, pull outs!!

67 Pics
Scene Samples

Monica - Scene #1

Whips, chains and white lace lingerie, posing, anal and pussy fingering!!

89 Pics
Scene Samples

Monica - Scene #2

Black lingerie and thigh highs, handcuffs and chains, posing, spreading pussy, vibrator insertions!!

74 Pics
Scene Samples

Monica - Scene #3

Leather top and thigh highs, posing, spreading pussy, vibrator insertions!!

80 Pics
Scene Samples

Monica - Scene #4

Sunglasses and chains, posing, spreading pussy, vibrator insertions and pull-outs from multiple angles!

85 Pics
Scene Samples

Monica - Farewell Shoot - Scene #1 - Remastered

Pink dress & thigh highs, posing, spreading, multiple finger insertions!! Katie steps in to spread Monica's pussy wide!!

205 Pics
Scene Samples

Monica - Farewell Shoot - Scene #2 - Remastered

Red blouse and tan skirt, posing, spreading pussy, fisting, banana insertions, gaping hole shots!!

158 Pics
Scene Samples

Monica - Farewell Shoot - Scene #3 - Remastered

Red tank top, skirt, high heels, reading, finger spreading, carrots, veggie, multiples, insertion, female assistant, fisting

228 Pics
Scene Samples

Monica - Farewell Shoot - Scene #4 - Remastered

Ponytail, tank top, jean shorts, ruffle socks, sneakers, stripping, posing, finger spreading, fingering, glass dildo, insertions, female assistant: Katie, gaping pullout, glass bottle

170 Pics
Scene Samples

Monica - Farewell Shoot - Scene #5 - Remastered

Tank top, skorts, high heels, stripping, posing, finger spreading, vibrator, insertions, bare feet, two toys, dual insertion, anal, double-penetration

196 Pics
Scene Samples

Monica - Farewell Shoot - Scene #6 - Remastered

Nightgown, thong, camel toe, high heels, bed, stripping, posing, fingering, dildo, insertions, anal fingering

200 Pics
Scene Samples

Monica - Farewell Shoot - Scene #7 - Remastered

Pink top, skirt, no panties, high heels, stripping, posing, finger spreading, fingering, inverted glass bottle, insertions, gaping pullout

167 Pics
Scene Samples
Downloadable Videos
Screen Capture

Video Description

Download Options

Video Type: Girl-Girl Action

Length: 29:38

AVI #029

Date: August 05, 2010

Monica and Nicole can't get enough of each other! We visited them in their hotel room and they were already naked on the bed when we got there! These two ladies eat each other's pussies, gape each other, and fuck each other with vibrators until they both have intense orgasms! These girls would have gone all night if we let them... actually, we're sure they fucked each other some more when we left! Hot girl-girl action!

640x480 Flash

640x480 DivX

720x540 WMV

Models: Monica & Nicole

Video Type: Girl-Girl Action

Length: 24:05

AVI #01-28

Date: June 25, 2009

Monica and Nicole are relaxing on the bed. Things heat up and before you know it they are kissing each other all over. Monica eats Nicole and rubs her wet swollen clit. Nicole is clearly in ecstasy and just doesn't want Monica to stop. This is one video you want to watch.

640x480 Flash

640x480 DivX

720x540 WMV