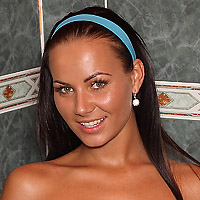 Nataly
Age: 19
Height: 5'4"
Weight: 110 lbs
Measurements: 35C-24-35
Occupation: Bar Tender
Hobbies: Squash, Roller Skating, Dancing
Favorite Music: Madonna, Czech
Favorite Fantasy: Sex on a beach or boat
Nataly is one of the hottest models we have ever shot! 110lbs (50kg) of sex packaged in a tight, toned body, we first met Nataly at our Czech 2008 Casting but passed on the opportunity to shoot her which our members made us regret so we were sure to book her when we returned to the Czech Republic in 2009. She stands just 5'4" (163cm) tall and has strikingly beautiful green eyes; her measurements are 35C-24-35 (89C-60-89cm). When this 19 year old babe is not modeling, she works full time as a bar tender or enjoying hobbies such as squash, roller skating, or dancing. Nataly likes sex at least twice daily and prefers guys over girls, plus she told us that her favorite sexual fantasy is to have sex on the beach or on a boat. She lost her virginity at the ripe age of 15 and started shaving her pussy 2 years before that. Nataly's favorite music includes Madonna and Czech music, and listed her likes as follows: pancakes, dogs, and Philadelphia cream cheese. She also mentioned not liking lies and spiders. Nataly was an ALS member request so be sure to let us know what you think of her, we listen!!
Update: Nataly was so smoking hot we knew we had to shoot her again. Not just that, but we didn't even find out until long after we'd left the Czech Republic that Nataly's pussy is very unique, with a split, two-way canal! We finally noticed when reviewing some pics from her first shoot. Thoroughly curious, we had to book her for another shoot so we could explore her pussy further. Unfortunately, Nataly got breast implants and knows we weren't happy, but we told her if we could check out her special snatch, we'd do another shoot. She said, "No problem, better do it now because I plan on getting fixed soon". Her special pussy is actually from a malformed Hymen called Hymen Bifenestratus. This Hymen Bifenestratus is not attached in the back and is connected from top to bottom. We took a lot of great speculum and side-ways speculum shots to really get a good look at what's going on deep inside Nataly's love canal! Let us know what you think!
Available Photosets
Snapshot

Scene Description

Total Pictures

Scene Preview

Nataly - Scene #1

Bikini, stripping, posing, baby oil rub down, lolli-pop teasing, dual vibrator insertions!!

260 Pics
Scene Samples

Nataly - Scene #2

White top, jean shorts, stripping, posing, spreading, anal fingering, brush handle insertions, strap-on sex with Suzie!!

259 Pics
Scene Samples

Nataly - Scene #3

Red dress, voyeur, stripping, posing, spreading, pussy-lip stretching, gaping hole shots with purple spreaders!!

302 Pics
Scene Samples

Nataly - Scene #4

Blue dress, stripping, posing, fingering, spreading, Nataly cranks wide open with the speculum for crystal-clear cervix close-ups and upshots!!

219 Pics
Scene Samples

Nataly - Shoot #2 - Scene #1

Outside, purple dress, smoking with Tanner Mayes, stripping, posing, kissing, pussy eating, finger spreading, speculum insertion, split-pussy exploration!

201 Pics
Scene Samples

Nataly - Shoot #2 - Scene #2

Outdoor, gardening, pink shorts and tank top, stripping, posing, finger spreading, Puff Daddy insertion & inflation!

203 Pics
Scene Samples

Nataly - Shoot #2 - Scene #3

Sexy micro bikini, stripping, posing, baby oil, fingering, insertion and spreading with two wands, anal insertion, glass bottle insertion!

272 Pics
Scene Samples

Nataly - Shoot #2 - Scene #4

Floral nightgown, in bed with Tanner Mayes, kissing, stripping, posing, scissoring, strap-on dildo sex, deep throating, missionary and piledriver positions!

237 Pics
Scene Samples
Downloadable Videos
Screen Capture

Video Description

Download Options

New High-Definition Video Release

Video Type: Photoshoot

Length: 14:38

HD #006

Date: March 13, 2013

Nataly poses in a hot tank top and short shorts. Moving outside, she strips down and flaunts her curvaceous figure, fingering her ass before toying her pussy with her hairbrush. Then her friend Suzie steps in wearing a huge strap on dildo, taking Nataly from behind and missionary before Nataly hops on top to ride the cock deep.

853x480 Flash

1280x720 DivX

1280x720 MP4

1920x1080 WMV

New High-Definition Video Release

Video Type: Masturbation

Length: 13:45

HD #005

Date: December 11, 2012

Nataly is on her laptop checking out some hot pics of herself at one of our casting calls a couple years back. Then Nataly puts on a sexy show for us, rubbing and fingering her pussy before she grabs a vibrator to build herself up to a satisfying climax.

853x480 Flash

1280x720 DivX

1280x720 MP4

1920x1080 WMV

New High-Definition Video Release

Video Type: Masturbation

Length: 17:08

HD #004

Date: August 02, 2012

Nataly plays tennis by herself outside and discovers a hidden toy mixed in with her balls. She decides to work her pussy right then and there, fucking herself with the vibrator in a variety of positions before settling down and making herself cum.

853x480 Flash

1280x720 DivX

1280x720 MP4

1920x1080 WMV

New High-Definition Video Release

Video Type: Masturbation

Length: 15:33

HD #003

Date: April 26, 2011

We caught Nataly hanging by the pool wearing a super hot bikini in this hot masturbation video. Watch as she does a little pool cleaning, then rewards herself for all of her hard work with some serious pussy play! Watch as Nataly uses the skimmer pole to rub on her pussy and get herself nice and horny. She then pulls out her favorite clit wand and goes to town on her sweet pussy! Watch as Nataly toys with her clit until she has a very intense orgasm!!!

853x480 Flash

1280x720 DivX

1280x720 MP4

1920x1080 WMV

New High-Definition Video Release

Video Type: Photoshoot

Length: 27:58

HD #002

Date: March 22, 2011

Tanner Mayes and Nataly are hanging out having some drinks to start out this photoshoot video. Watch as the two ladies pose and take their clothes off revealing their pink pussies and beautiful tits! Nataly has a seat and Tanner licks on her sweet pussy, then gapes Nataly open wide! Tanner then brings out the speculum and inserts it inside of Nataly's tight pussy giving us a great view of her clean, pink cervix!! Awesome photoshoot video with two super hot ladies!

853x480 Flash

1280x720 DivX

1280x720 MP4

1920x1080 WMV

New High-Definition Video Release

Video Type: Masturbation

Length: 15:41

HD #001

Date: February 22, 2011

Nataly comes into the bathroom and removes all her clothes to give them a wash, then she hops into the tub to clean herself off, too. She wets down and lathers up, rubbing her hands all over her sexy body. She goes for the shower head and stimulates her pussy and clit with the water spray. Nataly oils her body and then gets out a vibrator to press hard against her clit and cum.

853x480 Flash

1280x720 DivX

1280x720 MP4

1920x1080 WMV

New High-Definition Video Release

Video Type: Masturbation

Length: 18:19

HD #005

Date: November 23, 2010

Nataly stretches her long, tanned legs as she exercises in her hotel room. She exposes her bare breasts and then drips oil all over her shin, getting her shaved pussy nice and juicy. She rams herself from behind with her fingers, working her clit until it is activated. Nataly goes for her toy and uses it to make her pussy cream until frothing with pleasure.

853x480 Flash

1280x720 DivX

1280x720 MP4

1920x1080 WMV

New High-Definition Video Release

Video Type: Masturbation

Length: 18:51

HD #004

Date: August 10, 2010

Nataly sits next to the pool in a hot bikini. She begins to rub herself all over with her hands and then hops into the pool to cool her steamy pussy off so she can work it some more. She gets into a chair and covers herself with oil, rubbing her slippery swollen clit extensively. Then she gets out her Rockin' Rabbit and uses it to fuck her tight pussy in a variety of positions until she cums!

853x480 Flash

1280x720 DivX

1280x720 MP4

1920x1080 WMV

New High-Definition Video Release

Video Type: Photoshoot

Length: 20:47

HD #003

Date: May 04, 2010

Nataly is on the lookout to have fun in this photoshoot video and we had a great time with her. She seductively pulls away from her pink dress to reveal her smokin' hot body. Then Suzie comes into the picture to yank on Nataly's pussy lips, stretching them to the max. After that Nataly stretches her hot little hole with the spreaders so we see her huge, gaping pussy. You can even get a glimpse of her dual vaginal canals!

853x480 Flash

1280x720 DivX

1280x720 MP4

1920x1080 WMV

New High-Definition Video Release

Video Type: Masturbation & BTS

Length: 12:09

HD #002

Date: November 10, 2009

Sexy Nataly invited us into her room to show us what she does behind closed doors. We jumped at the chance to see this because let's face it, the girl is smoking hot! We got in the room and she was doing her make-up. Nataly then hopped into the shower where she shaved her pussy for us! Once Nataly's pussy was nice and smooth, she played with her pussy using her fingers and the shower head!

853x480 Flash

1280x720 DivX

1280x720 MP4

1920x1080 WMV

New High-Definition Video Release

Video Type: Masturbation

Length: 19:22

HD #001

Date: August 11, 2009

Nataly is on an exercise bike working up a sweat. She pours water over herself to cool off then grinds her pussy against the seat making her really horny. She gets off the bike and fingers her pussy until it is nice and juicy. Then she takes a green vibrator and fucks her hot hole with it until she cums!

853x480 Flash

1280x720 DivX

1280x720 MP4

1920x1080 WMV