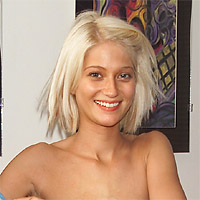 Nevaeh
Age: 19
Height: 5'7"
Weight: 100 lbs
Measurements: 34C-24-34
Occupation: Model
Hobbies: Modeling, shopping, sex
Favorite Music: Anything with a good beat
Favorite Fantasy: On a romantic island with hot blonde women all night long... fucking... of course!
We welcome new model Nevaeh (Pronounced "Na Vey Ah") to the great collection of ALS Angels models. Her mom actually gave her a pretty cool name - it is Heaven spelled backwards. Nevaeh is a really new and ALS is one of the first companies to shoot her. Even though she was one of the more shy girls that we have shot, Nevaeh was open to anything. She wanted to pee on camera so bad but she couldn't at first - we probably waited for her to pee at least 30 minutes and then gave up. Then we had the idea to leave the video camera running in the room while we all left. As soon as we left the room she started peeing like a racehorse. So by doing it this way we were actually able to get her peeing on video (better than nothing we figured). Nevaeh has a great personality and is a party girl. She like to dance to anything that has good beat, she does not complain about anything - she is the kind of girl that all the guys like to be around. Nevaeh said that she does not like "Pretty boys" though. She told us that the Pretty Boys tend to be too much in love with themselves to really appreciate her. Nevaeh is a romantic girl who just wants to be pampered. If a guy treats her well she will return the favor with an incredible blowjob. She really enjoys it and it makes her guy really happy so it is a win-win situation. Nevaeh had just turned 19 when we shot her. She stands 5'7" tall and she weighs 100 lbs (she has small bones). Nevaeh likes both guys and girls and really likes to be touched and caressed. Yes she does require foreplay. :( But guys come-on she's worth it. Nevaeh started completely shaving her pussy when she was 15 and started having regular sex when she was 16. Like most girls she does not like anal (maybe a finger only but that is it). Her measurements are 34C-24-34.
Available Photosets
Snapshot

Scene Description

Total Pictures

Scene Preview

Nevaeh - Scene #1 - Remastered

Blue and yellow dress, high heels, stripping, posing, finger spreading, finger gaping, female assistant: Chrissy, ALS Rocket, gaping, cervix

245 Pics
Scene Samples

Nevaeh - Scene #2 - Remastered

Crop top, pigtails, mini skirt, no panties, high heels, stripping, posing, finger spreading, candlesticks, insertions, spreading, gaping pullout

226 Pics
Scene Samples

Nevaeh - Scene #3 - Remastered

Tank top, mini skirt, white cotton panties, high heels, stripping, posing, camel toe, vedgie, finger spreading, female assistant: Chrissy, fingering, fisting, string of beads, gaping pullout

269 Pics
Scene Samples

Nevaeh - Scene #4 - Remastered

Pink lingerie, thong, bare feet, bed, stripping, posing, vedgie, finger spreading, finger gaping, speculum, gaping, gaping pullout

208 Pics
Scene Samples

Nevaeh - Scene #5 - Remastered

Red dress, high heels, guitar, headphones, no panties, upskirt, stripping, posing, finger spreading, finger gaping, bare feet, spreaders, gaping, cum dripping

203 Pics
Scene Samples
Downloadable Videos
Screen Capture

Video Description

Download Options

Video Type: Masturbation

Length: 19:47

AVI #32-37

Date: April 29, 2010

Sexy Nevaeh is hanging out at the end of a long day when she decides to get herself off one last time. Watch this hottie begin to rub on her pussy and play with her clit getting herself nice and horny. She then grabs for a huge pink vibrator that she uses to fuck her pussy with hard before she inserts the spreaders so we can get a great view deep inside of her pink hole. Nevaeh then plays with her vibrator while still opened wide by the spreaders until she cums!

640x480 Flash

640x480 DivX

720x540 WMV

Video Type: Masturbation

Length: 18:16

AVI #01-06

Date: February 12, 2009

Nevaeh just cannot wait to get off. She starts by fucking her pussy with a clear double dildo, and then spreads her wet gaping pussy with her fingers. She then uses a silver vibrator and smacks her pussy until she cums.

640x480 Flash

640x480 DivX

720x540 WMV

Video Type: Masturbation

Length: 20:40

AVI #17-22

Date: August 16, 2007

Neveah is sitting on a futon she starts to rub her clit and finger her pussy until it is nice and wet. Nevaeh then gets a flesh color dildo to rub her clit with. She then switches to a purple vibrator for her clit until she cums.

640x480 Flash

640x480 DivX

720x540 WMV

New Video Release

Video Type: Masturbation

Length: 21:01

AVI #47-51

Date: June 26, 2007

Nevaeh begins this scene by sucking on a red and blue vibrator and rubbing her pussy and clit. She begins to fuck her wet pussy with the vibrator and we hear juicy pussy smacking. She uses a pink ribbed vibrator and rubs it on her clit until she cums!

640x480 Flash

640x480 DivX

720x540 WMV

New Video Release

Video Type: Photoshoot

Length: 19:45

AVI #42-46

Date: May 22, 2007

Beautiful Nevaeh is in her bedroom wearing some sexy pink lingere in this photoset. Watch her spread and show us inside her pink pussy, then insert the speculum to give us a look deep inside her pussy!

640x480 Flash

640x480 DivX

720x540 WMV

New Video Release

Video Type: Masturbation

Length: 16:21

AVI #38-41

Date: April 10, 2007

Watch as Neveah sits on the bed in some sexy lingere and decide that she needs to get herself off! Watch as she smacks and toys with her pussy using a dark purple dildo, then finishes the job using a orange vibrator!

640x480 Flash

640x480 DivX

720x540 WMV