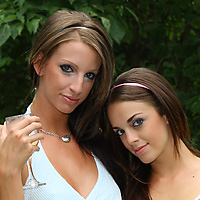 Parker Sisters
Leyla Parker:
Age: 19
Height: 5'10" tall (178cm)
Weight: 135 lbs (61kg)
Measurements: 32B-28-38 (81B-71-96cm)
Paris Parker:
Age: 22
Height: 5Y" (165cm)
Weight: 105 lbs (47kg)
Measurements: 34B-26-34 (86B-66-86cm)
ALS proudly presents the Parker Sisters! We welcome Layla Parker to the ALS line-up, and this is our third shoot with Paris. It all started because we wanted to do another shoot with Paris. Paris loved the idea as she had a great time working with us in the past, but then she told her younger sister Layla about it and talked her into coming along; before you knew it, we signed them both for a two-day shoot that has turned out phenominal. We had to do a little negotiating back and forth regarding what they would and would not be willing to do, but we all came to a happy agreement. In total, we shot 9 photosets and 10 masturbation videos; 6 photosets plus 6 masturbation videos of Paris, and 3 photosets plus 4 masturbation videos of Layla, not to mention 3 photosets of Paris and Layla together! We also had a great shoot location where we were able to shoot one full day indoors and one full day outdoors so this shoot really turned out great. Our new honey Layla is just 19 years old, stands 5'10" tall (178cm) and weighs 135lbs (61kg). Her measurements are 32B-28-38 (81B-71-96cm). When she is not modeling, Layla works as a lifeguard, but her hobbies include exercising, sex, and cosmatology. She prefers guys over gals and likes to have sex at least once a day; she has been shaving her pussy and totally sexually active since the ripe age of 15. For her likes, she listed having fun as her #1 priority in life. For dislikes, she said cockiness and drugs. It was very interesting getting to work with two real life sisters; Paris was very protective of her little sister, helping and guiding her throughout the shoot. It was very cute! Paris is now 22 years old, 5'5" (165cm) tall and weighs 105 lbs (47kg). Her measurements are 34B-26-34 (86B-66-86cm). She is a wholesome, smalltown girl with big dreams and the looks to get her there. She loves the attention of being the spotlight and fantasizes about shopping nude in public. Paris and Layla were originally released on ALSScan.com but we decided to move the dynamic duo's playful scenes with eachother over here as a special treat to ALSAngels members. If you like either or both of these brunette beauties, they are both individually featured on ALSScan.com in even more spectacular, ALS-style photosets and videos!
Available Photosets
Snapshot

Scene Description

Total Pictures

Scene Preview

Parker Sisters - Scene #1

bikinis, outdoor, sunglasses, stripping, posing, finger spreading, goofing around, baby oil, lolli-pop teasing and insertions, upshots!

307 Pics
Scene Samples

Parker Sisters - Scene #2

Summer dresses, outdoor, picnic, wine, drinking, croquet, pussy distortion, croquet mallet insertions, wine bottle insertions!

274 Pics
Scene Samples

Parker Sisters - Scene #3

PJs, board game, stripping, posing, playing, finger spreading, fruit and vegetable insertions!

372 Pics
Scene Samples
Downloadable Videos
Screen Capture

Video Description

Download Options

New High-Definition Video Release

Video Type: Photoshoot

Length: 24:45

HD #003

Date: May 20, 2014

Parker sisters Layla and Paris put on a fun performance as she sit playing a game, extending the activities for amazing pictures of them stripping down and teasing their pussies by hand. They top it off as they each grab their own edible phallus to see how much they can handle in their respective vaginas.

853x480 Flash

1280x720 DivX

1280x720 MP4

1920x1080 WMV

New High-Definition Video Release

Video Type: Photoshoot

Length: 21:45

HD #002

Date: September 26, 2009

Video Editor: Jen

Paris and Layla pose playing croquet naked and then get naughty inserting the mallets into their pussies. They sit down and drink wine together getting a little tipsy and deciding to insert the wine bottles into their hot holes at the same time. Paris helps to pop the bottle out of Layla's pussy!

853x480 Flash

1280x720 DivX

1280x720 MP4

1920x1080 WMV

New High-Definition Video Release

Video Type: Photoshoot

Length: 28:54

HD #001

Date: January 25, 2009

The lovely Parker sisters are together in the hot sun wearing sexy bikinis. They imitate each other's every move with some very sexy poses. The two take off their bikinis and rub baby oil all over themselves to make their bodies glisten in the sunlight. Layla and Paris then insert lollipops into their pussies from multiple angles!

853x480 Flash

1280x720 DivX

1280x720 MP4

1920x1080 WMV