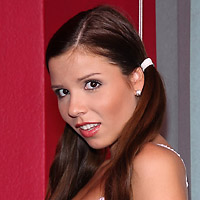 Peaches
Production Date: 2007-08-04
Age: 23
Height: 5'10"
Weight: 138 lbs
Measurements: 36C-24-38
Occupation: Economist
Hobbies: Reading, Dancing, Music
Favorite Music: R&B, Soul
Favorite Fantasy: Take Sandy to Mexico
After not selecting Peaches at last year's Budapest casting, we heard about it from the members. So this year we listened to you guys and boy are we glad! When we hooked up with Peaches at our Budapest 2007 Casting, she had a wonderful personality, a great sexy-look, and had even lost some weight since last year; she was unanimously selected during our review. We shot a full ALS style shoot which included a hot girl-girl scene with long-time friend Sandy, as well as a Nude in Public Body Painting shoot that turned out to be a huge success! Peaches is 23 years old, 5'10" (178cm) tall, and weighs 138 lbs (63 kg). Her measurements are 36C-24-38 (93C-63-98 cm). She has been having sex since she was 15, and gave her first BJ at 16, the same year she started shaving her pussy. She enjoys both guys and girls, and likes to have sex at least once a day. When we asked her what her sexual fantasy was, she said "To take Sandy to Mexico and have her twice a day on the white, sandy beach". Peaches is wild at heart and we LOVED working with her. She normally works as an economist, nude modeling on the side, but she enjoys spending most of her free time reading books, dancing, and listening to R&B or soul music; one thing she does not like is liars. You guys demanded her, so here she is as only ALS can present her. We know you guys are going to be as pleased with the results and we have been so enjoy!
Available Photosets
Snapshot

Scene Description

Total Pictures

Scene Preview

Peaches - Scene #1 - Remastered

Pigtails, bra, sheer boyshorts, bed, camel toe, high heels, stripping, posing, finger spreading, finger gaping, inverted glass bottle, insertions, female assistant: Sandy, girl girl, strap on dildo, doggie style, reverse cowgirl, model only

Released: 2007-09-21 / Remastered: 2022-12-29

300 Pics
Scene Samples

Peaches - Scene #2 - Remastered

Headphones, dress, fishnet, mesh, pantyhose, high heels, no panties, stripping, posing, distortion, non-model, lolli pop, insertions, speculum, gaping, cervix, crew, finger spreading

Released: 2007-12-21 / Remastered: 2023-04-20

293 Pics
Scene Samples

Peaches Body Painting - Scene #1

We meet with Peaches in the studio as she gets her new outfit painted on to her lovely nude body, then she works the camera with some sexy posing!!

Released: 2008-02-01

161 Pics
Scene Samples

Peaches Body Painting - Scene #2

Peaches gets to show off her new body art by walking around the busy downtown Budapest shopping district. Peaches stops off to buy a peach as she prances around virtually nude. People's reactions are priceless and Peaches is not shy!

Released: 2008-02-08

623 Pics
Scene Samples

Peaches - Scene #3

Floral micro bikini, poolside stripping & posing, oiling up, Sandy works her entire hand deep into Peaches' pussy!!

Released: 2008-09-26

312 Pics
Scene Samples

Peaches - Scene #4

Pink dress, stripping, posing, clit exposure, panty stuffing, spreading wide for gaping pussy shots, pee'ing!!

Released: 2010-05-14

318 Pics
Scene Samples
Downloadable Videos
Screen Capture

Video Description

Download Options

New High-Definition Video Release

Video Type: Masturbation

Length: 15:06

HD #007

Date: April 15, 2014

Peaches has just returned all hot and bothered from her exciting adventure of exhibitionism, parading her perfect nude figure behind only a thin layer of body paint in the busy streets of Budapest. She hops in the shower to wash off the paint, gliding her hands over her voluptuous wet body, then beginning to finger and tease her clit. She gets herself worked up and grabs a thick vibrator to pound her snatch until she finally cums.

853x480 Flash

1280x720 DivX

1280x720 MP4

1920x1080 WMV

New High-Definition Video Release

Video Type: Masturbation

Length: 16:07

HD #006

Date: April 21, 2009

Peaches is in the sauna ready to get off for all of her fans! She takes her towel off and rubs baby oil all over her body. Peaches then toys with her pussy and clit with a purple vibrator. Next, she grabs for a clear dildo and fucks her pussy with it until she cums hard! Peaches then adds both toys together for another explosive orgasm!

853x480 Flash

1280x720 DivX

1280x720 MP4

1920x1080 WMV

New High-Definition Video Release

Video Type: Photoshoot

Length: 15:05

HD #005

Date: November 11, 2008

Peaches poses in a sexy bikini. She rubs down her luscious tits and pussy with oil. She then spreads her plump pussy for the camera before calling over Sandy to ram her entire hand deep into Peaches' pussy. Hot gaping pullout!

853x480 Flash

1280x720 DivX

1280x720 MP4

1920x1080 WMV

New High-Definition Video Release

Video Type: Masturbation

Length: 14:30

HD #004

Date: October 21, 2008

Peaches stares out from her balcony and we peek under her skirt to see her plump pussy. She sites down and reveals her sexy body to us, covering it in oil. She rubs her clit and pulls her pussy open with her fingers, then she takes a glass dildo and fucks herself until she cums twice!

853x480 Flash

1280x720 DivX

1280x720 MP4

1920x1080 WMV

New High-Definition Video Release

Video Type: Nude Body Painting


Lengths: 28:40 & 25:18

HD #003 (Pts. A & B)

Date: Feb. 12, 2008

Watch Peaches hit the streets of Budapest with her sexy body paint. Peaches begins her journey on the street where huge crowds of people stare at her in amazement! She then heads down the streets of Budapest turning heads with every step she takes. Then Peaches stops off at a market to buy some peaches. Everywhere this girl goes people just can't help but to stare!

853x480 Flash

1280x720 DivX

1280x720 MP4

1920x1080 WMV

New High-Definition Video Release

Video Type: Nude Body Painting

Length: 32:33

HD #002

Date: Feb. 5, 2008

Watch as sexy ALS Angel's model Peaches gets her body painted so she can hit the streets of Budapest! Watch as our expert artist applies a white outfit with orange and green flowers on it. Once the application is done, you won't be able to tell if she has clothes on or not!!! Peaches walking the streets, which is part two, will be released shortly after!! ENJOY!

853x480 Flash

1280x720 DivX

1280x720 MP4

1920x1080 WMV

New High-Definition Video Release

Video Type: Masturbation

Length: 19:00

HD #001

Date: Sept. 25, 2007

Peaches really shows what she can take in this hot video. She gets wet in the pool then oils up her body so it glistens in the sun. She then calls in Sandy to fuck her, and Sandy is so good, Peaches thinks she can squirt. She gets rammed hard by Sandy's entire hand but can't seem to squeeze anything out when she cums. It's super hot anyway!

853x480 Flash

1280x720 DivX

1280x720 MP4

1920x1080 WMV