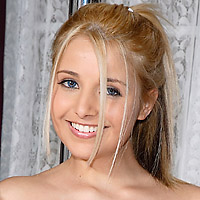 Sandy Waltrick
Age: 24
Height: 5'3"
Weight: 98 lbs
Measurements: 32B-24-35
Occupation: Babysitter, Waitress
Hobbies: Movies, Shopping, Roller Blading
Favorite Music: Romantic, a little of everything!
Favorite Fantasy: 3 Girls in a Pool/on a Boat
Wow, Sandy Waltrick is absolutely amazing! She has one of the greatest "booties" (as she called it) I have ever seen. This sweet honey is from Brazil where apparently all the girls have incredible asses. Combined with her large, firm tits and great personality, Sandy is sure to be one of the top models ever to grace ALS Angels. Sandy first entered the porn world under the stage name Sandra Larosa in a boy-girl video; this really upset her parents! After that, Sandy and her parents came to an agreement where she could do soft nudes only and so she started her own website containing some pretty tame pics that her parents could approve of. Well, that's all over now as we were lucky enough to be able to shoot Sandy in full, un-compromised ALS style and this is the only place you will get to see Sandy like this! Sandy had a great personality and attitude, and it shows in her work. She did 8 full photosets and 5 mind-blowing masturbation videos, all in true Hi-Def! You won't want to miss one bit of this! Sandy has been shaving her pussy since she was 14 and having sex since she was 15. She waited until she was 17 to give her first blow job but this horny girl likes to have sex at least 3 times a day! Sandy is 24 years old and stands 5'3" tall, weighing in at 98 lbs. Her measurements are 32B-24-35. When Sandy isn't modeling, she makes money baby-sitting and working as a waitress. She enjoys spending her free time playing with animals, going to the movies, shopping, swimming and rollerblading. She listens to all sorts of music, especially romantic music. She likes people that are cool and funny, and she is not afraid to say she does not like people who are judgmental. Sandy likes both guys and girls, but her sexual fantasy is to have 3 girls at once in a pool or on a boat. What an amazing girl!
Available Photosets
Snapshot

Scene Description

Total Pictures

Scene Preview

Sandy Waltrick - Scene #1

White and blue top with cut-off jean-shorts, sexy stripper pole posing, stripping, baby oil rub-down, pussy spreading, clit exposure and hot lolli-pop insertions!!

119 Pics
Scene Samples

Sandy Waltrick - Scene #2 - Remastered

French braid, pigtails, dress, white cotton panties, ruffle socks, high heels, mirror, reflection, stripping, posing, bed, puffy nipples, finger spreading, speculum, gaping, cervix, crew, gaping pullout

290 Pics
Scene Samples

Sandy Waltrick - Scene #3 - Remastered

Bikini, bare feet, bathtub, wetting, stripping, posing, finger spreading, baby oil, glass dildo, gaping pullout, peeing

294 Pics
Scene Samples

Sandy Waltrick - Scene #4 - Remastered

Lacy, lingerie, high heels, reading, mirror, reflection, stripping, posing, finger spreading, vibrator, two toys, dual insertion, tasting, female assistant, piledriver, finger gaping

303 Pics
Scene Samples

Sandy Waltrick - Scene #5 - Remastered

Camo t-shirt, panties, bare feet, stripping, posing, underboob, finger spreading, fingering, panty stuffing, dildo, gaping pullout, non-model

357 Pics
Scene Samples

Sandy Waltrick - Scene #6 - Remastered

Button up shirt, tie, high heels, no panties, bathroom, mirror, reflection, stripping, posing, finger spreading, distortion, hair brush, insertions, make up brush, two toys, dual insertion, peeing, model only

337 Pics
Scene Samples

Sandy Waltrick - Scene #7

Blue shirt & underwear, stripping, posing, spreading, huge cucumber ramming!!

291 Pics
Scene Samples

Sandy Waltrick - Scene #8

Blue skirt, white top, listening to music, stripping, posing, finger-play, Sandy opens her flower wide with the purple spreaders!!

236 Pics
Scene Samples
Downloadable Videos
Screen Capture

Video Description

Download Options

New High-Definition Video Release

Video Type: Photoshoot

Length: 29:59

HD #012

Date: March 12, 2015

Stunning blond Sandy Waltrick poses in a big, comfy chair wearing a sexy pair of camo undies and with matching top. She unveils her big, natural tits and shaved pussy as she works her way out of her clothes for more breathtaking images, spreading and fingering herself before she stuffs her panties. After pulling them back out, she teases the camera with a remote control before plunging a massive dildo in deep.

853x480 Flash

1280x720 DivX

1280x720 MP4

1920x1080 WMV

New High-Definition Video Release

Video Type: Photoshoot

Length: 18:45

HD #011

Date: October 09, 2014

Sandy Waltrick takes you behind the scenes as she puts on her make up for a photoset, her Brazilian booty teasing out from under her men's button up top. The scene gets started early before she hops up on the bathroom counter in her heels and strips down. She gives great pics of her pussy as she slips in a few fingers, followed by a hair brush. She adds a make up brush to the mix so she can spread her love silo wide.

853x480 Flash

1280x720 DivX

1280x720 MP4

1920x1080 WMV

New High-Definition Video Release

Video Type: Photoshoot

Length: 20:14

HD #010

Date: August 02, 2011

Sandy Waltrick is one of the sexiest models we have ever seen and this scene shows exactly why. She poses in a naughty girl tank and panties at the kitchen table, and after she gets naked we get to admire her great tits and smooth, pink pussy. She rams her coffee spoon deep into her snatch and then goes for a huge cucumber which she slides in with delight, popping it out for out camera. She licks her sweet pussy juice clean off it when she is done!

853x480 Flash

1280x720 DivX

1280x720 MP4

1920x1080 WMV

New High-Definition Video Release

Video Type: Masturbation

Length: 20:14

HD #009

Date: May 26, 2011

Sexy Sandy Waltrick wakes up from her beauty nap ready to get herself off! Watch this hottie pull back the covers and reveal her sexy, naked body! Sandy then begins to rub and play with her sweet pussy! Watch as she uses her favorite vibrator to toy with her pink clit, getting herself nice and horny! Sandy then uses her favorite green vibrator to stuff her tight hole with until she cums hard!! Glad we caught up with Sandy!!

853x480 Flash

1280x720 DivX

1280x720 MP4

1920x1080 WMV

New High-Definition Video Release

Video Type: Photoshoot

Length: 27:31

HD #008

Date: February 08, 2011

Sexy Sandy Waltrick is posing in her bedroom wearing a cute little dress. She lifts up the dress to tease us and show off her cute panties. You know us at ALS.. we get those panties off quick! Watch this hottie hop up on her bed and begin to spread and gape her pussy for us. In no time we have a speculum that we shove into Sandy's pussy so we can open it to the max and see her perfect pink cervix! Awesome photoshoot video with this smoking hot beauty!

853x480 Flash

1280x720 DivX

1280x720 MP4

1920x1080 WMV

New High-Definition Video Release

Video Type: Masturbation

Length: 26:44

HD #007

Date: September 30, 2008

Sandy Waltrick puts on a show for us on her stripper pole to begin this hot masturbations scene. She slowly takes her clothes off to reveal her pink pussy and big, perky tits. She then rubs her entire body down with baby oil. Sandy grabs for a lollipop that she uses to insert inside of her pussy. The lollipop just isn't enough for Sandy. Watch her fuck her pussy hard with a vibrator until she cums. You can see the cum coming out of her pussy afterwards!!

853x480 Flash

1280x720 DivX

1280x720 MP4

1920x1080 WMV

New High-Definition Video Release

Video Type: Masturbation

Length: 24:36

HD #006

Date: July 01, 2008

Sandy shares her breakfast with us and gives us a show. Watch her warm up her pussy smacking her spoon against her clit before she takes her banana and mounts it, stretching her pussy open. She finishes by fucking her hot hole with a teal vibrator and cumming hard!

853x480 Flash

1280x720 DivX

1280x720 MP4

1920x1080 WMV

New High-Definition Video Release

Video Type: Photoshoot

Length: 25:03

HD #005

Date: January 29, 2008

Sandy is sitting on her window bench. She starts to take off her pink lingerie and gets into some great poses while she does this. Sandy then gets two vibrators to stick into her pussy at the same time. Then watch our ALS Assistant spread Sandy's pussy wide open!

853x480 Flash

1280x720 DivX

1280x720 MP4

1920x1080 WMV

New High-Definition Video Release

Video Type: Photoshoot & BTS

Length: 19:57

HD #004

Date: October 23, 2007

This Brazilian babe Sandy looked smokin' hot in the Jacuzzi tub wearing a pink, wet bikini. She presses her pussy into the stream of water to excite her clit, then she covers herself in oil making her body glisten. She presses a glass dildo against her snatch to distort her lips, then rams it in deep several times for gaping pull-out shots. Afterwards, Sandy sprays her crystal stream all over the bathroom floor while she spreads her pussy wide!

853x480 Flash

1280x720 DivX

1280x720 MP4

1920x1080 WMV

New High-Definition Video Release

Video Type: Masturbation

Length: 21:17

HD #003

Date: Sept. 4, 2007

We catch Sandy watching cartoons in the living room and she starts to rub her pussy with the remote. She caresses her tits and nipples and rubs her clit and pussy. She tastes her wetness. Sandy then lubes up her pussy and plays with her clit, telling the camera how good it feels. She takes a blue vibrator and puts it on her clit and into her juicy pussy. She presses it deep into her pussy and rams it in forcefully. Then she takes a larger purple dildo and rides it from above, her tits bounce as she cums and her pussy flows with her love juice.

853x480 Flash

1280x720 DivX

1280x720 MP4

1920x1080 WMV

New High-Definition Video Release

Video Type: Photoshoot

Length: 16:28

HD #002

Date: August 14, 2007

Sandy poses in the shortest shorts we have ever seen. Watch her wrap her legs and tits around the stripper pole, then she oils up her body squatting and spreading her pussy. She takes a lollipop and licks it then inserts it several times into her wet snatch. Her pussy lips stick to the sweet orb as it is pulled out. Yummy!

853x480 Flash

1280x720 DivX

1280x720 MP4

1920x1080 WMV

New High-Definition Video Release

Video Type: Masturbation

Length: 26:58

HD #001

Date: May 29, 2007

Sandy is so beautiful and sweet. Watch her strip fron her sexy bikini and rub her lucious body down with oil until it glistenes. She then takes a glass dildo and works it in and around her pussy before switching to a yellow vibrator to get her juicy pussy off! Hot action in High-Def!

853x480 Flash

1280x720 DivX

1280x720 MP4

1920x1080 WMV