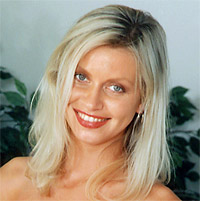 Sharon
Age: 24
Height: 5'8"
Weight: 120 lbs
Measurements: 36D-25-36
Occupation: Model
Hobbies: Dancing
Favorite Music: Madonna, Rock music
Favorite Fantasy: To make love with ten women and one man
Sharon is 24 years old, 5'8" tall, and weighs 120 pounds. She has just started posing nude. Her boyfriend kept trying to talk her into posing nude saying "with tits like those you just can't keep them to yourself - you have got to share them with the world!" We personally thank him. Sharon arrived around 9:30pm and our female assistant picked her up at the airport. Sharon instantly wanted hit the bars and start partying, so they went bar hopping down by the harbor. It turns out that they both drank a little too much and Sharon started letting guys feel her tits. (I am sorry I missed this). Beth (our assistant) said that it was a great time and she was letting guys and girls feel her up while she was dancing. They cleared the dance floor a couple of times. Sharon claims that she has never done anything like that before but it sure was fun! She listens to Rock Music and likes Madonna. She also likes to travel to Italy (she loves Italian food) and sleep. Her fantasy is to make love with 10 girls and 1 guy. (Not sure I understand that one - sounds like a guys fantasy to me). She was a blast to work with and we got some killer shots. She did every as you would expect ALS style and kept wanting more (even after a full night of partying). Her measurements are 36D-25-36.
Available Photosets
Snapshot

Scene Description

Total Pictures

Scene Preview

Sharon - Scene #1

Posing, spreading, fingering, juicy pussy, blue dildo insertions and pull-outs!!

61 Pics
Scene Samples

Sharon - Scene #2

Blue pajama shirt, posing on bed, large dildo insertions from multiple positions, peeing scene!!

74 Pics
Scene Samples

Sharon - Scene #3

Red and white dress, posing, spreading, cucumber insertions and pull-outs, peeing scene!!

64 Pics
Scene Samples

Sharon - Scene #4

White panties and ALS t-shirt, posing, fingering, spreading, deep glass bottle insertions and pull-outs, gaping hole shots!!

66 Pics
Scene Samples

Sharon - Scene #5

Pink polka dot dress, posing, glass dildo insertions, blue dress, posing on bed, fingering, spreading, gaping pussy!!

82 Pics
Scene Samples

Sharon - Scene #6

Black robe, posing, spreading, bottle insertions and pull-outs, gaping pussy, peeing scene!!

66 Pics
Scene Samples