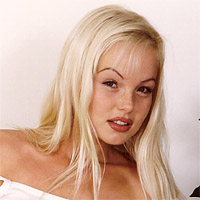 Silvia Saint
Age: 23
Height: 5'6"
Weight: 114 lbs
Measurements: 36C-23-35
Occupation: Model
Hobbies: Reading, sewing, sports for exercising
Favorite Music: Blues and Soul music
Favorite Fantasy: To have sex in a restaurant full of people
Silvia is 23 years old, 5'6" tall, and weighs 114 pounds. She is probably one of the biggest stars in Adult Films right now and is featured in more videos and magazines than we can list or count. ALS was very lucky to be able to get her. She is super sweet and not the hardened actress that we were expecting to see. She was a pure joy to work with. When she got here we went shopping for clothes. It was lots of fun. Silvia hates to wear a bra and loves to wear skimpy see through tops and very short shorts. She would try on some clothes (a top for example) and we would be waiting outside of the dressing room. She would walk out in just the top and thong see-through undies. She would ask, "How does this look?" as half the people in the store stared. If clothes shopping were this much fun I bet all guys would be doing it! She just didn't care - hell I even had to tell her to close the dressing room door a few times because she left it wide open. (The last thing I wanted was to have her get arrested.) Anyway, at the shoot she just kept wanting more. She LOVES anal and gave us some of the best gaping hole shots we have ever photographed. The one thing Silvia was not comfortable doing was peeing. But she did an exclusive peeing scene for ALS and said that she has never done that before on camera and will not do it for anybody else. (We are so lucky!). We were also the first company to ever shoot her totally shaved. Models just love doing things for us. Silvia likes to read books, sew, and exercise. She does prefer romantic good sex (with love). She likes performing for the camera and loves to get off on film but she says this is just a job. "Nothing beats hard sweaty sex with a man equipped with huge cock, that you are also in love with." Silvia listens to Blues and Soul music (like BB King) and loves animals. "Animals are so innocent, and their love is always there when you need it." Her fantasy is to have sex in a restaurant full of people, tied down to the four legs of the table, and getting fucked by 4 or 5 men. Her measurements are 36C-23-35.
UPDATE: We just shot Silvia Saint again and she was nastier than ever!! We will begin posting her all new shoot soon. You haven't seen anything yet!!
Available Photosets
Snapshot

Scene Description

Total Pictures

Scene Preview

Silvia Saint - Scene #1

White tank top and black skirt, posing, fingering, spreading, gaping pussy!!

62 Pics
Scene Samples

Silvia Saint - Scene #2

Yellow teddy, posing, spreading, juicy pussy, corn on the cob insertions, gaping hole shots!!

61 Pics
Scene Samples

Silvia Saint - Scene #3

Miscellaneous posing shots, Silvia acts goofy and struts her nude body for the camera, behind the scenes shots!!

50 Pics
Scene Samples

Silvia Saint - Scene #4

Red fire top and panties, posing, fingering, carrot insertions (pussy and ass), spreading, gaping hole shots!!

68 Pics
Scene Samples

Silvia Saint - Scene #5

Blue sun dress, posing, spreading, large sword dildo insertions, extreme gaping hole shots!!

90 Pics
Scene Samples

Silvia Saint - Scene #6

Posing on bed, spreading, Silvia stuffs a large double headed dildo into her ass and pussy at the same time!!

61 Pics
Scene Samples

Silvia Saint - Scene #7

Yellow skirt and white top, posing, spreading, big clear bottle insertions, gaping pussy, fingering, shaving scene!!

76 Pics
Scene Samples

Silvia Saint - Scene #8

White floral dress and thigh highs, posing, spreading juicy pussy, glass tube insertions and pull-outs, gaping hole shots!!

62 Pics
Scene Samples

Silvia Saint - Scene #9

White panties and pink ALS t-shirt, posing, spreading, gaping pussy, Silvia does and ALS exclusive peeing scene!!

73 Pics
Scene Samples

Silvia Saint - Scene #10

Thigh high stockings, posing on bed, spreading, anal fingering, gaping pussy!!

62 Pics
Scene Samples

Silvia Saint - Shoot #2 - Scene #1

White floral dress, posing, spreading, fingering, red jelly dildo insertions and pull-outs, gaping hole shots!!

64 Pics
Scene Samples

Silvia Saint - Shoot #2 - Scene #2

Purple tank top and white panties, posing in bedroom, fingering, spreading, gaping pussy, anal dildo insertions!!

77 Pics
Scene Samples

Silvia Saint - Shoot #2 - Scene #3

Blue dress, posing outside, spreading, fingering, Silvia stuffs a butt plug into her tight ass!!

72 Pics
Scene Samples

Silvia Saint - Shoot #2 - Scene #4

Black dress and stockings, posing, spreading, banana insertions, bottle insertions and pull-outs, gaping pussy!!

67 Pics
Scene Samples

Silvia Saint - Shoot #2 - Scene #5

White bikini, posing in hot tub, spreading, back inside, dildo insertions and pull-outs, gaping hole shots!!

79 Pics
Scene Samples

Silvia Saint - Shoot #2 - Scene #6

ALS t-shirt and panties, posing, spreading, speculum scene, clear cervix shots!!

74 Pics
Scene Samples

Silvia Saint - Shoot #2 - Scene #7

Red dress, posing, spreading, fingering, lubed pussy, hot dildo thrusting, gaping hole shots!!

66 Pics
Scene Samples

Silvia Saint - Shoot #2 - Scene #8

Multiple outfits, posing, spreading, vibrator insertions, gaping pussy!!

64 Pics
Scene Samples

Silvia Saint - Shoot #2 - Scene #9

Posing nude in dining room, spreading, playing with tongs, Silvia stretches wide for some gaping hole shots!!

68 Pics
Scene Samples

Silvia Saint - Shoot #2 - Scene #10

Red top and skirt, posing, spreading pussy, fingering, cucumber insertions, gaping pussy!!

68 Pics
Scene Samples