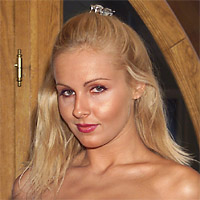 Simona
Age: 22
Height: 5'9"
Weight: 136 lbs
Measurements: 36C-24-36
Occupation: Model
Hobbies: Skiing, swimming, and traveling
Favorite Music: Rock & Roll
Favorite Fantasy: Sex with a guy while riding his motorcycle
Simona is just plain gorgeous - no other word for it. She is as sweet as can be and yet is a biker bitch. See to me this is strange because the biker chicks in America are very rough and tough looking and Simona is the complete opposite. She says that there is no feeling like the rumbling of a big machine between her legs. On many occasions she simply leans slightly forward on her bike while she is riding down the road and she can have multiple orgasms. Simona had a great time at the shoot and really enjoyed the speculum scene (which we are immediately releasing on MPEGs for our members). This was a first for her on film and she found it amusing. She easily handled our big toys and was a true pleasure to work with. Actually she was the first model we shot while we were over there so it was a great way to start out our trip. Simona enjoys snow skiing, swimming, and traveling. Under "likes" she listed Czech food. I totally agree with that - I loved the food over there. She first had sex at the age of 15 and is satisfied with it only once per day (...perhaps because of that motorcycle). Simona is 22 years old, 5'9" (175 cm) tall, and weighs 136 lbs (62 kg). Her measurements are 36C-24-36. You will be seeing lots of this hottie in our www.alsangels.com members section.
Available Photosets
Snapshot

Scene Description

Total Pictures

Scene Preview

Simona - Scene #1 - Remastered

Outdoor, tube top, mini-skirt, sandals, stripping, posing, finger spreading, sunglasses, female assistant: Hunter, cucumber, veggie, insertions

130 Pics
Scene Samples

Simona - Scene #2 - Remastered

Silver dress, high heels, no panties, stripping, posing, finger spreading, clit exposure, female assistant: Hunter, fisting

142 Pics
Scene Samples

Simona - Scene #3 - Remastered

Outdoor, motorcycle, lingerie, lacy, boyshorts, half bra, boots, stripping, posing, dildo, insertions, butt plug, anal, double penetration

122 Pics
Scene Samples

Simona - Scene #4

Blue bikini, taking a dip in the pool, inverted bottle insertions, white lingerie, stripping, posing, spreading, cranking wide open with the speculum!!

182 Pics
Scene Samples

Simona - Scene #5

Pink dress, posing by bar, stripping, finger spreading, banana insertions!!

147 Pics
Scene Samples

Simona - Scene #6

White lace-up top and skirt, sandals, stripping, posing, fingering, dildo, insertions

169 Pics
Scene Samples

Simona - Scene #7

Red bra, skirt, sandals, thong, stripping, posing, vedgie, finger spreading, glass bottle, insertions

174 Pics
Scene Samples