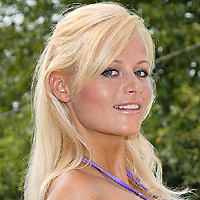 Sophie Paris
Age: 26
Height: 5' 7"
Weight: 100 lbs
Measurements: 33C-24-32
Occupation: Model
Hobbies: Traveling, Shopping
Favorite Music: House, Funk, and R&B
Favorite Fantasy: Threesome with one guy and one girl!
Clearly Sophie Paris is one of the hottest models to ever grace the pages of ALS Angels. We shot some really great scenes of her and she was so fun and professional to work with. Sophie Paris really knows how to pose and what makes men go crazy. She has done very well in life - she owns a nice home in Budapest and she drives a Mercedes sports car. Sophie Paris is a full time nude model and as far as we are aware she has never even done boy-girl. To be as successful as she is and not do boy-girl in this business is very hard to do - it just shows you how hot and popular she is. We have seen lots of her other work and, I know we are bias, but her ALS photos and video are her hottest stuff ever! She loves guys and girls but will only work on camera solo or with other girls. Sophie started shaving her pussy when she was 15 and had her first sexual experience when she was 17. She is now 26 years old, 5' 7" (170cm) tall, and weighs 100 lbs (50Kg). Her measurements are 33C-24-32 (84C-60-32 cm). Sophie really likes to travel, shop, and dance. Those are her three passions in life, with traveling being number one. But ironically the thing she hates the most in life is sitting on an airplane. Sophie also enjoys eating sushi. One thing that is negative about her is that she hates to cook. So guys, would you still take her if you had a chance? (I think so - who needs food when you could be eating her!!), Her musical tastes include House, Funk, and R&B.
Available Photosets
Snapshot

Scene Description

Total Pictures

Scene Preview

Sophie Paris - Scene #1 - Remastered

Purple ALS Bikini posing by the pool, rubs body down with baby oil, sun umbrella insertions!!
364 Pics
Scene Samples

Sophie Paris - Scene #2 - Remastered

Pink top, blue mini-skirt, heels, strip-tease, panty stuffing, ALS assistant Nadia Taylor fists Sophie!!

290 Pics
Scene Samples

Sophie Paris - Scene #3 - Remastered

Small, floral dress, stripping, posing, finger spreading, speculum, gaping, cervix close ups

257 Pics
Scene Samples

Sophie Paris - Scene #4 - Remastered

Outdoor, golf cart, sunglasses, tank top, skirt, thong, bare feet, stripping, posing, puffy nipples, golf club, handle, insertions, vibrator, two toys, dual insertion

207 Pics
Scene Samples
Downloadable Videos
Screen Capture

Video Description

Download Options

Video Type: Photoshoot

Length: 28:34

AVI #07-15

Date: October 22, 2009

Sophie Paris is lounging by the pool wearing a sexy bikini in this photoset. She has her umbrella to keep her cool, but then Sophie takes her bikini off and rubs her body down with baby oil getting her extra hot! She then inserts her umbrella deep inside of her pussy from multiple positions!

640x480 Flash

640x480 DivX

720x540 WMV

Video Type: Masturbation

Length: 18:11

AVI #01-06

Date: August 28, 2008

Sexy Sophie Paris is poolside in this hot masturbation scene. She starts by taking a dip in the pool to get herself nice and wet. She then rubs herself down with baby oil and plays with her pussy using an umbrella. She finishes the job with a hot pink vibrator!

640x480 Flash

640x480 DivX

720x540 WMV

New Video Release

Video Type: Masturbation

Length: 12:21

AVI #34-36

Date: January 2, 2008

Sophie strips from her dress and rubs her pussy and tits. She then takes the lube and gets her pussy nice and glossy. She uses a white vibe and a silver vibe against her pussy at the same time. Hot pussy action!

640x480 Flash

640x480 DivX

720x540 WMV

New Video Release

Video Type: Photoshoot

Length: 25:09

AVI #28-33

Date: November 27, 2007

Sophie is sitting on a golf cart. She starts by posing on the cart and then with one of the golf clubs in her pussy. She then poses on the golf cart with two vibrators in her pussy at the same time and we get a great pullout shot.

640x480 Flash

640x480 DivX

720x540 WMV

New Video Release

Video Type: Photoshoot

Length: 17:43

AVI #24-27

Date: Sept. 11, 2007

Sophie poses outside drinking a beer and pussl off her panties. She stuffs them into her wet pussy and then pulls them out again. She calls in Nadia, and she has to work Sophie's pussy a little with her fingers before she can ram in her entire hand to fill Sophie's pussy to the max.

640x480 Flash

640x480 DivX

720x540 WMV

New Video Release

Video Type: Masturbation

Length: 13:18

AVI #20-23

Date: May 1, 2007

Watch Sophie in the shower in her sexy ALS bikini. She rubs down with oil then fingers her clit and pussy. She takes a hot pink vibrator and rubs it against her clit the uses it to fuck her pussy until it drips cum. Hot gaping pussy action!

640x480 Flash

640x480 DivX

720x540 WMV

New Video Release

Video Type: Masturbation

Length: 14:28

AVI #16-19

Date: March 13, 2007

Sexy Sophie Paris is sitting making her tea when she gets bored and decides to use her spoon as a toy! After rubbing her pussy with the spoon, Sophie Paris is ready for a real toy. Watch her pull out a light blue vibe and get herself off!

640x480 Flash

640x480 DivX

720x540 WMV