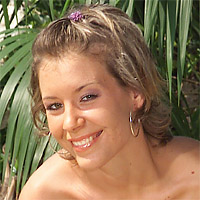 Stacy
Age: 22
Height: 5'6"
Weight: 106 lbs
Measurements: 36C-24-36
Occupation: Student
Hobbies: Travelling, dancing
Favorite Music: Pop
Favorite Fantasy: To have sex under a waterfall or in the ocean
We are certain that you are really going to like this girl. Stacy looked like such sweetie at casting, but she had a great, fun loving attitude and showed us she could take on some big toys, so we knew we just had to shoot her. Boy was she right!! Her pussy was able to easily take Kylie's full fist!! Stacy is currently a student studying gardening (horticulture I guess). She loves travelling and dancing and listens to pop music, particularly Celine Dion. Her faborite fantasy is to have sex with a guy underneath a huge waterfall or maybe even in a beautiful ocean lagoon. Under her likes, she listed sex and flowers. I guess if you filled her bed with flowers, it'd be a sure thing! Stacy prefers guys over girls and first had intercourse just a few years ago at 19, but ever since it seems that she can't get enough. Her measurements are 34C-23-35.
Available Photosets
Snapshot

Scene Description

Total Pictures

Scene Preview

Stacy - Scene #1 - Remastered

Tube top, mini skirt, high heels, white cotton panties, outdoor, wetting, stripping, posing, finger spreading, clit exposure, upshots, female assistant: Kylie Wylde, fisting, pussy eating

221 Pics
Scene Samples

Stacy - Scene #2 - Remastered

Tank top, skorts, high heels, outdoor, sunglasses, stripping, posing, finger spreading, clit exposure, inverted glass bottle, insertions, gaping pullout

207 Pics
Scene Samples

Stacy - Scene #3 - Remastered

Bikini, thong, high heels, wetting, vedgie, pool, stripping, posing, finger spreading, spreaders, gaping, gaping pullout

256 Pics
Scene Samples

Stacy - Scene #4 - Remastered

Outdoor, skirt, thong, g string, camel toe, stripping, posing, wetting, vedgie, distortion, finger spreading, upshots, clit exposure, female assistant: Kylie Wylde, ALS Rocket, gaping, cervix, gaping pullout

227 Pics
Scene Samples
Downloadable Videos
Screen Capture

Video Description

Download Options

Video Type: Masturbation

Length: 14:39

AVI #11-15

Date: June 21, 2007

Stacy is sitting in a chair waiting to get herself off in this hot mast scene! She gets her pussy nice and wet, and inserts fingers. Then she uses a green dildo and a blue vibe to get herself off with!

640x480 Flash

640x480 DivX

720x540 WMV

Video Type: Masturbation

Length: 15:04

AVI #01-05

Date: May 10, 2007

Watch Stacy play with her pussy for us! She begins by getting herself nice and wet. She then gapes her pussy and rams a dildo inside. Watch as she brings a vibrator to her clit to really get off!

640x480 Flash

640x480 DivX

720x540 WMV