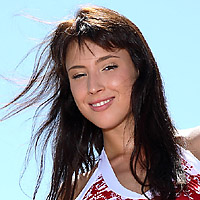 Stracy
Production Date: 2007-06-09
Age: 20
Height: 5'10"
Weight: 125 lbs
Measurements: 35C-24-36
Occupation: Model
Hobbies: Tennis, Sports, Dogs
Favorite Music: Nelly Furtado
Favorite Fantasy: Sex on a bus
We are very happy to be releasing this new cutie for you all to enjoy! We shot Stracy on our latest Czech 2007 trip and knew she would be perfect for ALS Angels. Stracy is a full-time model, but she enjoys spending her free time playing tennis, sports and tending to her dog. Her favorite artist is Nelly Furtado and her favorite sexual fantasy is to have sex on a bus. Stracy likes both guys and girls, and prefers having sex at least once a day. She started shaving her pussy at 14, having sex a year later, and gave her first blow job at 16. She likes chocolate and honest people. She is 20 years old and is a fairly tall girl standing 5'10" (180cm) and weighs 125lbs (57kg). Her measurements are 35C-24-36 (90C-63-92). We shot a hot girl-girl set with her and Nella, as well as some other great solo scenes with fun toys; we all had a great time at this shoot and we know you guys will love Stracy's beautiful smile, pretty face, and large, natural breasts so be sure not to miss anything, only ALS Angels can bring you Stracy like this!
Available Photosets
Snapshot

Scene Description

Total Pictures

Scene Preview

Stracy - Scene #1 - Remastered

Dress, sandals, outdoor, reading, no panties, stripping, posing, finger spreading, baby oil, female assistant: Nella, banana, veggie, insertions, gaping pullout, cucumber

Released: 2007-07-20 / Remastered: 2020-03-12

211 Pics
Scene Samples

Stracy - Scene #2 - Remastered

Outdoor, tank top, mini skirt, outdoor, stripping, posing, rake, distortion, finger spreading, girl girl, lesbian, Nella, strap on, dildo, doggie style, reverse cowgirl

Released: 2007-11-02 / Remastered: 2020-10-08

283 Pics
Scene Samples

Stracy - Scene #3 - Remastered

Bra, boyshorts, high heels, stripping, posing, bare feet, finger spreading, sleeping, female assistant: Nella, ALS Rocket, gaping, cervix, gaping pullout

Released: 2008-06-20 / Remastered: 2021-06-17

228 Pics
Scene Samples

Stracy - Scene #4 - Remastered

Leopard print bikini, sandals, bath tub, bare feet, wetting, stripping, posing, lolli pop, glass dildo, insertions, gaping pullout, female assistant: Nella, model only

Released: 2008-12-05 / Remastered: 2022-05-19

311 Pics
Scene Samples
Downloadable Videos
Screen Capture

Video Description

Download Options

New High-Definition Video Release

Video Type: Photoshoot

Length: 20:41

HD #004

Date: March 02, 2010

Stracy is mowing the lawn with Nella in this hot photoshoot video. The sun is blazing and she soon needs to take off her clothes just to keep from sweating to death. She calls Nella over and takes the rake from her to straddle it as well as uses it to distort her pussy. Then Nella walks back in wearing a strap-on cock and uses it to fill Stracy's mouth before ramming it into her shaved snatch. She makes Stracy take it in multiple positions while the summer sun beats down on their sexy bodies.

853x480 Flash

1280x720 DivX

1280x720 MP4

1920x1080 WMV

New High-Definition Video Release

Video Type: Masturbation

Length: 16:30

HD #003

Date: March 24, 2009

Sexy ALS Angels model Stracy is out in the sun wearing an bikini in this hot masturbation video. She takes the bikini off and begins to play with her pussy and her clit. Stracy then rubs her entire body down with baby oil making herself glisten in the sun. She then fucks her pussy and plays with her clit using a blue vibrator until she cums!!

853x480 Flash

1280x720 DivX

1280x720 MP4

1920x1080 WMV

New High-Definition Video Release

Video Type: Masturbation

Length: 18:46

HD #002

Date: November 20, 2007

Stracy is on her balcony posing for the camera, then takes herself to the bed where she proceeds to get off! Beautiful Stracy strips out of her clothes and begins to finger her pussy and rub her clit. She then takes out a pink vibrator and fucks herself with it in different positions until she cums!

853x480 Flash

1280x720 DivX

1280x720 MP4

1920x1080 WMV

New High-Definition Video Release

Video Type: Masturbation

Length: 23:04

HD #001

Date: July 24, 2007

Stracy sits outside smoking on the balcony and rubs her exposed clit. She lubes up her pussy and rubs her hot body down with oil. She takes a purple vibrator and strokes it between her luscious tits and then against her clit. She uses it to fuck her pussy while rubbing her clit with her fingers, then turns up the power to make herself cum loudly. She licks the viberator clean before lighting up another cigarette to top off her fun time!

853x480 Flash

1280x720 DivX

1280x720 MP4

1920x1080 WMV