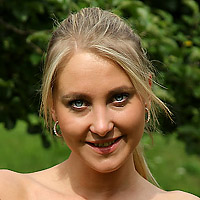 Susan Snow
Age: 24
Height: 5'7"
Weight: 121 lbs
Measurements: 33C-25-35
Occupation: Cosmetics, Bartender
Hobbies: Sex, Boys, Perfumes, Dancing, Roller Skating, Swimming
Favorite Music: DJ Tiesto, U2
Favorite Fantasy: Sex on skyscraper
We found this gem at our 2009 Czech casting and knew immediately we had to book her! Susan is 24 years old and was a lot of fun to shoot. She really enjoys modeling and she had a great time shooting ALS Style. She is 5'7" (171cm) tall and she weighs 121 lbs (55Kg); her measurements are 33C-25-35 (84C-63-89cm). Susan's favorite groups are U2 and DJ Tiesto, which happen to be some of my favorite groups as well. When she isn't modeling, she works as a bartender and in cosmetics. She has been shaving that tight pussy of hers since she was just 13, and sexually active since the age of 14. She is a total nympho and needs sex at least 2-3 times a day, preferring guys over girls. Her favorite sexual fantasy is to have sex with two guys, or to have sex on a skyscraper, a first for us :). She likes sex, boys, perfumes, dancing, roller skating, and swimming, as well as back massages. The only thing this cutie doesn't seem to like is seafood! Susan was a real pleasure to work with and we think you will be tremendously pleased with her shoot, which includes a total of 4 photosets and 4 masturbation videos. Be sure to let us know your thoughts!
Available Photosets
Snapshot

Scene Description

Total Pictures

Scene Preview

Susan Snow - Scene #1

Micro bikini, sun bathing with Suzie, stripping, posing, teasing, spreading, baby oil rub down, gaping, riding Suzie's fist deep!!

272 Pics
Scene Samples

Susan Snow - Scene #2

Pink outfit, piano playing, stripping, posing, spreading, finger, Suzie assists Susan with conquering the ALS Rocket, cervix shots!!

231 Pics
Scene Samples

Susan Snow - Scene #3

Blue top, white shorts, stripping, posing, spreading, panty stuffing, lolli-pop insertions!!

252 Pics
Scene Samples

Susan Snow - Scene #4

Girl girl, in bed with Suzie Carina, black and white lingerie, spooning, stripping, posing, flexible, backbend, strap on dildo, piledriver, doggie style

272 Pics
Scene Samples
Downloadable Videos
Screen Capture

Video Description

Download Options

New High-Definition Video Release

Video Type: Masturbation

Length: 18:05

HD #005

Date: December 26, 2012

Sexy Susan Snow is outside working up a sweat as she mows the lawn. She decides to take a little break, stripping down to cool off for a moment. Then she heats things right back up as she lathers herself in oil and begins fingering her tight pussy. Susan grabs a vibrator and rams it hard and deep, moaning her way to an intense orgasm that leaves her trembling. With a satisfying release behind her, she resumes tending to the yard.

853x480 Flash

1280x720 DivX

1280x720 MP4

1920x1080 WMV

New High-Definition Video Release

Video Type: Photoshoot

Length: 19:17

HD #004

Date: December 07, 2010

Susan and Suzie are having a picnic outside in their skimpy bikinis. They laugh and talk with each other as Susan slowly reveals her sexy body by peeling off her bikini and pulling her pussy lips to open up her hot hole. Suzie knows just what to do and slips her entire fist deep into Susan's shaved pussy to stretch it wide open. Susan can't get enough and rides down onto Suzie's fist until her pussy is filled to the max.

853x480 Flash

1280x720 DivX

1280x720 MP4

1920x1080 WMV

New High-Definition Video Release

Video Type: Masturbation

Length: 28:25

HD #003

Date: April 27, 2010

Susan isn't very good at twirling the baton, but she finds another use for it to entertain herself. She stimulates her nipples and teases her pussy, then spreads her legs across the chair and covers herself in oil. Susan works the baton into her tight snatch and against her clit, ramming it in deep and swinging it from her pussy. She goes for a white vibrator and slaps it against her clit until she cums to an intense orgasm!

853x480 Flash

1280x720 DivX

1280x720 MP4

1920x1080 WMV

New High-Definition Video Release

Video Type: Masturbation

Length: 17:11

HD #002

Date: September 01, 2009

Susan shovels straw and takes a smoke break while sitting on her tractor. She then takes out a Rockin' Rabbit toy and spits on her pussy to get it nice and wet. Then she fucks herself pressing the vibrator in deep until she cums.

853x480 Flash

1280x720 DivX

1280x720 MP4

1920x1080 WMV

New High-Definition Video Release

Video Type: Masturbation

Length: 29:54

HD #001

Date: July 07, 2009

Susan gets into the shower and soaps up her hot body, then she does a little pussy rubbing and finger fucking. She hops out, sits on the bidet, letting the water stimulate her clit. She pulls out a red vibrator and uses it to fuck her hot hole and clit until she cums!

853x480 Flash

1280x720 DivX

1280x720 MP4

1920x1080 WMV