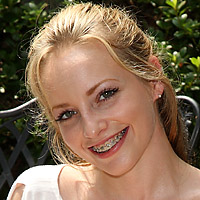 Tabitha
Age: 18
Height: 5'0"
Weight: 100 lbs
Measurements: 32C-25-31
Occupation: Student
Hobbies: Horseback Riding
Favorite Music: Elvis, Rock
Favorite Fantasy: She says she has no fantasies because she "Does whatever she wants!!"
We are proud to present our Tabitha shoot. We flew her out here several months ago and shot some video only of this honey. We released her videos and asked for your comments. Well you made it clear that you wanted us to shoot Tabitha for a full shoot. We did and it was great! She was even hotter than we remembered. From your comments, we know that you really loved her firms tits and her plump pussy so we made an extra point of shooting more close-ups of them for you. Tabitha is 18 years old and stands only 5'0" tall. She weighs just 100 lbs. If you remember from her videos, Tabitha is a really smart girl. She is in college working towards a marketing degree with a minor in psychology. She brought her books with her and was studying during set changes. Tabitha is serious about her education. She does some nude modeling and also works as a waitress to help pay for those huge college bills. Tabitha claims that she will have it all paid off before she even graduates. She is one of those good-girls who does not take any drugs or drink and is very focused on what she wants to do. Tabitha started being sexually active around her 16th birthday, although she has always shaved her pussy. She made a good comment to us that we had never thought of. Tabitha said having pussy hair nowadays is like women having armpit hair in the 70's; it is a thing of the past, not to mention it is unattractive and unhygienic. Amen. Tabitha's measurements are 32C-25-31.
New Update! We shot Tabitha again in her 3rd visit to ALS. The first time, we only shot 2 video masturbation sets. They were so hot that our Angels Members demanded more. So we brought Tabitha back for 3 photosets and 3 masturbation videos. That entire shoot is now available to our members. In this new shoot, Tabitha looked even better than ever. We shot 5 new Tabitha photosets of and 5 incredible masturbation videos. She is fucking amazing and her pussy is so smooth it looks like she has never had any hair - make sure you don't miss out on this incredible new shoot!
Available Photosets
Snapshot

Scene Description

Total Pictures

Scene Preview

Tabitha - Scene #1 - Remastered

Black and red dress, posing, spreading, Tabitha stretches her pussy with the Swell Guy!!

235 Pics
Scene Samples

Tabitha - Scene #2 - Remastered

Plaid dress, posing, spreading, Tabitha takes on the ALS Rocket, cervix shots!!

206 Pics
Scene Samples

Tabitha - Scene #3 - Remastered

Striped top and shorts, posing, spreading, pussy pump, swollen lips, huge dildo insertions, gaping pull-out!!

302 Pics
Scene Samples

Tabitha - Shoot #2 - Scene #1

Tall, striped socks, tank top and panties, posing, bending over, pussy pumping, ALS assistant Phoenix fists Tabitha!

304 Pics
Scene Samples

Tabitha - Shoot #2 - Scene #2

White tube-top and orange mini-skirt, outdoor stripping & posing, panty stuffing, Tabitha works her pussy with a hammer and wire cutters!

323 Pics
Scene Samples

Tabitha - Shoot #2 - Scene #3

See-through yellow dress, up-shots, stripping & posing, spreading, large dildo insertions, Tabitha gapes her cum-dripping pussy!!

389 Pics
Scene Samples

Tabitha - Shoot #2 - Scene #4

Blue micro bikini, high heels, stripping, posing, oily rub down, lolli-pop insertions!!

259 Pics
Scene Samples

Tabitha - Shoot #2 - Scene #5

Red lingerie set and fishnet stockings, stripping, posing, pussy play, speculum insertions for hot cervix close-ups!!

234 Pics
Scene Samples

Tabitha - Shoot #3 - Scene #1

White dress, smoking, stripping, posing, spreading, double-penetrated with two-pronged dildo, two vibrators rammed deep at once!!

320 Pics
Scene Samples

Tabitha - Shoot #3 - Scene #2

Red short shorts, yellow top, stripping, posing, baby oil rub down, massage, jack-hammer dildo insertions!!

282 Pics
Scene Samples

Tabitha - Shoot #3 - Scene #3

Black mesh one-piece, stripping, posing, spreading, pussy lip stretching with weights, gigantic match-stick insertions!!

299 Pics
Scene Samples

Tabitha - Shoot #3 - Scene #4

Red micro bikini, baby oil rub down, stripping, posing, fingering, spreading, clit-exposure, gaping wide with pussy spreaders!!

299 Pics
Scene Samples

Tabitha - Shoot #3 - Scene #5

Pink lingerie, stripping, posing, clit-exposure, bottle insertions, spreading, fingering, pussy pumping!!

266 Pics
Scene Samples

Tabitha - Shoot #3 - Scene #6

Trying on multiple outfits, stripping, posing, spreading, brush handle insertions, showing off flexibility, big glass dildo insertions!!

378 Pics
Scene Samples

Tabitha - Shoot #3 - Scene #7

Jean shorts, white top, wet t-shirt, stripping, posing, banana, cucumber, and water bottle insertions!!

367 Pics
Scene Samples
Downloadable Videos
Screen Capture

Video Description

Download Options

New High-Definition Video Release

Video Type: Photoshoot

Length: 29:13

HD #012

Date: November 09, 2010

Tabitha is telling a little personal story before posing for us in the yard with her picnic basket. She pulls a bottle of water out and soaks her white shirt so we can see her perfect tits underneath. Then she takes a banana into her shaved snatch before stretching it out even more with a large cucumber. Tabitha laughs as she pours the water over herself again and then rams the empty bottle into her pussy, too!

853x480 Flash

1280x720 DivX

1280x720 MP4

1920x1080 WMV

New High-Definition Video Release

Video Type: Photoshoot

Length: 28:08

HD #011

Date: October 14, 2010

Tabitha poses in the mirror wearing a cute, little, sailor-girl outfit. Her playful personality really shines through as she tries on a couple of hats for us. She fixes her hair with her brush an gets a sassy idea, ramming the handle deep into her sweet pussy. Then she tries to take as many fingers as she can before switching to a large glass dildo, popping it out for gaping hole shots!

853x480 Flash

1280x720 DivX

1280x720 MP4

1920x1080 WMV

New High-Definition Video Release

Video Type: Photoshoot

Length: 25:39

HD #010

Date: July 27, 2010

We caught Tabitha in her bathroom putting on some make-up. She was wearing a super-sexy pink outfit and looking hot as hell so we just had to stay for the show. Tabitha takes off her pink lingere revealing her perfect tits and sweet pussy, then uses a few of her perfume bottles to distort and insert inside of her snatch. She then hops in the tub and gapes her pussy wide in anticipation of the pussy pump! She pumps herself up to the max, getting nice, plump, and swollen!

853x480 Flash

1280x720 DivX

1280x720 MP4

1920x1080 WMV

New High-Definition Video Release

Video Type: Masturbation

Length: 14:35

HD #009

Date: July 06, 2010

We come in on Tabitha watering her plants and searching for the fertilizer. Instead, she stumbles upon her long lost Hitachi vibrator instead and decides to celebrate by getting herself off. She sits down and gets herself nice and wet before using the toy against her pussy to stimulate her clit. She moans wildly and cums to a very intense orgasm, showing off her swollen pussy afterwards!

853x480 Flash

1280x720 DivX

1280x720 MP4

1920x1080 WMV

New High-Definition Video Release

Video Type: Photoshoot

Length: 26:40

HD #008

Date: June 01, 2010

We had such a good time with Tabitha at her shoot and this video really shows why. Tabitha poses in a mesh dress and slowly reveals her sexy body. She jokes with our crew the whole time and her laugh is infectious. We clamp some weights to her puffy pussy lips, stretching them out to the max. Then Tabitha tries to light the fire using a huge matchstick, but decides instead to ram it deep into her pussy, following up with a sweet pull-out before she sucks the head clean of her tasty pussy juice.

853x480 Flash

1280x720 DivX

1280x720 MP4

1920x1080 WMV

New High-Definition Video Release

Video Type: Photoshoot

Length: 24:27

HD #007

Date: April 13, 2010

Tabitha sports a hot red bikini and it accents her sexy body perfectly. It gets even better when she wets down the fabric so it clings to her puffy pussy. She shows it off from every angle and then uses the spreaders to crank open her hot hole until it is a gaping cavern. This fun loving babe puts on one hell of a performance!

853x480 Flash

1280x720 DivX

1280x720 MP4

1920x1080 WMV

Video Type: Masturbation

Length: 34:55

AVI #01-12

Date: March 18, 2010

In our first meeting with Tabitha, she certainly aimed to make a lasting impression. Take it back to our first meeting and interview with Tabitha, then let Tabitha show you what she's working with! Tabitha takes her clothes off and fucks her pussy and rubs her clit with a dildo and a vibrator until she has a body trembling orgasm! She then smokes a cigarette on the couch and talks to us about how hard she just came! Priceless!

640x480 Flash

640x480 DivX

720x540 WMV

New High-Definition Video Release

Video Type: Masturbation

Length: 18:31

HD #006

Date: March 09, 2010

It's been a long, hard day for Tabitha and she wants to take a refreshing shower. She soaps up her body and starts to rub on her swollen pussy. She then uses the massage sprayer to stimulate her clit and before she pulls out her Rockin' Rabbit toy to get herself off one last time. The rotating vibrator makes her moan with ecstacy until she cums. Tabitha is totally spent after working her luscious pussy for all her ALS fans!

853x480 Flash

1280x720 DivX

1280x720 MP4

1920x1080 WMV

New High-Definition Video Release

Video Type: Photoshoot

Length: 20:16

HD #005

Date: January 19, 2010

Tabitha poses with our crewmember Jimmy in this hot photoset. Jimmy rubs her luscious body down with oil and spreads her pink pussy open by hand. Then he grabs the Jackhammer dildo and Tabitha has him work it deep into her snatch in a variety of positions. Tabitha's spitfire personality really shines as she takes this high powered dildo for a test drive!

853x480 Flash

1280x720 DivX

1280x720 MP4

1920x1080 WMV

New High-Definition Video Release

Video Type: Masturbation

Length: 32:42

HD #004

Date: November 24, 2009

After a long day of sitting out in the sun, Tabitha comes inside to relax and play with her favorite toy, the Sybian! Watch as Tabitha hops on this powerful machine and gives it a ride! This girl can't get enough of the vibrating and rotating dick, so she turns up the power to full blast and lets the Sybian do the work for her. Tabitha rides the Sybian for a while, then has multiple explosive orgasms! After she gets off, her body can't stop shaking and she can't catch her breath from all the orgasms she just had! Tabitha then heads outside to have a smoke and cool down!

853x480 Flash

1280x720 DivX

1280x720 MP4

1920x1080 WMV

New High-Definition Video Release

Video Type: Photoshoot

Length: 21:00

HD #003

Date: October 27, 2009

Tabitha poses outside on the deck taking a smoke break. She really has a great personality and it shines on camera. She plays with her nipple before getting her ass and pussy filled at the same time with a toy. Then she takes 2 vibrators into her smooth pussy at the same time.

853x480 Flash

1280x720 DivX

1280x720 MP4

1920x1080 WMV

New High-Definition Video Release

Video Type: Masturbation

Length: 19:27

HD #002

Date: October 13, 2009

Tabitha gets a quick minute to get away from her parents house so she takes full advantage of her time alone and runs out to the woods to get herself off! Watch Tabitha go deep into the woods where she takes off her bikini and fingers her pussy until she has a screaming orgasm!

853x480 Flash

1280x720 DivX

1280x720 MP4

1920x1080 WMV

New High-Definition Video Release

Video Type: Masturbation

Length: 17:59

HD #001

Date: September 15, 2009

Tabitha is outside smoking while trying to convince her friend to come over and fuck her. She has no luck, so she decides to fuck herself instead. Watch her ram her tight pussy with a vibrator in a variety of positions to cum hard with lots of moaning!

853x480 Flash

1280x720 DivX

1280x720 MP4

1920x1080 WMV

Video Type: Masturbation

Length: 15:46

AVI #41-44

Date: March 26, 2009

Tabitha is here to show us what she is made of and boy does she deliver! Watcher her ram her juicy pussy with a huge red dildo, then she adds in a pink vibrator to make herself cum hard twice!

640x480 Flash

640x480 DivX

720x540 WMV

New Video Release

Video Type: Masturbation

Length: 17:55

AVI #93-96

Date: August 19, 2008

Tabitha sits and gets herself ready at the mirror, then she takes a break and lies on the bed. She opens up her pussy with a speculum and starts to fuck her clit with an orange vibrator. She rubs it vigorously until she cums hard and we get to see it as her pussy is opened wide.

640x480 Flash

640x480 DivX

720x540 WMV

Video Type: Masturbation

Length: 17:56

AVI #30-35 (a-d)

Date: August 07, 2008

Sweet Tabitha shows us her goods as she chats with the crew. She starts by fingering herself, then she takes out a sleek silver vibrator and rocks her hot hole with it. She moans loud and cums hard!

640x480 Flash

640x480 DivX

720x540 WMV

New Video Release

Video Type: Photoshoot & BTS

Length: 17:59

AVI #89-92

Date: July 22, 2008

We start off this scene by watching Tabitha sitting in the grass and smoking. She really wants to pee for us but just can't make it come with all the strangers watching. Then we move into the bedroom where she poses in a hot red lingerie set. She gets on the bed and her petite body sizzles. She cranks open her pussy with the speculum and we get great shots of her nice pink cervix!

640x480 Flash

640x480 DivX

720x540 WMV

New Video Release

Video Type: Photoshoot & BTS

Length: 18:09

AVI #85-88

Date: April 15, 2008

Tabitha poses in a sexy micro bikini oustide in the burning sun. She gets her body slicked down with oil until it glistens. Then she takes a sticky red lolli-pop deep into her pussy pulling her lips open as she removes it. After the shoot, Tabitha tries to let loose on the deck but gets frightened and moves to the shower where she can let her golden stream fly!

640x480 Flash

640x480 DivX

720x540 WMV

Video Type: Masturbation

Length: 16:36

AVI #21-24

Date: January 31, 2008

Tabitha is sitting on a chair. She starts to rub her clit and finger her pussy until it is nice and wet. Tabitha then gets a pink ribbed vibrator and a flesh colored dildo, watch her fuck her wet pussy until she cums.

640x480 Flash

640x480 DivX

720x540 WMV

Video Type: Masturbation

Length: 23:54

AVI #13-20 (a-f)

Date: December 27, 2007

Tabitha is sitting on a chair. She starts to rub her clit and finger her pussy until it's nice and wet. Tabitha then gets a pair of pussy spreaders to open her pussy up before she gets a pink vibrator to work her clit until she cums.

640x480 Flash

640x480 DivX

720x540 WMV

New Video Release

Video Type: Masturbation

Length: 20:48

AVI #81-84

Date: December 11, 2007

We catch Tabitha doing some home improvements as she hammers a nail into her porch. She is wearing a sexy red skirt, and a short white shirt. Tabitha begins to take off her panties, and stuff then deep inside of her pussy. She grabs for a orange vibrator out of her toolbox to rub up and down on her clit. As Tabitha pulls out the panties, she rubs her clit more and more with the vibrator until hitting a screaming orgasm!

640x480 Flash

640x480 DivX

720x540 WMV

New Video Release

Video Type: Photoshoot

Length: 18:22

AVI #76-80

Date: October 2, 2007

Tabitha poses with a yellow mesh dress, and spreads her pussy so that her lips flare out and stay open. Then she takes a huge dildo in a variety of positions and we get a nice pull-out shot! Tabitha has a great attitude and it really shows!

640x480 Flash

640x480 DivX

720x540 WMV

New Video Release

Video Type: Masturbation

Length: 18:40

AVI #70-75

Date: July 17, 2007

Tabitha sits in a chair in the living room and begins by slowly rubbing on her pussy and caressing her lips. She pulls out a white vibrator and rubs it up and down against her clit. She needs more and gets a pink dildo to stuff her wet hole with, popping it out she moans a lot as she cums and tastes her pussy juice from the dildo when she is finished.

640x480 Flash

640x480 DivX

720x540 WMV

New Video Release

Video Type: Photoshoot

Length: 23:45

AVI #64-69

Date: May 8, 2007

We catch Tabitha working on her deck in this sexy photoshoot. Watch her take her panties off and stuff them inside her pussy. She then distorts her pussy with some random tools, then inserts a hammer!

640x480 Flash

640x480 DivX

720x540 WMV

New Video Release

Video Type: Masturbation

Length: 25:23

AVI #58-63

Date: April 3, 2007

We get to see Tabitha behind the scenes taking a smoke break. Then she jumps right into the scenes fingering her clit and smacking her pussy. She uses a yellow vibrator and a glass dildo to work her pussy until she has an intense orgasm.

640x480 Flash

640x480 DivX

720x540 WMV