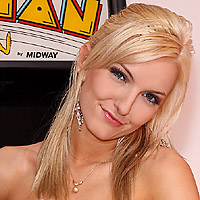 Taylor Tilden
Age: 21
Height: 5'6"
Weight: 110 lbs
Measurements: 34C-25-34
Occupation: Sales & Management
Hobbies: Hair & Make-Up, Gardening, Baking, Cooking, Music
Favorite Music: Eddie Vedder, Kurt Cobain, U2
Favorite Fantasy: Tied Down by 3 Girls
ALS is pleased to present Taylor Tilden! This sweetie is 21 years old, stands 5'6" tall (167cm) and weighs 110lbs (50kg). Her measurements are 34C-25-34 (86C-63-86cm). When she is not modeling, she works in sales & management and her hobbies include doing hair and make-up, gardening, baking, cooking, listening to music, etc... We had a rough start at Taylor's shoot and almost had to stop and send her home. She had slept on the plane ride over here so when we dropped her off at the hotel the night before the shoot, she barely got any sleep. Shortly after starting her first photoset, we could tell she wasn't into it and her mind was elsewhere, probably thinking about her ID that she had lost. Fortunately, we sat down and relaxed for about an hour and she promised to put aside her worries and focus on the job at hand, then it was like a 180° turn-around; Taylor was laughing and joking all day and we had a blast during the shoot. In total we got 7 photosets and 5 masturbation videos, all turned out great except for the first photoset of the day, which was her weakest one but still not bad ;). Taylor has been having sex since 14 and gave her first blow job at 16 when she started shaving her pussy. She loves both guys and girls and tries to have sex at least 3 times a day! She told us that her fantasy is to be tied down to a bed and fucked by 3 chicks at the same time; she also mentioned that she does not like anal sex or insects but other than that she is always up to try new things! Her favorite music includes Eddie Vedder, Kurt Cobain and U2. We really enjoyed working with Taylor and would love to hear what you guys think.
Available Photosets
Snapshot

Scene Description

Total Pictures

Scene Preview

Taylor Tilden - Scene #1

Yellow dress, stripping, posing, spreading, lip-stretching with weights and clit stimulation with the Hitachi vibrator!!

247 Pics
Scene Samples

Taylor Tilden - Scene #2

bikini, stripping, posing, crystal stream spraying, oiling up, deep banana penetration!!

307 Pics
Scene Samples

Taylor Tilden - Scene #3

Pink panties, air hockey with Leighlani, stripping, posing, huge strap-on dildo fucking and penetration!!

190 Pics
Scene Samples

Taylor Tilden - Scene #4

Teal dress, drinking wine by fireplace, stripping, posing, spreading, wine bottle insertions!!

199 Pics
Scene Samples

Taylor Tilden - Scene #5

Pink sweater and panties, stripping, posing, spreading, panty stuffing, double-vibrator insertions, pee'ing!!

265 Pics
Scene Samples

Taylor Tilden - Scene #6

Blue top, denim skirt, glasses, stripping, posing, cranking pussy wide open with speculum for crystal-clear cervix shots!!

242 Pics
Scene Samples

Taylor Tilden - Scene #7

White tank top, short short, exercising, stripping, posing, spreading, peeing, lolli-pop teasing!!

303 Pics
Scene Samples
Downloadable Videos
Screen Capture

Video Description

Download Options

New High-Definition Video Release

Video Type: Masturbation

Length: 16:18

HD #010

Date: January 20, 2011

Taylor reads us a couple of jokes from her book, but soon gets bored and wants to play with herself instead. She fingers her wet pussy, spitting and smacking on her clit until it is ready for more. She gets out her Hitachi vibrator and rubs it up and down against her pussy lips and swollen clit until she cums several times! Once Taylor is finished getting off she jokes around with us a little more.

853x480 Flash

1280x720 DivX

1280x720 MP4

1920x1080 WMV

New High-Definition Video Release

Video Type: Photoshoot

Length: 24:49

HD #009

Date: January 06, 2011

Taylor is working out her tight body for us while we take shots of her. She dribbles her water off her chin and it soaks her tank top. We get a glimpse of her awesome tits, and then she rides the treadmill hard, spreading her pussy open. Taylor takes a break during the shoot and lets her crystal stream loose onto the bathroom floor in a huge puddle. She resumes the scene with her lolli pop which gets stuffed in and out of her smooth snatch, making her hot hole a sweet & sticky mess.

853x480 Flash

1280x720 DivX

1280x720 MP4

1920x1080 WMV

New High-Definition Video Release

Video Type: Photoshoot

Length: 23:23

HD #008

Date: September 07, 2010

Taylor sits on the bed reading all about cats but mind wanders to another kind of pussy. Our crew jokes around with her as she strips and spreads her tight pussy, then we open her up wide with a speculum so we can get a shot of her cervix!

853x480 Flash

1280x720 DivX

1280x720 MP4

1920x1080 WMV

New High-Definition Video Release

Video Type: Masturbation & BTS

Length: 17:45

HD #007

Date: June 08, 2010

Taylor really wants to get off but has a hard time finding her purse where she hid her toys! Once she finds it, she plops down in a chair and begins to rub on her sweet, bald pussy getting it nice and wet. She licks her fingers clean of her luscious juices and then grabs for her silver vibrator. Taylor rams her hot hole furiously from behind, then stands up to make herself cum. After her fuck session, she spreads her pussy and lets loose her crystal stream all over the floor!

853x480 Flash

1280x720 DivX

1280x720 MP4

1920x1080 WMV

New High-Definition Video Release

Video Type: Masturbation

Length: 16:16

HD #006

Date: January 12, 2010

Leighlani wakes Taylor from her sleep ready to get it on. She ravages Taylor's body, getting very aggressive with the strap-on dildo. Taylor takes the huge cock from multiple positions before getting totally satisfied and cuddling up with her lover once again.

853x480 Flash

1280x720 DivX

1280x720 MP4

1920x1080 WMV

New High-Definition Video Release

Video Type: Photoshoot

Length: 13:15

HD #005

Date: November 17, 2009

We catch Taylor Tilden in her home, warming up next to a nice fire with a glass of her favorite red wine in this photoshoot video. Watch as this hottie pulls down her cute dress and reveals her perfect tits and pink pussy. She then spreads her pussy for the camera and shows us how deep she can ram her wine bottle inside of her pussy!

853x480 Flash

1280x720 DivX

1280x720 MP4

1920x1080 WMV

New High-Definition Video Release

Video Type: Photoshoot

Length: 25:24

HD #004

Date: August 04, 2009

Leighlani and Taylor sit talking about how much they love shaved pussies. Then Taylor begins the scene posing in a hot bikini. She takes a break to spray her golden stream across the kitchen floor, then covers herself in oil before ramming a banana into her tight pussy in multiple positions.

853x480 Flash

1280x720 DivX

1280x720 MP4

1920x1080 WMV

New High-Definition Video Release

Video Type: Masturbation

Length: 17:44

HD #003

Date: June 16, 2009

Taylor finishes up doing the dishes and notices she left a vibrator on the counter, so she decides to get herself off right there in the kitchen. She rubs oil all over her body and takes a the red vibrator deep into her pussy in a variety of positions until orgasming!

853x480 Flash

1280x720 DivX

1280x720 MP4

1920x1080 WMV

New High-Definition Video Release

Video Type: Photoshoot

Length: 12:52

HD #002

Date: April 28, 2009

Taylor poses while playing her arcade game in a hot yellow dress. She strips down and uses the pussy clamps to stretch her lips to the max. She then poses with the Hitachi vibrator pressed against her clit in a variety of positions.

853x480 Flash

1280x720 DivX

1280x720 MP4

1920x1080 WMV

New High-Definition Video Release

Video Type: Masturbation

Length: 18:19

HD #001

Date: March 10, 2009

Taylor and Leighlani sit playing a game and soon get bored. Leighlani has something to show her and brings out the Jackhammer Dildo! Leighlani pounds Taylor's tight pussy until she cums hard.

853x480 Flash

1280x720 DivX

1280x720 MP4

1920x1080 WMV