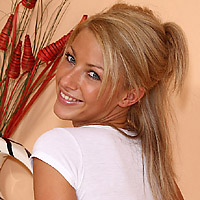 Tea Jul
Age: 20
Height: 5'3"
Weight: 101 lbs
Measurements: 34C-23-32
Occupation: Waitress, Bar Tender
Hobbies: Music, Cars, Fishing, Gardening, Nature Trips
Favorite Music: Elektro-house, Tommy Rogers
Favorite Fantasy: Sex in Forest, Beach, & Car
New to nude modeling, we picked up this jewel on our Czech 2008 trip. We are very fortunate to have shot Tea as she lived 4 hours away from the shoot location and we had somewhat of a scheduling conflict, but as you can see everything turned out great and Tea is super hot! We were able to shoot 4 photosets and 4 masturbation videos. When she isn't modeling, Tea works as a waitress and a bar tender, but her hobbies include cars, music, fishing, gardening and enjoying peaceful trips in nature. Her favorite music is elektro-house and Tommy Rogers. Standing just 5'3" (162cm) and weighing 101lbs (46kg), Tea's body is rock solid all around, and her large, natural tits made her a definite choice for ALS Angels. She is 20 years old and has been sexually active for 5 years, and she started shaving her pussy 2 years earlier at age 13. She prefers guys over girls and told us that her favorite sexual fantasy is to have sex in different places including the forest, on the beach, or in a car. For her likes, she listed food, warm weather, and nice, helpful people. For dislikes she listed fat men and spiders. We had a great time with Tea and hope you do, too!
Update: When Tea Jul returned to our Czech 2011 casting with her new brunette look, we knew we just had to book her for a second shoot! We think she's looking even better than ever and we took full advantage of the opportunity to try some new things with her, including spreading that sweet pussy wide open with the Dream Catcher, our new favorite toy!
Available Photosets
Snapshot

Scene Description

Total Pictures

Scene Preview

Tea Jul - Scene #1

White top and blue, floral shorts, stripping, posing, strap-on sex with Suzie in cowgirl, reverse cowgirl and missionary positions!!

267 Pics
Scene Samples

Tea Jul - Scene #2

Zebra-striped dress, stripping, posing, spreading, Tea Jul inserts a banana deep into her juicy snatch!!

221 Pics
Scene Samples

Tea Jul - Scene #3

micro bikini, stripping, posing, baby oil rub down, finger spreading and lolli-pop insertions!!

304 Pics
Scene Samples

Tea Jul - Scene #4

White skirt, pink top, stripping, posing, fingering, Suzie assists Tea in conquering the ALS Rocket for crystal-clear cervix shots!!

210 Pics
Scene Samples

Tea Jul - Shoot #2 - Scene #1

Blue dress, outside, baton twirling, pussy distortion, baton insertions, gaping with Dream Catcher, gaping insertions and tasting, cum dripping pussy!!

285 Pics
Scene Samples

Tea Jul - Shoot #2 - Scene #2

Pink top, white shorts, outside, smoking, stripping, posing, fingering, panty stuffing, huge cucumber insertions!!

288 Pics
Scene Samples

Tea Jul - Shoot #2 - Scene #3

Pink lingerie, sleeping, spooning with Eufrat, kissing, stripping, posing, fingering, salad tossing, 69, scissoring and going back-to-back with a double dildo!!

281 Pics
Scene Samples

Tea Jul - Shoot #2 - Scene #4

bikini, hot tub, bare feet, pigtails, stripping, posing, finger spreading, speculum, gaping, cervix close ups, female assistant Eufrat, cunnilingus!!

298 Pics
Scene Samples
Downloadable Videos
Screen Capture

Video Description

Download Options

New High-Definition Video Release

Video Type: Photoshoot

Length: 23:58

HD #006

Date: June 19, 2014

Green-eyed beauty Tea Jul poses in a hot zebra-print dress for a fun behind the scenes look at her first ALS shoot. Smoking a cigarette, she works her way out of her clothes to show off her luscious curves. Tea then playfully slips a banana into her cooch for more captivating images.

853x480 Flash

1280x720 DivX

1280x720 MP4

1920x1080 WMV

New High-Definition Video Release

Video Type: Photoshoot

Length: 24:43

HD #006

Date: December 31, 2013

Tea Jul looks absolutely stunning in her yellow, polka-dot bikini, her hair parted into two pigtails as she poses in the hot tub. Her swimsuit rides up her tight snatch to make a beautiful camel toe before she begins stripping down to show off her breathtaking curves. Eufrat steps in and helps Tea spread and gape her pussy with the speculum for some incredible cervix close ups.

853x480 Flash

1280x720 DivX

1280x720 MP4

1920x1080 WMV

New High-Definition Video Release

Video Type: Masturbation

Length: 14:34

HD #005

Date: December 03, 2013

Stunning Euro babe Tea Jul steps into the bathroom looking for a good time. She strips down and begins to rub baby oily all over her voluptuous body, gently caressing her pussy before she grabs the shower head and lets the streaming water beat on her clit. She continues to finger herself vigorously until she has a satisfying orgasm. Afterwards, this dirty girl needs to wash up.

853x480 Flash

1280x720 DivX

1280x720 MP4

1920x1080 WMV

New High-Definition Video Release

Video Type: Masturbation

Length: 18:13

HD #004

Date: August 21, 2012

We caught Tea Jul as she entered her shower to relax and rinse off after a long day. Watch as this hottie washes her sexy ass body, then rubs herself down with baby oil! Tea Jul then plays with her pussy and fucks her perfect hole with her fingers until she cums hard!

853x480 Flash

1280x720 DivX

1280x720 MP4

1920x1080 WMV

New High-Definition Video Release

Video Type: Photoshoot

Length: 25:32

HD #003

Date: September 15, 2011

Tea poses outside in a pretty blue dress twirling her baton in the air. She squats down and takes it towards her pussy, using it to distort her lips. Eufrat comes in and attaches the Dreamcatcher to Tea?s pussy, pulling her lips open wide so Tea can ram that baton deep until her pussy juices flow out! This was one photoset not to be missed!

853x480 Flash

1280x720 DivX

1280x720 MP4

1920x1080 WMV

New High-Definition Video Release

Video Type: Masturbation

Length: 18:28

HD #002

Date: September 06, 2011

Tea Jul shows us her moves in our hotel room dancing sexily for our camera. She takes off her panties and begins to rub her shaved pussy to the beat. After getting it nice and juicy, she pulls a toy from her purse and gets down on the floor to work her hot hole with the vibrator. She then leans against the wall with it pressed against her clit until she cums hard.

853x480 Flash

1280x720 DivX

1280x720 MP4

1920x1080 WMV

New High-Definition Video Release

Video Type: Masturbation

Length: 17:31

HD #001

Date: August 23, 2011

Back and looking better than ever as a brunette, Tea Jul relaxes in the field having a smoke and then casually begins to touch her pussy. She pulls her brush from her bag and then realizes it would make the perfect toy. She stimulates her perky nipples and then uses the handle to ram her hot hole hard and fast until she cums hard. Tea really knows what it take to get herself off!

853x480 Flash

1280x720 DivX

1280x720 MP4

1920x1080 WMV

New High-Definition Video Release

Video Type: Masturbation

Length: 16:11

HD #005

Date: June 29, 2010

Tea Jul gets really horny surfing the net so she starts to rub on her pussy. She gets it nice and wet before she rams her fingers in deep and smacks her clit until it's nice and swollen. She pulls out a very strong vibrator and uses it against her bulging clit and puffy pussy until she has an intense orgasm!

853x480 Flash

1280x720 DivX

1280x720 MP4

1920x1080 WMV

New High-Definition Video Release

Video Type: Masturbation

Length: 19:31

HD #004

Date: July 28, 2009

Tea Jul takes a dip in her pool wearing her sexy bikini. Swimming in the water must make this cutie horny because as soon as she gets out, she can't stop touching herself! Tea Jul takes her bikini off and begins to rub on her pussy. She then grabs for a bottle of baby oil and pours it all over her hot body. Tea finishes the job by fucking her pussy and rubbing on her clit with a blue ribbed vibrator until she has multiple orgasms!

853x480 Flash

1280x720 DivX

1280x720 MP4

1920x1080 WMV

New High-Definition Video Release

Video Type: Masturbation

Length: 18:03

HD #003

Date: November 25, 2008

Tea walks into the shower with her clothes on and gets her white top wet so we can see her tits underneath. Then she covers her body in oil before taking a purple striped vibrator and fucking her pussy until she cums! This dirty girl washes down afterwards, rubbing her body with soap.

853x480 Flash

1280x720 DivX

1280x720 MP4

1920x1080 WMV

New High-Definition Video Release

Video Type: Photoshoot

Length: 19:22

HD #002

Date: October 07, 2008

Sexy Teal Jul bares it all in this hot photoset. She starts the scene by giving her friend Suzie a nice kiss. She then hops up on the bed and reveals her perfect tits and cleanly shaved pussy. Tea shows us her sexy body from different angles, then calls her friend Suzie back in the scene. Suzie steps in with a strap-on dildo that she inserts deep inside of Tea's pussy from different positions!

853x480 Flash

1280x720 DivX

1280x720 MP4

1920x1080 WMV

New High-Definition Video Release

Video Type: Masturbation

Length: 13:31

HD #001

Date: September 16, 2008

We bump in to Tea Jul at the elevator in the hotel and she looks amazing. Watch her strip and get her pussy nice and wet for us. Then she takes a glass dildo and fucks her tight shaved pussy right there in the hallway to an intense orgasm!

853x480 Flash

1280x720 DivX

1280x720 MP4

1920x1080 WMV