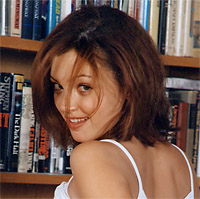 Terri Summers
Age: 24
Height: 5'6"
Weight: 124 lbs
Measurements: 34C-25-36
Occupation: Bartender
Hobbies: Swimming, internet, hanging with friends
Favorite Music: Trance
Favorite Fantasy: A group orgy on the Eiffel Tower
Terri Summers is 24 years old, 5'6" tall and weighs 124 lbs. When we shot Terri, we all had a great time. Terri was tons of fun and everyone got along great. We could only wish that we had models as great as her all of the time. Terri really got into all of the toys that we brought along with us. She definately loved posing for the camera. We did lots of insertions and some other great stuff too!! Anyway, Terri loves to have sex "as much as possible," which must have been a lot (We can only imagine...) because she first had sex at 16!! She enjoys swimming, surfing the net, and hanging out with friends at the beach. Terri likes Trance music and anything that is "sexy." Her fantasy is to have a group orgy on top of the Eifel Tower with a guy and two other girls (any takers??). Terri's measurements are 34C-25-36.
Available Photosets
Snapshot

Scene Description

Total Pictures

Scene Preview

Terri Summers - Scene #1

White dress and thigh highs, posing, spreading, dildo insertions!!

70 Pics
Scene Samples

Terri Summers - Scene #2

Pink sweater and blue skirt , posing, spreading, Terri stuffs her hungry pussy with a cucumber!!

72 Pics
Scene Samples

Terri Summers - Scene #3

Blue sun dress, posing, spreading, dildi insertions from multiple positions, gaping pussy!!

84 Pics
Scene Samples

Terri Summers - Scene #4

White sun dress, posing, spreading pussy, insertions, Beth spreads Terri's pussy wide, gaping hole shots!!

65 Pics
Scene Samples

Terri Summers - Scene #5

Black dress, posing in bedroom, speculum scene! Terri spreads her pussy for wide open shots!!

68 Pics
Scene Samples

Terri Summers - Scene #6

Blue and pink bikini, posing, fingering pussy, bottle insertions and pull out!!

72 Pics
Scene Samples

Terri Summers - Scene #7

Pink sweatshirt and jeans, posing, spreading pussy, multiple finger insertions, dildo insertions and pull outs!!

94 Pics
Scene Samples

Terri Summers - Scene #8

Pink leopard bra and panties, posing, dildo insertions from multiple positions, outtakes from scene #4!

73 Pics
Scene Samples
Downloadable Videos
Screen Capture

Video Description

Download Options

Video Type: Masturbation

Length: 14:01

AVI #25-33

Date: April 02, 2009

Terri is sitting on a chair. She starts to rub her clit and finger her pussy until it's nice and juicy. Terri then gets a pink vibrator and fucks her pussy good with it until she cums!

640x480 Flash

640x480 DivX

720x540 WMV

Video Type: Masturbation

Length: 11:09

AVI #01-19 (a-c)

Date: May 29, 2008

Terri is sitting on a bed. She starts to rub her clit and finger her pussy until it's nice and wet. Terri then gets a glass dildo to fuck her pussy with and rub her clit until she cums!

640x480 Flash

640x480 DivX

720x540 WMV