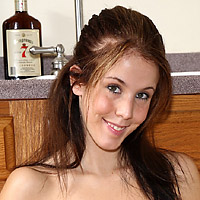 Veronica Hill
Production Date: 2008-01-23
Age: 18
Height: 5'9"
Weight: 117 lbs
Measurements: 32C-28-32
Occupation: Student, Waitress
Hobbies: Snowboarding, Writing, Shopping
Favorite Music: Alternative and Classic Rock
Favorite Fantasy: Harry Potter
This little honey Veronica Hill is brand spanking new! ALS was one of the first companies in line to shoot this barely 18 cutie, and we are so glad we did! For having been 18 less than 2 months when we shot her, she really knows how to work the camera. Her masturbation videos turned out great and her orgasms were intense and real. In total, we shot 8 photosets and 5 masturbation videos. When Veronica is not modeling, she goes to school and works part time as a waitress. Her favorite hobbies include snowboarding, writting, and shopping, plus her favorite musics include alternative and classic rock. She likes the rain and beaches, and told us she does not like the cold, poverty or rap. She also told her that she prefers guys over girls, and that her favorite sexual fantasy is to have sex with Harry Potter. Veronica has been having sex since she was 17, and started shaving her pussy at 13, the same age she gave her first blow job. Veronica is 5'9" tall (175cm) and weighs 117lbs (53kg). Her measurements are 32C-28-32 (81C-71-81).
Available Photosets
Snapshot

Scene Description

Total Pictures

Scene Preview

Veronica Hill - Scene #1 - Remastered

Black dress, pantyhose, high heels, stripping, posing, fingering, finger spreading, glass bottle, insertions, model only

Released: 2008-04-11 / Remastered: 2023-05-18

297 Pics
Scene Samples

Veronica Hill - Scene #2 - Remastered

Sheer night gown, braids, pigtails, bed, sleeping, high heels, stripping, posing, fingering, finger gaping, flexible, backbend, dildo, insertions, non-model

Released: 2008-06-27 / Remastered: 2023-08-10

282 Pics
Scene Samples

Veronica Hill - Scene #3

Purple robe, morning coffee, baby oil rub down, spreading, big cucumber insertions!!

Released: 2008-10-24

184 Pics
Scene Samples

Veronica Hill - Scene #4

Cowgirl outfit, phone chat, stripping, posing, spreading, speculum insertions for hot cervix shots!!

Released: 2009-01-02

243 Pics
Scene Samples

Veronica Hill - Scene #5

White top, red panties, stripping, posing, spreading, assistant gaping, lolli-pop teasing and insertions!!

Released: 2009-07-10

190 Pics
Scene Samples

Veronica Hill - Scene #6

White spandex, stripped top, stripping, posing, pussy fingering, spreading with high heels, Veronica pumps her entire deep into her own wet snatch!!

Released: 2009-12-31

192 Pics
Scene Samples

Veronica Hill - Scene #7

Blue bikini, showering, stripping, posing, shower-head clit-play, inverted bottle insertions!!

Released: 2010-03-26

153 Pics
Scene Samples

Veronica Hill - Scene #8

Grey sweats, white tank top, exercising, stripping, posing, finger spreading, hanging weights, workout bar insertions, peeing all over the dining room floor!!

Released: 2011-02-11

276 Pics
Scene Samples
Downloadable Videos
Screen Capture

Video Description

Download Options

New High-Definition Video Release

Video Type: Photoshoot

Length: 15:22

HD #008

Date: April 07, 2016

Veronica surfs the web for some porn and gets really hot posing for the camera in her camel toe panties. She spreads to expose her clit and then gets gaped by our assistant in the piledriver position. Veronica rams a lolli-pop into her pussy and pulls it out to taste her sweet juices.

853x480 Flash

1280x720 DivX

1280x720 MP4

1920x1080 WMV

New High-Definition Video Release

Video Type: Photoshoot

Length: 21:20

HD #007

Date: March 26, 2015

Big titty teen Veronica Hill hits the gym for a hot photo session, pumping some weights in a tank top and sweats. She strips down and flaunts her supple figure on the gym, spreading and stretching her labia before she slides the workout bar in deep. After the set, Veronica pees for the first time ever on camera.

853x480 Flash

1280x720 DivX

1280x720 MP4

1920x1080 WMV

New High-Definition Video Release

Video Type: Photoshoot

Length: 18:40

HD #006

Date: July 19, 2012

Veronica sits talking on the phone wearing a cute cowgirl hat. She pops her lucious tits out from her shirt and then works her red panties between her smooth pussy lips. Veronica pulls open her pussy with her fingers to stretch it wide, then she inserts the speculum so we can get some amazing shots of her cervix deep inside!

853x480 Flash

1280x720 DivX

1280x720 MP4

1920x1080 WMV

New High-Definition Video Release

Video Type: Masturbation

Length: 16:00

HD #005

Date: July 05, 2012

Veronica works out her body at the gym, wetting her shirt to cool off. She does some stretches and jumpingjacks then starts to work on her pussy with her fingers. Veronica then grabs her vibrator and uses it to ram her pussy until she cums.

853x480 Flash

1280x720 DivX

1280x720 MP4

1920x1080 WMV

New High-Definition Video Release

Video Type: Masturbation

Length: 15:38

HD #004

Date: December 23, 2010

Dirty girl Veronica Hill just got back from soaking up some sun and we catch her in she shower about to clean herself off! She invites us in the bathroom to watch her shower routine and boy is it a hot one! This cutie takes off her bikini to reveal her perfect tits and her sweet pussy that's just begging to get fucked! Veronica lathers up her body, then grabs for a few vibrators and uses them to fuck her pussy hard! She gives herself a serious pussy pounding in the bathtub until she gets off good!

853x480 Flash

1280x720 DivX

1280x720 MP4

1920x1080 WMV

New High-Definition Video Release

Video Type: Masturbation

Length: 19:39

HD #003

Date: August 03, 2010

Veronica Hill wakes up to start her day the right way.... she first takes off her sexy pajamas and gets right down to business. Veronica rubs on her pussy as she licks her tits, then begins to rub on her pink clit with her favorite vibrator. Next, she inserts spreaders to gape her pussy wide, letting us see deep inside her pussy while she stimulates her clit with the vibrator until she cums!

853x480 Flash

1280x720 DivX

1280x720 MP4

1920x1080 WMV

New High-Definition Video Release

Video Type: Masturbation

Length: 16:15

HD #002

Date: February 10, 2009

Veronica waters her plants and discovers that her pussy is quite wet, so she decides to get herself off. She fingers her pussy and clit until nice and ready, then she takes a gold vibrator to her hot hole and makes herself cum.

853x480 Flash

1280x720 DivX

1280x720 MP4

1920x1080 WMV

New High-Definition Video Release

Video Type: Masturbation

Length: 24:31

HD #001

Date: April 22, 2008

Our hot honey Veronica really works her fresh pussy in this scene. She is enjoying some reading before she starts to play with her pussy. Then she goes for her favorite toy, the powerful Hitachi vibrator and presses it against her clit to get it nice and swollen. She adds a dildo head to the Hitachi and uses it to fuck her wet hole, rubbing her clit until she cums very hard.

853x480 Flash

1280x720 DivX

1280x720 MP4

1920x1080 WMV