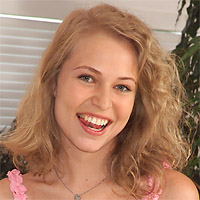 Wildy
Production Date: 2005-06-11
Age: 21
Height: 5'8"
Weight: 112 lbs
Measurements: 35C-25-35
Occupation: Student
Hobbies: Dancing, singing, sex
Favorite Music: Everything
Favorite Fantasy: Being taken care of all day and all night
Wildy was quite the character when we met her! When we were at the casting for our latest shoot, Wildy really stuck out as an outgoing and fun loving girl and we knew right then that we had to shoot her. She was very excited about being an ALS model and we were more than happy to oblige! Wildy weighs 112 lbs (51Kg) and is 5'8" (174cm) tall. She is 21 years old and when she's not doing nude modeling, she is a full time student. With girls like her, the guys on campus must be falling over each other to win her affection! She enjoys dancing, singing, and, of course, sex. When we asked her how many times per day she likes to have sex, she just smiled and said that it depends... we got the feeling that it was as many times as she could fit it into her schedule! Wildy first had sex at the age of 18, but has been making up for lost time ever since. Her fantasy is to be taken care of all day and all night long by a big strong man that can fulfill all her needs. Her measurements are 35C-25-35 (90cm-64cm-90cm).
Available Photosets
Snapshot

Scene Description

Total Pictures

Scene Preview

Wildy - Scene #1 - Remastered

Tank top, skirt, high heels, stripping, posing, boyshorts, camel toe, finger spreading, spreaders, gaping, gaping pullout

Released: 2005-07-15 / Remastered: 2019-05-23

247 Pics
Scene Samples

Wildy - Scene #2 - Remastered

Tank top, short shorts, sandals, white cotton panties, stripping, posing, camel toe, vedgie, bare feet, finger gaping, speculum, gaping, cervix, female assistant: Nella, crew

Released: 2005-10-21 / Remastered: 2021-03-25

219 Pics
Scene Samples

Wildy - Scene #3 - Remastered

Outdoor, sundress, high heels, smoking, white cotton panties, stripping, posing, camel toe, wetting, vedgie, distortion, fingering, finger spreading, female assistant: Nella, pussy eating, cunnilingus, fisting, gaping pullout, model only

Released: 2006-02-24 / Remastered: 2021-10-07

261 Pics
Scene Samples

Wildy - Scene #4 - Remastered

Outdoor, bikini, thong, high heels, vedgie, stripping, posing, finger spreading, fingering, ALS Rocket, female assistant: Nella, gaping, cervix, crew, non-model, gaping pullout

Released: 2007-02-09 / Remastered: 2022-04-21

248 Pics
Scene Samples
Downloadable Videos
Screen Capture

Video Description

Download Options

Video Type: Photoshoot

Length: 24:08

AVI #13-20 (a-f)

Date: March 20, 2008

Watch Wildy show off her perky tits and hot pussy as she inserts a speculum in this photoshoot. You can see her pink cervix and we get a great gaping pullout!

640x480 Flash

640x480 DivX

720x540 WMV

Video Type: Masturbation

Length: 18:13

AVI #21-26

Date: August 30, 2007

Wildy begins this masturbation scene by getting on her bed and getting her pussy nice and wet as she inserts fingers and gapes for the camera. Wildy wants some extra help so she calls sexy Nella to come into the scene to give her what she needs? some pussy licking, and full-fisting action! Watch Nella fist Wildy's pussy hard until she cums!!

640x480 Flash

640x480 DivX

720x540 WMV

Video Type: Masturbation

Length: 16:04

AVI #01-06

Date: April 12, 2007

Wildy gets crazy on the steps in the hot Czech sun. Watch her beg Nella to fist her juicy pussy, making her moan and cum hard! Amazing girl-girl action!

640x480 Flash

640x480 DivX

720x540 WMV