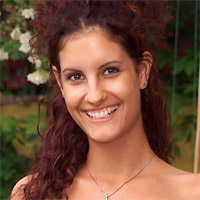 Yasmine
Shoot #1 Production Date: 2005-08-06
Shoot #2 Production Date: 2015-07-29
Age: 18
Height: 5'8"
Weight: 104 lbs
Measurements: 34C-23-35
Occupation: Student
Hobbies: Riding motorcycles, reading, cooking
Favorite Music: Techno
Favorite Fantasy: A threesome with her girlfriend
Yasmine was a lot of fun at the shoot. She was always smiling and really had a great attitude about doing everything we could think of. Because she was so open to everything, in her first scene we started her off with the ALS Rocket, and she took it like a champ! Yasmine is a full time student and is modeling her way through school. She enjoys riding motorcycles, reading, and cooking in her spare time. Her favorite music is techno and she likes having sex at least twice a day with either men or women. When we asked her what her sexual fantasy was, she said that she'd love to have a threesome with her girlfriend... so some lucky guy is going to have two beautiful women bringing him home for the night of his life! Yasmine's measurements are 34C-23-35.
New Update! Nearly 10 years after we first met the 18-year-old Yasmine in Brno, we hooked up with her again on our 2015 trip to the Czech Republic and she was looking so good, we couldn't pass up the chance to shoot some more videos of her masturbating, this time in 4K Ultra High-Def!
Available Photosets
Snapshot

Scene Description

Total Pictures

Scene Preview

Yasmine - Scene #1 - Remastered

Outside, tube top, mini skirt, high heels, no panties, stripping, posing, finger spreading, female assistant: Amy Lee, ALS Rocket, gaping, cervix, crew, gaping pullout

Released: 2006-06-30 / Remastered: 2020-12-17

218 Pics
Scene Samples

Yasmine - Scene #2 - Remastered

Gym, blouse, short shorts, sneakers, stripping, posing, thong, finger spreading, vedgie, distortion, spreaders, gaping, female assistant: Amy Lee, gaping pullout, model only

Released: 2006-11-10 / Remastered: 2022-07-14

238 Pics
Scene Samples

Yasmine - Scene #3 - Remastered

Outdoor, pool, pigtails, bikini, thong, high heels, bare feet, wetting, stripping, posing, vedgie, female assistant: Amy Lee, finger spreading, finger gaping, fisting, gaping pullout, model only

Released: 2007-07-13 / Remastered: 2022-09-08

244 Pics
Scene Samples

Yasmine - Scene #4 - Remastered

Dress, high heels, panties, stripping, posing, vedgie, finger spreading, finger gaping, female assistant: Amy Lee, speculum, crew, non-model, gaping pullout

Released: 2022-11-06 / Remastered: 2022-11-03

212 Pics
Scene Samples
Downloadable Videos
Screen Capture

Video Description

Download Options

New 4K Ultra High-Definition Video Release

Video Type: Masturbation

Length: 17:38

Shoot #2 UHD #002

Date: October 18, 2016

Yasmine wakes up from her nap and stretches her body by getting into some really sexy yoga positions. She climbs back into bed and grabs her glass dildo to start working her pussy. Then she grabs her vibrator and toys her clit until she cums hard. All that work makes her sweaty and she lies back to rest a bit.

853x480 Flash

1280x720 DivX

1280x720 MP4

1920x1080 WMV

3840x2160 MP4

New 4K Ultra High-Definition Video Release

Video Type: Masturbation & BTS

Length: 14:32

Shoot #2 UHD #001

Date: October 06, 2015

We are so excited to have Yasmine back in our lives. She brings us up to date with her life and then decides to fuck herself in the shower for us. She strips down and soaps up, rubbing on her hot pussy. Yasmine goes for her toy and uses it to make herself cum hard.

853x480 Flash

1280x720 DivX

1280x720 MP4

1920x1080 WMV

3840x2160 MP4

New Video Release

Video Type: Masturbation

Length: 13:11

AVI #007

Date: November 11, 2010

Yasmine lies on the bed and goes to work on her tight, shaved pussy. She gets it nice and wet, ramming her fingers in deep and pulling her hot hole open until it gapes wide. She grabs a pink dildo and pounds her pussy before she switches to a powerful blue vibrator to work in and out until it makes her cum hard!

640x480 Flash

640x480 DivX

720x540 WMV

Video Type: Masturbation

Length: 19:52

AVI #01-06 (a-e)

Date: January 10, 2008

Yasmine is outside sitting on a green chair. She starts off by fingering her pussy and rubbing her clit. After Yasmine gets her pussy nice and juicy, she calls Amy Lee over to lend a hand. Amy Lee starts to rub and stretch Yasmine's pussy. Amy then fists Yasmine's pussy until she cums.

640x480 Flash

640x480 DivX

720x540 WMV